H&F has praised a group of Fulham volunteers helping the council tackle litter in one of the borough's most popular and prestigious parks.
The volunteer litter picking champions at Bishops Park are marking their three-year milestone this summer – and would love to welcome more locals to join the clean-up effort.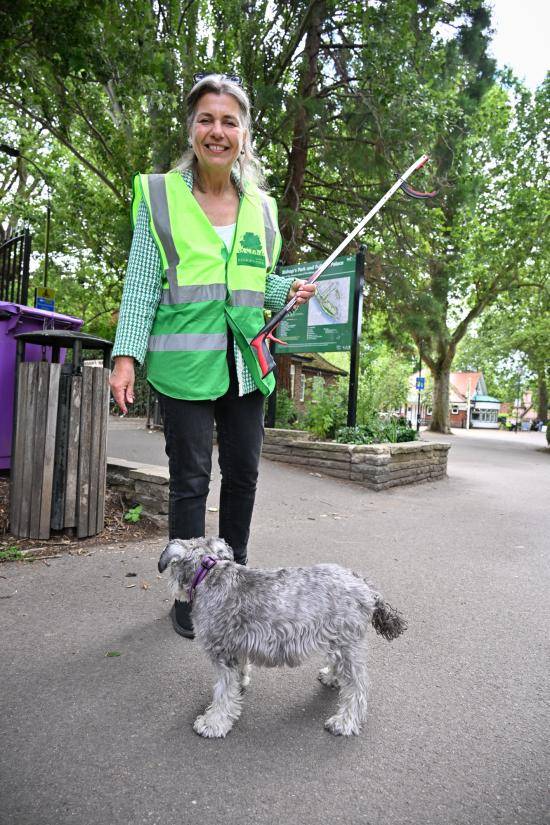 More than 2.5million people enjoy Bishops Park every year. Working alongside the council – which empties the park's bins on a daily basis – the Friends of Bishops Park (FoBP) volunteers meet each week for a litter picking session at the green open space by the River Thames.
Toddlers to pensioners have been among the volunteers sparing an hour a week to help keep on top of litter left by park visitors, explains FoBP chair Sarah Jane Johnson.
"It's about doing something positive as you are leaving a beautiful public park in a better place," says Sarah Jane, who works as a school exam invigilator.
"There is a mindfulness aspect to it too as the litter picking really makes you feel better, especially when you get chatting to people. I hope when people see us litter picking in the park that might make them think about taking their litter home to put in the recycling or in the bin."
Lockdown launch
The litter picking group was launched during the pandemic in 2020, adds Sarah Jane, when lockdown rules meant green spaces were under increased pressure.
Starting with a willing group of four volunteers who responded to an online post, the litter picking band has had as many as 12 members at times, ranging from school pupils helping out as part of their Duke of Edinburgh award scheme to local families.
The Friends group in the park was founded in 2000 and is one of around 20 similar community bodies that support local green spaces. Living in Fulham, mum-of-two Sarah Jane explains that Grade II-listed Bishops Park is a precious escape for many people attracted to its playgrounds, splash park, skate bowl, ornamental lake and riverside setting.
"What has not really fluctuated since the pandemic is the amount of rubbish created by park users," adds Sarah Jane, who is often accompanied on the litter picking sessions by her dog Pepper, a miniature Schnauzer.
"It would be great if our work could inspire visitors to take their rubbish with them, or even come along to help litter pick or set up a group in other areas."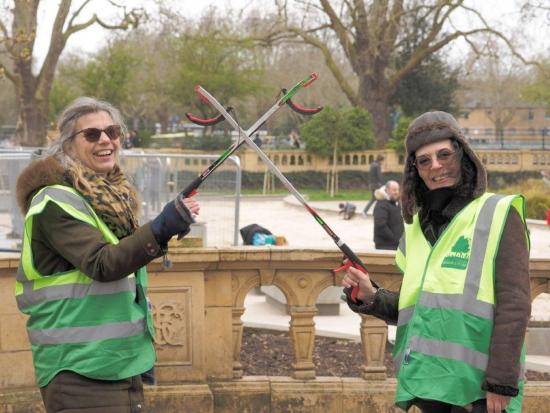 Want to join?
The Friends group meets on a Sunday afternoon, with volunteers welcomed for one session or as a regular litter picker. While there's 'no expectation' to commit long term and all equipment is provided, under 18s must come along with an adult, explains Sarah Jane.
The volunteer group has regular meetings with the council's parks team, which works alongside H&F's grounds maintenance company idverde. Together they work to keep H&F's 20 Green Flag-awarded parks and green spaces looking their best, including daily emptying of around 80 bins in Bishops Park.
Cllr Sharon Holder, H&F Cabinet Member for Public Realm, thanked the volunteers for their help, saying: "We have a very strong relationship with the Friends of Bishops Park, and it's been a pleasure to help support their growth.
"Their work not only helps to keep the park looking clean and tidy it helps to protect the wildlife, dogs, and children by removing hazards that may otherwise cause harm. It's very much appreciated by the parks and grounds maintenance team who empty bins and pick litter every day of the year."
To find out more about joining the Friends of Bishops Park, email chair.bishparkfriends@gmail.com or visit the Friends of Bishops Park website.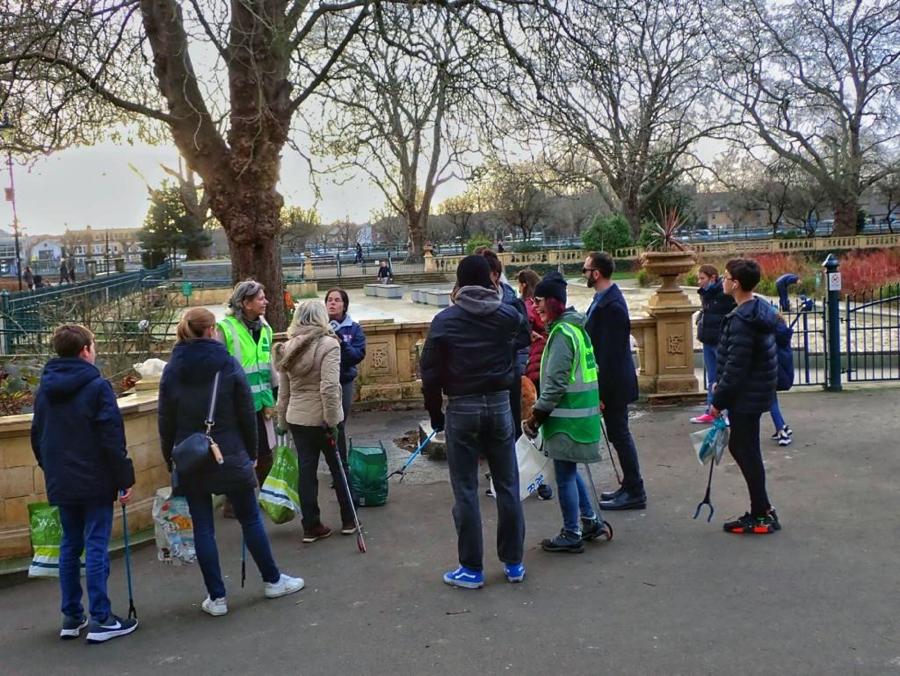 Want to read more news stories like this? Subscribe to our weekly e-news bulletin.