Hammersmith & Fulham Council has recently unveiled more than £500,000 of improvements to playgrounds, ball courts, outdoor gyms and open spaces on local housing estates.
Many of our neighbourhood makeovers were inspired by resident-led bids for green community space improvements like communal growing gardens, additional bike storage units or new playgrounds.
"It's fantastic to see these amazing new outdoor areas on our estates and we're grateful to all the residents who helped make these changes", says Cllr Lisa Homan, H&F Cabinet Member for Housing.
"Now, we want more residents to come forward to help us build on this tremendous success in making the borough greener and healthier."
All of the projects on this page are reviewed and agreed by our resident-led Investment Group. We're proud of how we work in partnership with residents to make sure each project is delivered efficiently and sustainably.
Details below about these new additions to local estates, as well as information about how you can apply to improve your local area.
Biodiversity at Clem Attlee SW6 and Woodmans Mews W12
The Clem Attlee Estate in Fulham went green thanks to fantastic efforts from residents and volunteers. Bee and butterfly-friendly wildflower patches were planted to improve the look of the estate and boost biodiversity.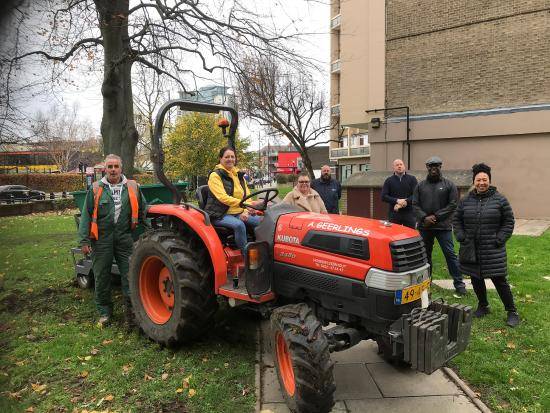 "The original idea was to create a space, post-pandemic, for people to get together, get outside, get some fresh air", explained Clem Attlee estate resident Glen. "We just wanted to make a difference."
Similar improvement initiatives have bloomed at Woodmans Mews – the 'hidden gem' of H&F's communal gardens. Improvement works on the White City garden in Scrubs Lane included a serious revamp of the already existing growing garden as well as the installation of a new playground and an outdoor gym.
The new and improved gym equipment in Woodmans Mews only adds to the list of workout spots in the area (pdf 152KB), making Wormwood Scrubs a true mecca for fitness enthusiasts.
Additional outdoor gyms can be found right outside the Old Oak community centre, the Linford Christie Sports Centre and the adventure playground in Little Wormwood Scrubs.
Does your local communal garden, outdoor gym, or other community spaces in your area need a makeover? If so, let us know. Funding applications for Neighbourhood Improvement Projects (NIP) are accepted all year round.
Colourful new pirate playground in Lampeter Square SW6
The corner of Lampeter Square south of Bayonne Park is almost unrecognisable now after being transformed into a new pirate-themed playground over the summer.

Only a few streets over, the Crefeld Close playground refurbishments were recently completed. The improved greenery and new-look will benefit not only our young playground visitors, but everyone who lives on the Bayonne Estate.
To help make public spaces greener, safer and more community-friendly, you can make an application to our Place Environmental Rejuvenation Programme. If you have ideas for green projects in your area, contact us and let us know.
Up next
Our improvement schemes are a great way for residents to help us pursue our goal to make H&F the greenest borough in the country.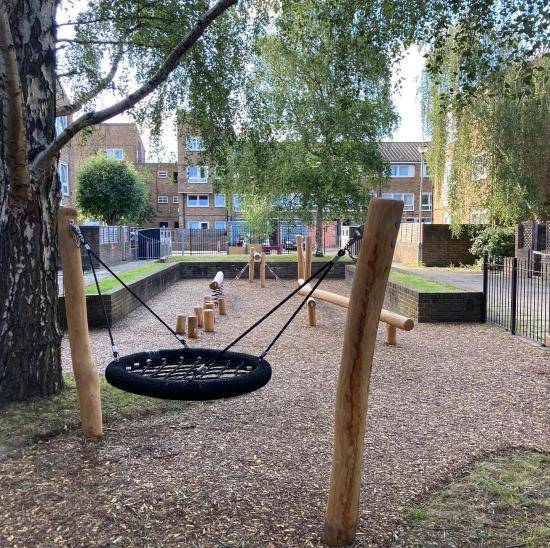 That's why our resident-led Investment Group and Estate Services team will continue to work closely with community groups on local green projects in the years to come, including:
Installing new sets of planters and replacing concrete slabs with biodegradable seed mat pathways at Muscal House in Field Road and Barton House by Fulham's South Park will help us in our continuous pursuit of reaching carbon net zero by 2030.
 
Basketball court improvements are coming to Aspen Gardens and Riverside Gardens just south of King Street, which also include plans to repaint their current murals with designs from local children living in the estates.
 
A community garden at Michael Stewart House on the Clem Attlee estate will be equipped with planters as well as a new picnic table and benches to match the existing ones. Similar plans are in store for St Andrews Court on the other side of Normand Park, including the installation of a green screen to increase privacy for residents of the church adjacent properties.
 
An upgrade to the waste and recycling facilities are planned for Hammersmith's Marryat Court in Cromwell Avenue and Linacre Court at the corner of Great Church Lane and Colet Gardens. The plans also foresee a new bulk waste storage enclosure for the Linacre Court estate.
Have your say
We believe in doing things with our residents rather than to them. That's why we've been working with local residents to create these neighbourhood projects.
So if you've got a makeover idea for your estate or area, please submit your ideas and bid for a wide range of sustainable improvement works through the Neighbourhood Improvement Project (NIP) or the Place Environmental Rejuvenation Programme (PERP).
You can also join your local resident involvement team and learn more about our other resident involvement schemes today.
Want to read more news stories like this? Subscribe to our weekly e-news bulletin.