We're building H&F's eighth outdoor gym in Hammersmith Park – and we need your help!
The gym will be installed in the triangular area of land by Wood Crescent and the BBC Television Centre, across from Wood Crescent Playground.
We're working closely with the Friends of Hammersmith Park to design the new space, but we also want to hear from you on what type of equipment you'd like installed.
Choices include a leg press, calisthenics fitness frame, stationary bike and cross trainer. Accessible equipment will also be installed, this can include a hand bike, hip twister, lat pull and chest press. Or visit our outdoor gym webpage for ideas.
What would you like to see? Tell our Parks teams by the deadline of Friday 15 September by emailing: parks.projects@lbhf.gov.uk
Sweat it out
If you're not sure what you'd like to see in Hammersmith Park, visit one of our other outdoor gyms to trail the equipment. You can find them here:
Bishops Park, Bishop's Avenue, Fulham, SW6 6EA
Normand Park, Bramber Road, Fulham, W14 9PB
Rowberry Mead, Thames Pathway, Fulham, SW6 6PE
South Park, Peterborough Road, Fulham, SW6 3EB
Upper Mall Open Space, Upper Mall, Hammersmith, W6 9TD
Wormwood Scrubs, White City, W12 0DF (There are two gyms on the Scrubs. One by Braybrook Street and on near to the Linford Christie Stadium.)
Each site is entirely free to use and is suitable for beginners.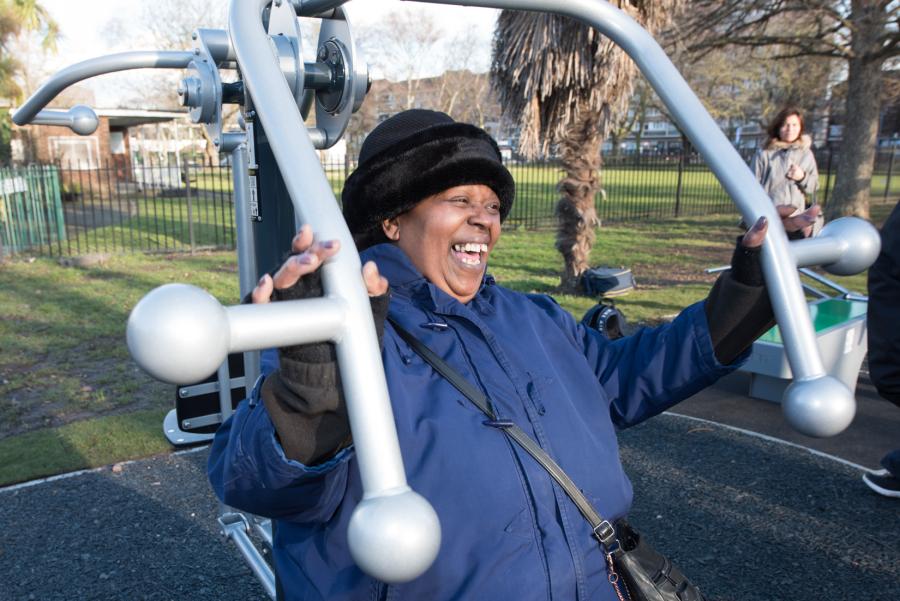 Get fit
Earlier this year, Hammersmith & Fulham Council unveiled a seventh state-of-the-art outdoor gym in South Park, Fulham.
The new gym includes a space walker and exercise bike for younger fitness fanatics. As well as an accessible chest press and lat pull combination machine, and a body twist and dip station. You can find it next to the cricket nets.
If spot that any equipment appears damaged or is malfunctioning, please call us on 020 8748 3020 or email parks@lbhf.gov.uk. Or, you can report it online. 
Want to read more news stories like this? Subscribe to our weekly e-news bulletin.