Climate education is a key priority for the Education Service as it is children and young people's futures that will be most affected by decisions taken today.
The education service, climate unit and resident-led Climate and Ecological Emergency Commission have been working together to tackle the climate emergency which Hammersmith & Fulham declared in July 2019.
We have a range of exciting projects and resources listed below.  
---

LGC Highly Commended Award for Climate Response 2021
The H&F Education Special Projects Team were Highly Commended at the 2021 LGC Awards, under the Climate Response Category, with many positive comments from the judging panel including...
Such clarity and energy in the work drive climate education.
The go to council for how to do it! 
Really strong programme with a clear and deep connection to schools, communities and broader partnerships.
The next generation is well served in H&F.
---
Climate education and primary schools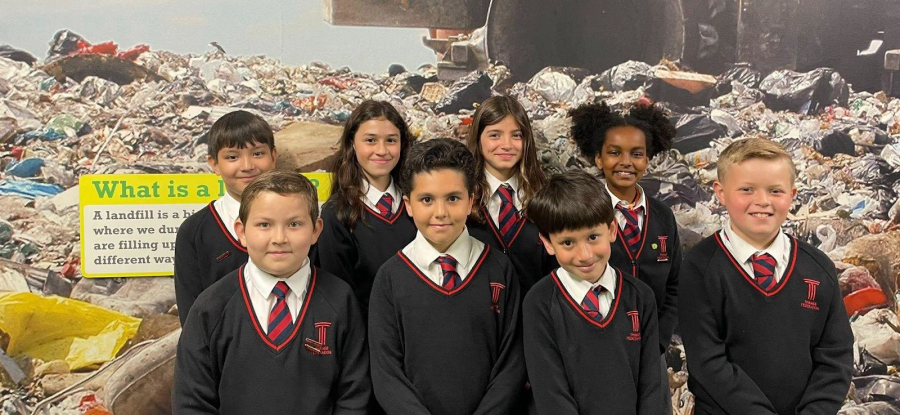 32 schools engaged
1120 children impacted
88 teachers involved
What's been happening in primary schools
In June 2021 a virtual climate challenge event was held with primary schools presenting their ideas on required changes.
Children's Environmental Parliament a project run annually with Year 6 children research a school based environmental issue and make a final presentation in the council chamber.
EduCCate Global UN Accreditation for teachers to strengthen schools' climate and ecological agenda.
Eco-School awards achieved by a number of schools with participation from children in eco-committees and clubs.
ECO project 2021 (English Chamber Orchestra) – climate and ecology musical workshops held in Ravenscourt park and Fulham cross.
Year 3 (2022) of successful Mudlarks project. Outcomes included a mini sewer, an artistic response on thinking globally and acting locally, and school recycling initiatives. Mudlarks III at Lyric Hammersmith
Climate Education network meets termly to share good practice amongst teachers.
The 

Climate Education Guide

 is available through climate education resources webpage.  
---
Climate education and secondary schools
7 schools engaged
50% schools signed up for bronze award
30 teachers completed accreditation units
75% of schools appointed sustainable coordinators and climate change champions
What's been happening in secondary schools
Fulham Cross school have embedded climate education across their curriculum through to year 11
'Connecting classrooms' - British Council project enabled partnerships between H&F schools and 5 schools in Uganda
Hammersmith Academy granted Sustainable School of the Year Award by Global Action through the development of an on-site garden and vegetable farm
Global Action Plan – Good Life Sustainability Project working across 6 secondary schools from April, focus on sustainability including Fulham Academy Trust, Hammersmith Academy, Phoenix, West London Free School and BDA.
Focus on green careers, green tutorials, social action projects around climate change and eco clubs throughout the sector.
Climate Change and Sustainability Work Experience programme for young people organised by Let Me Play.
At Fulham Cross Girls School 20+ staff have completed 2 or more EduCCate courses with 10 staff completing all 5 courses.
Climate Education Network (Secondary) established with representation from 6 secondary schools.
---
Climate Education Guide for educators
The Climate Education Guide provides a general overview with useful links and resources, along with a menu of activities to help you in meeting curriculum and staff development within your school. The guide is a free open resource for schools to use both nationally and internationally. 
More information about the guide and a link to the pdf guide can be found at: Climate Education Guide for Educators – (lbhflearningpartnership.com). An web version of the pdf guide can be found at: Climate Education Guide
A Climate Education Guide specifically for resources targeted at secondary schools is currently in progress. This will be an invaluable tool to support the future implementation of the GCSE in Natural History, launching 2025. GCSE Natural History Hub (ocr.org.uk)
---
Climate Education Networks 
H&F host two Climate Education Networks for primary and secondary teachers each term to share learning and creative ways to engage their school community with climate education projects.  Many of our teachers have completed the UN backed climate accreditation EduCCate Global.  
---
Mudlarks  
The Mudlarks project in partnership with local charity, Urbanwise.London has bought together primary children and local businesses in a range of climate related activities and workshops from cleaning up our waterways to creating a music video. 
The Mudlarks project was launched in 2019, in partnership with Urbanwise.London, a local educational charity who help deliver the climate and ecology studies curriculum to primary schools across the borough.
The Mudlarks project teaches children about water ecology, pollution, art, music, recycling and upcycling, and current environmental research and scientific investigation.
Mudlarks conference 2022
Local pupils met up at the Mudlark conference in July 2022 at Lyric Hammersmith to share stories and successes behind some pioneering ecological projects at their schools. 
Find out more about the conference. Pupils join forces to make H&F cleaner and greener. 
Mudlarks Conference 2022 (Flickr gallery)
More information can be found at: Urbanwise London 
Video: Mudlarks 3R Song - Mudlarks Summer Challenge 2020


Mudlarks Song lyrics

Wouldn't it be better if people cared more about the environment we live in?
Wouldn't it be better if we all chipped in to change the way we live right now?
Wouldn't it be cool?
Wouldn't it be fun?
Wouldn't it be most incredible for sure?

Wouldn't it be better to reduce our use of plastics on a daily basis?
Wouldn't it be better to choose to use things with less packaging each day?
Wouldn't it be cool?
Wouldn't it be fun?
Wouldn't it be most incredible for sure?

Wouldn't it be better to reduce instead of wasting money buying more?
Wouldn't it be better if we all just used things that we already have?
Wouldn't it be cool?
Wouldn't it be fun?
Wouldn't it be most incredible for sure?

Wouldn't it be better if we recycled everything that we possibly can?
Wouldn't it be better to save our world by recycling everything at hand?
Wouldn't it be cool?
Wouldn't it be fun?
Wouldn't it be most incredible for sure?
Wouldn't it be cool?
Wouldn't it be fun?
Wouldn't it be most incredible for sure?

Reduce, re-use, recycle
Reduce, re-use, recycle
Reduce, re-use, recycle for evermore
---
Summer in the City programme: Recovery of Nature 
Our annual Summer in the City programme engages children and families with the environment and ecology to further understand the impact of nature and being outdoors upon our community's health.  
Summer In The City 2021
Children's Services worked with a variety of agencies to develop and manage a range of climate education activities in 2021.
300 children and families attended Urbanwise.London ECO Workshops

250 children and families attended English Chamber Orchestra Musical Performances

300 children and families attended Royal College of Art Imagine 2030 Workshops
Summer in the City 2022
All projects delivered by the Special Projects/ Climate Education Team for Summer in the City 2022 have a strong climate and ecology focus.
This year families, children and young people in the borough will be able to join in the following sessions, provided by H&F, in partnership with local organisations:
Yoga sessions and German Language with the Goethe Institut
A musical exploration of the Thames with the English Chamber Orchestra
Puppetry and Objects sessions creating puppets using sustainable resources and the power of Storymaking, with our Erasmus+ project Storymakers
More information can be found at: Summer in the City 
---

Calendar of climate days 
Our climate calendar lists some of the key annual climate days alongside ideas and resources of how to celebrate them.  
Calendar of Climate Days (pdf)
---
Youth Council 
Our Youth Council re active in climate change with Hammersmith & Fulham Council being the first London authority to give its support to the 2020 Youth Climate Summit. More information can be found at: Youth Council 
---
H&F climate news 
To keep up to date with what we're doing as a council to tackle the climate and ecological emergency and read community stories please sign up to our Climate Connects Newsletter written in collaboration with the Climate Unit.
---
Contact us 
For more information on our Climate Education Projects please contact: 
Diana Edgecombe – Special Projects Manager 
Diana.Edgecombe@lbhf.gov.uk
07973 734839 
Michelle Rebelo – Project Consultant  
Michelle.Rebelo-HF@lbhf.gov.uk