Young people taking part in our free Summer in the City fun got their feet wet and explored the Thames by boat this week.
The watersport activities, hosted by Fulham Reach Boat Club in Hammersmith, included kayaking, rowing, and the chance to learn how to cox. Free meals were also provided.
Ghena, 14, discovered the summerlong course by luck. Originally tagging along with her sister, she now counts down the hours to each training session.
"I found myself wanting to come back," she explained. "It's one of the first times I've ever been desperate to be on time, so as not to miss anything."
The H&F Youth Council member now knows how to row, but is always up for giving other positions a go: "Sometimes I volunteer to cox, or to sit in the back of one of the boats. It depends if I'm in the mood to get splashed or not."
Looking for fun this summer? Check out our full timetable of Summer in the City events here.
Each activity has FREE food and the programme is open to anyone aged four to 18 years old (or up to 25 for those with additional needs).
Two more weeks of fun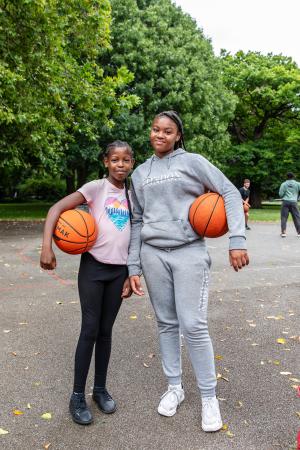 Our packed line-up saw more than 115 events take place this week, including basketball, cooking and video game workshops. And there are still two weeks of free Summer in the City fun to come in Hammersmith & Fulham.
"We are ensuring that families can have access to a regular, free nutritious meals over the summer holidays," said Cllr Alex Sanderson, H&F Cabinet Member for Children and Education.
"Wherever you go will be warm, welcoming and offering a range of unique and exciting opportunities for children and young people to have a safe and enjoyable summer."
We're working with local Brook Green-based youth activity provider LMP Action and the Holiday Activities and Food Programme to deliver our summer programme.
Want to read more news stories like this? Subscribe to our weekly e-news bulletin.