Hammersmith & Fulham Council teamed up with the police for a week-long roadshow of events to tackle and raise awareness of hate crime.
The work was part of National Hate Crime Awareness Week, which took place in October, and reinforced the council's commitment that 'there's no place for hate in H&F'.
Across the week the team spoke with residents and students during a variety of activities at different venues in the borough.
"This roadshow has helped share the message that in our borough, everybody is treated with respect, regardless of race, sexuality, disability, nationality, gender or religion," said Cllr Sue Fennimore, H&F Council Deputy Leader.
"I'm delighted so many residents and visitors have engaged with us and share our view that there is no place for hate in H&F."
A week of action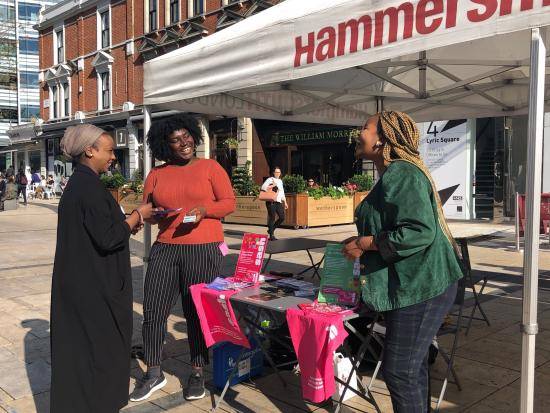 The council kicked off the week on Monday 15 October, at the Lyric Theatre in Hammersmith, where students from Hammersmith & Fulham West London College gave a presentation in conjunction with The Heartstone Odyssey. The exhibition addressed the issues of racism, discrimination, and prejudice, using speech, poetry, interpretive dance and heartfelt stories to an audience of more than 100 people.
On Tuesday, the team visited Lyric Square in Hammersmith, where, joined by the police and Victim Support, they spoke with passing members of the public to raise awareness of the issues and got great feedback from passers-by.
Jerdan Place in Fulham was next, where residents were encouraged to sign H&F's hate crime pledge, before heading to the Westfield shopping centre on Thursday.
While there, the team used an interactive desk and hate crime quiz to engage with shoppers, many of whom were shocked by national figures for hate crime incidents.
The week finished with a visit to the Al Muntada mosque in Parsons Green during Friday prayers. There the team held a workshop to offer support and advice on hate crime and how to report it.
Further information
To find out more about hate crime, how to report, to sign our hate crime pledge, or to get support, visit our dedicated webpage.
The Heartstone Odyssey is a project for schools, funded by the Mayor's Office for Policing and Crime (MOPAC) and supported and delivered by the council.
Want to read more news stories like this? Subscribe to our weekly e-news bulletin.
By sending us a comment, you are agreeing to our publishing policy.