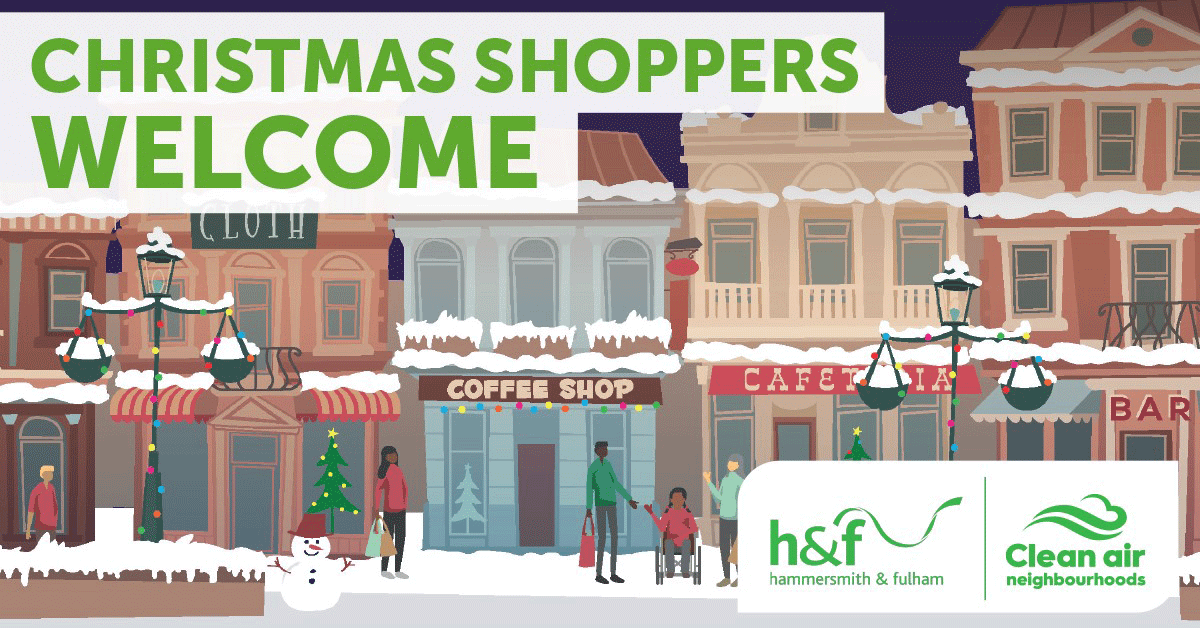 We've made it easy for people from outside Hammersmith & Fulham to drive to South Fulham for festive shopping, eating and drinking.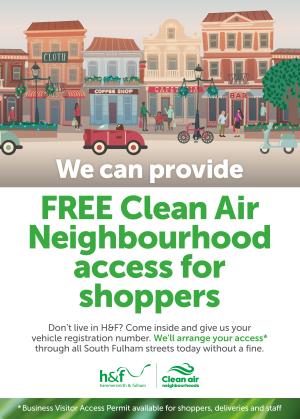 We've introduced a new shop and drive scheme so that businesses can give you free, all-day access through the cameras. Even if you have already gone through a camera, they can give you permission up till midnight that day.
Just check that the shop has signed up to the new scheme (see list below) and, once there, let them know your vehicle registration details.
And we've put in new shopper parking bays to make it easier still.
Our Clean Air Neighbourhood only prevents people from using our residential side streets as a shortcut through the borough. For visitors, it's business as usual.
Welcome to Christmas in South Fulham!
Information for businesses about the business visitor access permit.
List of participating businesses in South Fulham:
Abi barbers
Flat 1, 126  Wandsworth Bridge Road, SW6 2UL
Andrew Robson Bridge Club
31 Parsons Green Lane, SW6 4HH
Associated Security Group Ltd
277 Wandsworth Bridge Road, SW6 2TX
Ayubi Carpets
305 North End Road, W14 9NS
Bottle Shop (NKR) Ltd
273 New Kings Road, SW6 4RD
Bridge Baker
124 Wandsworth Bridge Road, SW6 2UL
C.E. Harrod Chemist
207 New Kings Road, SW6 4SR
Caroline Fooks Design
Unit 13, Sulivan Enterprise Centre, SW6 3DJ
Chai Thali
146 Wandsworth Bridge Road, SW6 2UH
Charles Miller Ltd
Suite 6, Imperial Studios 7, Imperial Road, SW6 2AG
Chelsea Flooring Company Ltd
96 New Kings Road, SW6 4LU
Chestertons
78 New Kings Road, SW6 4LT
Clean Wise
Flat 1, 336 Wandsworth Bridge Road, SW6 2TZ
Cocotte
271 Wandsworth Bridge Road, SW6 4RD
Coyne Medical
660 Fulham Road, SW6 5RX
Decca Furniture Europe
4 The Boulevard, Imperial Wharf, Chelsea Harbour, SW6 2UB
Diopter Eye Clinic Ltd,
112 Wandsworth Bridge Road, SW6 2TF
Dreams
295 Wandsworth Bridge Road, SW6 2NY
Euro Floors London Ltd
148 Wandsworth Bridge Road, SW6 2UH
Eye of Hatha
131 Dawes Road, SW6 7EA
Fake It Flowers Ltd
419 New Kings Road, SW6 4RN
Featherstone Leigh
62 New Kings Road, SW6 4LT
Figaros
332 Wandsworth Bridge Road, SW6 2TZ
Fiona Campbell Ltd
Fiona Campbell Ltd, SW6 4RB
Freestyle Solutions Ltd
Unit 8, The Piper Centre, 50 Carnwath Road, SW6 3JX
Fulham Massage & Wellness
293 New King's Road, SW6 4RE
Fulham Valeting
180 Wandsworth Bridge Road, SW6 2UF
Greenlife Contractors Ltd, 88 Peterborough Road
Southpark Studios, Studio 1, SW6 3HH
Hair by Naz Ltd
133 Wandsworth Bridge Road, SW6 2TT
Harbour Club Chelsea
58 Cranleigh Road, SW19 3LU
Hitchcock and King
74/86 Carnwath Road, SW6 3HW
Howdens Joinery
Howdens Joinery Fulham, 117-121 Wandsworth bridge Road, SW6 2TP
Hurlingham Books
50 Carnwath Road, SW6 3EG
Ink Business Limited
3 Strode Road, SW6 6BL
ISTIP
126 - 128 New Kings Road, SW6 4LZ
Jazz Flowers
120 Wandsworth Bridge Road, SW6 2TF
Jewsons
Baltic Sawmills, Carnwath Road, SW6 3DS
John D Wood and Co
506 Fulham Road, SW6 5NJ
Joseph Fashion
90 Peterborough Road, SW6 3HH
Kensington Security Doors / Knightsbridge Audio Visual
2 Park Street, SW6 2FN
Knight Frank
405 New Kings Road, SW6 4RL
Lingerie London Ltd
Melbray Mews, 158 Hurlingham Road, SW6 3NG
London Plastercraft Ltd
314 Wandsworth Bridge Road, SW6 2UA
Majestic Wine Fulham
421 New Kings Road, SW6 4RN
Marston Properties Ltd
125 Fawe Park Road, SW15 2EG
Metamorphosis Orthodontics
315 317 New Kings Road, SW6 4RF
Naturo Tea Treat Spa
186 Wandsworth Bridge Road, SW6 2UF
Neptune
87-93 Wandsworth Bridge Road, SW6 2TD
Parsons Green Tennis and Social Club
31 Broomhouse Lane, SW6 3DP
Pickles
899-901 Fulham Road, SW6 5HU
Pietra Wood and Stone
196-198 Wandsworth Bridge Rd, Eastfields Avenue, SW6 2UE
Placement UK
Suite 1, Fulham Business Exchange, SW6 2TL
Placement UK Ltd
Suite 1, Fulham Business Exchange, The Boulevard, SW6 2TL
Planet Plenty
123-125 Wandsworth Bridge Road, SW6 2TS
Poppins Nurseries Ltd
165 New Kings Road, SW6 4SN
Randalls
113 Wandsworth Bridge Road, SW6 2TE
RD Stores
114 Wandsworth Bridge road, SW6 2TF
Savills
191 New Kings Road, SW6 4SW
Schmidt Fulham
82 Wandsworth Bridge Road, SW6 2TF
Shelby Vehicle Services Ltd
407 - 411 New Kings Road, SW6 4RL
Simpson Studio Ltd
18A Parsons Green Depot, SW6 4HH
Snas Design and Development Ltd
88 Peterborough Road, South Park Studios, Unit 1, SW6 3HH
Sotira Georgio
54 New Kings Road, SW6 4LS
South Park Studios
88 Peterborough Road, South Park Studios, Unit 1, SW6 3HH
Stone Age Limited
Parsons Green Lane, SW6 4HH
Supa Clean
109 Wandsworth Bridge Road, SW6 2TE
The KAF cafe Ltd
188 Wandsworth bridge Road, SW6 2UF
Topps Tiles
Units 1-2 , 50 Sulivan Road, SW6 3DX
UVA Design
88 Peterborough Road, Studio 10C, SW6 3HH
Visas2Go
South Park Studios, 88 Peterborough Road, SW6 3HH
WBR Interiors Ltd
86 Wandsworth Bridge Road, SW6 2TF
Wolfe Vets
Down House, 297 Wandsworth Bridge Rd, SW6 2NY
Wooof Ltd
South Park Studios, 88 Peterborough Road, SW6 3HH