Nearly five decades ago, reggae artist General Saint became the second act to sign to Greensleeves – a label as significant to music history as Motown or Stax.
On Saturday (1 July), he was back on stage in Shepherds Bush Green – beside the site of the influential Greensleeves Records shop at 44 Uxbridge Road – as label founders Chris Cracknell and Chris Sedgwick reunited to unveil a new blue plaque.
The shop's site is now home to the Shepherds Bush Central Line tube station. But the enduring power of Greensleeves lives on, demonstrated by the great and the good joining forces with local music fans to salute the iconic brand.
Hammersmith & Fulham Council partnered with the Nubian Jak Community Trust to unveil the blue plaque celebrating Black history in H&F. Find out more about Black artists and the history of H&F in music with our Black History Music Trail.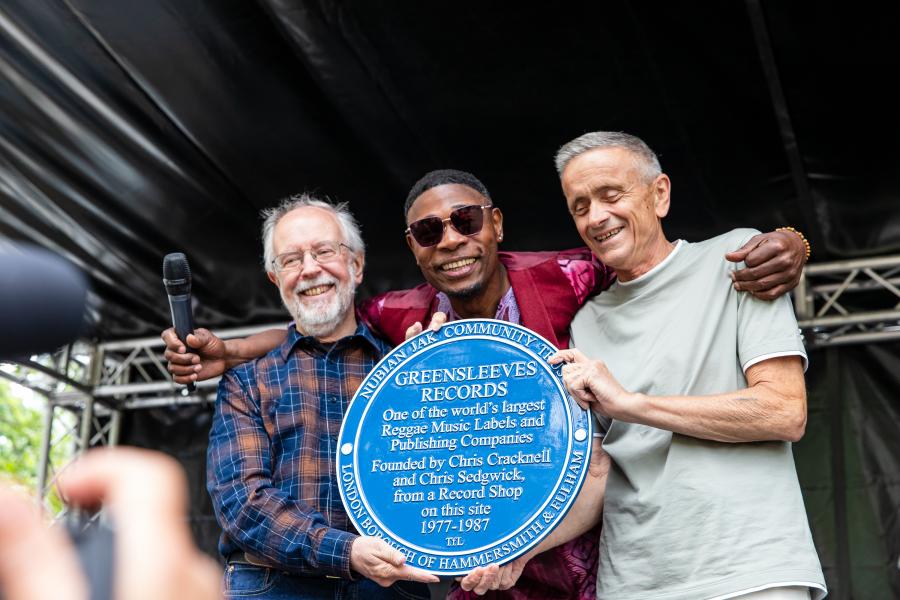 Musical history honour
Dr Jak Beula, chief exec of Nubian Jak, welcomed guests to the party. While Cllr Sharon Holder, H&F Cabinet Member for Public Realm, who went to school just round the corner, addressed the large crowd.
She said how 'delighted and honoured' she felt by being part of the tribute event. "This is part of the council's wider drive to celebrate contributions which may have been overlooked in the past," she added.
Musicians from the all-female Akuba Queens reggae band played on the stage, while a street food stall was busy dispensing jerk chicken and curried goat to the crowd. The Akuba Queens recently returned from a successful tour of Jamaica, and – later this year – are teaming up with the Royal Philharmonic Orchestra for a performance.
Host DJ Blaze described Greensleeves as "a label that backed so much Black British music in the 1970s and 80s", inspiring shoals of other artists, including The Specials. "This blue plaque is important," she said. "It's a legacy that we feel when we can take our grandchildren along to look at it."
Jenita Treacy, from Transport for London, spoke of the importance of celebrating diversity across the network. "Greensleeves is such an important part of London history," she said. "We need more plaques like this!" The plaque was installed in the small hours of Saturday night when engineers could work without inconveniencing travellers.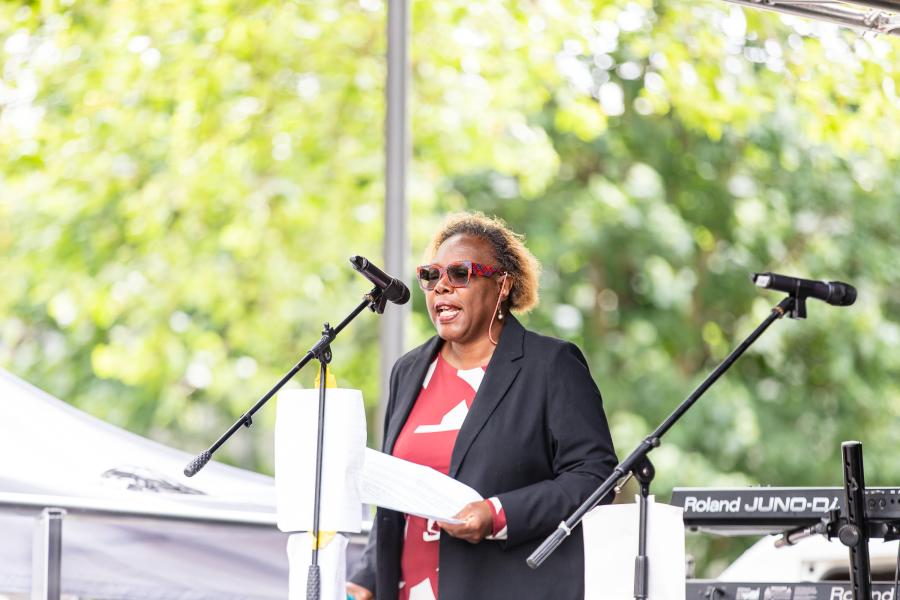 Founders
Greensleeves founder Chris Cracknell took the mic to sum up the story of the Uxbridge Road record shop, which began life in 1975 in West Ealing before moving to Shepherds Bush taking over an empty Indian clothing shop – one of three in a small parade which used to stand on land now occupied by the tube station entrance.
The label they launched never deviated from its mission to bring the best sounds direct from Jamaica to west London… supporting unknown new acts rather than following safer mainstream musical routes.
He said that the high point of the Greensleeves story had come in 1993 when artist Shaggy hit No1 with a cover of the Folkes Brothers' ska classic 'Oh Carolina' and in the process re-energising the whole reggae genre.
"That was one of our proudest moments," he said, before praising the business acumen of his fellow founder Chris Sedgwick. The pair then performed the formal unveiling of the plaque.
General Saint, a pioneer signing to the label in the 1970s, said of Chris and Chris: "You guys gave me a career – you supported me and you saved my life. It was like being part of a big family." On the strength of his backing by Greensleeves he reckons he played every single polytechnic and university in the UK.
"This blue plaque means a lot to me. I came here from Jamaica when I was 17, and started with Greensleeves three years after that," he added.
Karen Proctor, manager of Greensleeves Records' modern-day owner VP Records, said: "I feel very humble to be here today on this really historic occasion as Greensleeves opened doors for so many artistes and producers, and broke down racial barriers."
Shop co-founder Chris Sedgwick recalled that the former clothing premises which they took over in Shepherds Bush in May 1977 had to be completely refitted with racks to hold the stock of vinyl LPs.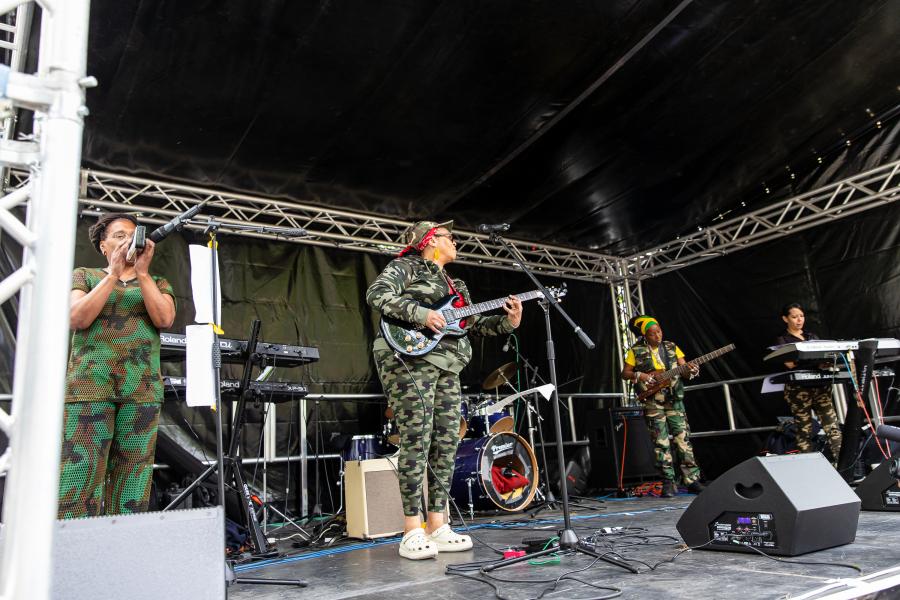 Greensleeves today
To this day, Greensleeves Publishing has the largest catalogue of reggae songs in the world, with more than 20,000 copyrights by acts ranging from Michael Prophet, Eek-A-Mouse and Barrington Levy to Shabba Ranks, Bounty Killer and Elephant Man.
The Greensleeves plaque now takes its place in the boroughwide network of points of interest celebrating Black artists in H&F, including Peckings Records and Fela Kuti – both in Shepherds Bush.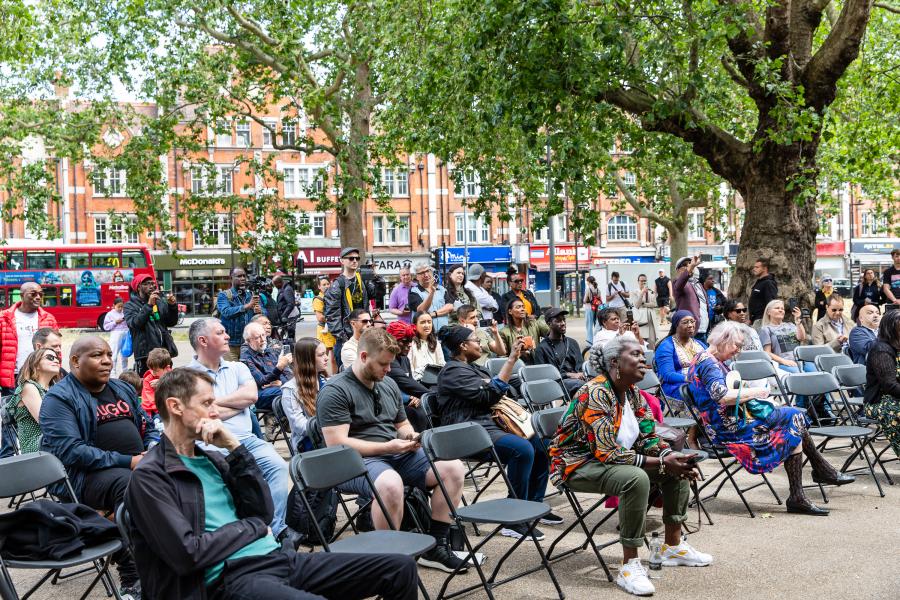 Want to read more news stories like this? Subscribe to our weekly e-news bulletin.