We've created a new way for residents to tell us about rental bikes wrongly parked or dumped in your streets.
Residents can now report rental e-bikes that are parked in an illegal or anti-social way via Hammersmith & Fulham's Report It webpage or the Love Clean Streets app.
The new tool is set to significantly improve support for residents in getting pavements cleared faster and more effortlessly than ever before.
Cllr Sharon Holder, H&F Cabinet Member for the Public Realm, said, "It's great that more people are choosing to cycle rather than drive. But too many bikes are being parked dangerously on pavements, causing big problems for older and Disabled people and families pushing babies.
"We're asking people who hire a bike to be considerate and park safely. And we've made it clear to the companies that they need to step up enforcement of the rules." 
Report it
You can now report wrongly parked or dumped e-bikes or e-scooters via H&F Report It (desktop), or on a smart phone using the H&F Report It Love Clean Streets app (download the app from here)
It only takes a few quick and easy steps to send a report.
On your phone: If it's the first time you have used the app, you will be asked to verify your email address and pin your location.
On your desktop: Go to H&F Report It. You can raise a report without logging in if you prefer, but if you log in you will be able to see the history of your reports.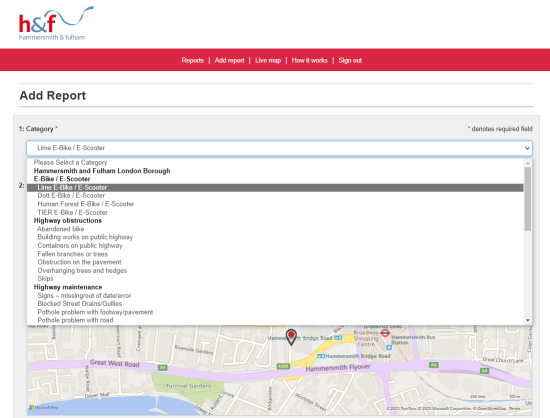 1. Select a category. Choose 'E-bike / e-scooter report obstruction' from the drop-down menu. Then select the right operator to send the report to.
It is the rental companies' responsibility to ensure that vehicles are parked considerately or – preferably – in a designated parking bay.
The feedback provided through the new council tool will be sent directly to the selected operator, ensuring fast and easy removal of pavement obstructions when and where needed.
Operators in the borough include Dott, Human Forest, Lime and TIER.
2. Pin your location. If you're no longer at the location you're looking to report, please make sure to adjust the location of your pin on the map.
3. Take two photos. Show how the bike is causing an obstruction or danger. Take another photo of its QR code.
4. Add a description. Include information that will help the operators find and remove the vehicle quicker.
5. Send! Click 'send' or 'Add report' to upload your report.
Get rolling
We believe electric is the future of travel in reducing exhaust emissions and helping improve air quality.
When used responsibly, electric bikes and scooters provide a great way for people to get around quickly and cheaply. Between our four local providers Dott, HumanForest, Lime and TIER, H&F is offering more than 1,000 rental bikes in the borough from as little as 15p per minute.
To further help residents make the switch to electric transport, H&F also offers:
It's part of the efforts we're taking to achieve our ambitious goal of net zero carbon emissions in H&F by 2030.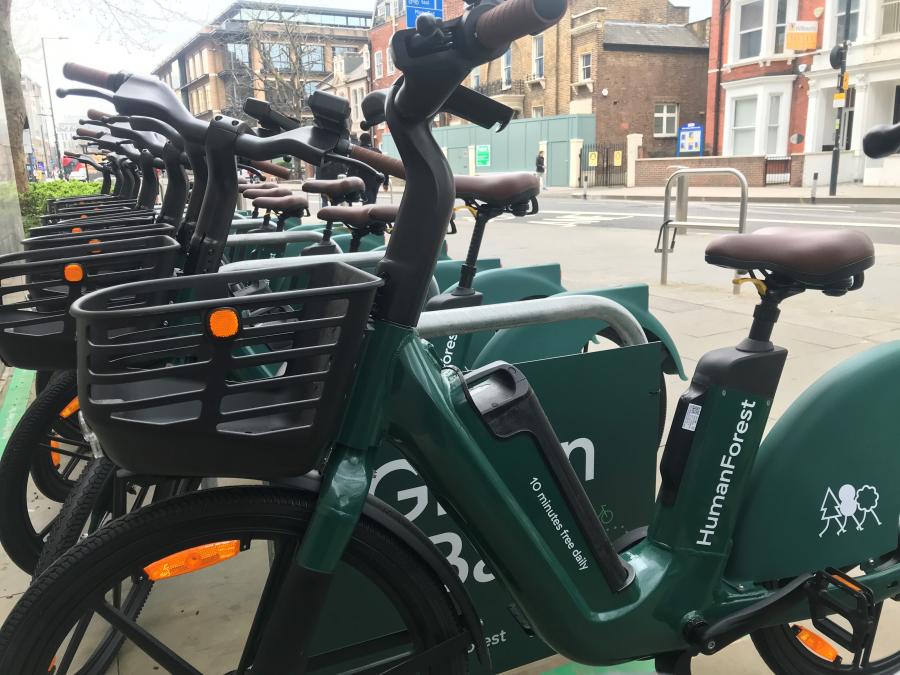 Want to read more news stories like this? Subscribe to our weekly e-news bulletin.