We offer free cycle training and a variety of other cycling initiatives to anyone of any age and at any level to help get people pedalling across H&F.
You're welcome to bring your own bike, or use one of ours.
"We want everyone to be able to cycle safely and with confidence on the roads and cycle paths of H&F.

We want to double the number of journeys in the borough being made by bicycle. So free training sessions like the ones we're offering are vital in giving people confidence to get on a bike for the very first time, or the first time in a long time.

Getting more of the borough cycling is a key part of our aim to tackle the climate and ecological emergency, while helping residents keep active and improving air quality."

Cllr Wesley Harcourt, H&F Cabinet Member for Environment.
Free cycle training and bike maintenance for adults and families
If you live, work or study in the borough, you're welcome to take part in our group and family cycle training.
Our cycle trainers are all DBS-checked, first aid trained and professionally-qualified Bikeability instructors. They're all super-friendly and highly experienced urban cyclists who have worked with Londoners for many years.
Everyone is welcome to take part in our adult training programme and we encourage women in particular to join to enhance women's safety when travelling alone or at night.
Learn the basics
If you want to get cycling or keen to get back on your bike, please join us for our popular beginner sessions:
Tuesdays, 10am to 12 noon at Ravenscourt Park (outside the Old Teahouse)
Wednesdays, 10am to 12 noon at Edwards Woods Community Centre, W11
Fridays, 10am to 12 noon at Ravenscourt Park (outside the Teahouse).
The sessions cater for all levels of rider, from those who've never cycled before, to those who ride regularly, but want to brush up on their road skills to gain more confidence for riding through our borough. Everyone is welcome.
Find out more and book at Free Adult Group Cycle Training.
Family cycle training sessions
Help your little ones cycle safely to and back from school with our family-friendly cycle training sessions in the park. The sessions are reserved for families to enable children and parents ride together.
Find us in Ravenscourt Park, outside the Old Teahouse, OR Normand Park, outside Virgin Active. 
Find out more and book at Free Family Cycle Training.
Individual sessions
There is a cycling experience for everyone.
Find out more and book: Cycle Confident courses.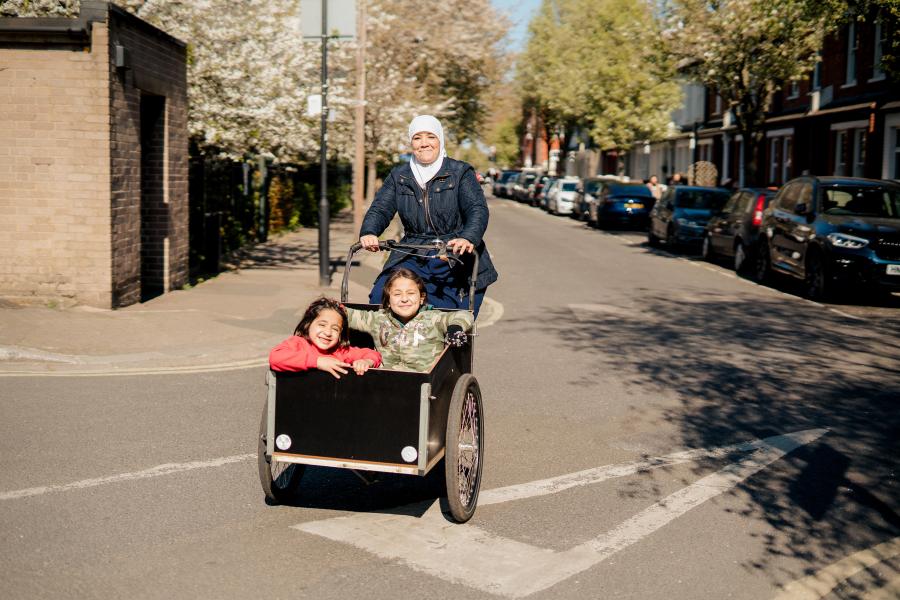 Bike maintenance course at the Macbeth Centre
Learn how to care for your bike at H&F's Macbeth Centre. The course will cover the key components of your bike and how to keep them in good working order.
The course is only £5 and open to everyone, various dates available. Find out more and book.
Dr Bike
You're welcome to use one of our bikes, but if you'd prefer to use your own, don't let a flat tyre put you off a cycle training session - just wheel it along and Dr Bike will get your bike running smoothly again.
Wherever our cycle training is taking place, you'll also find Dr Bike - available to check your bike over, give it a light service or advise you on any larger work that needs to take place.
You'll find us here:
Tuesdays, 12pm to 2.30pm at 3 Shortlands, Hammersmith Road, W6
Wednesdays, 12.30pm to 2pm at the Nourish Hub, Edward Woods estate, W11
Saturdays, 10am to 3pm in Ravenscourt OR Normand Park.
Find out more at Hammersmith and Fulham Cycle Training and Dr Bike.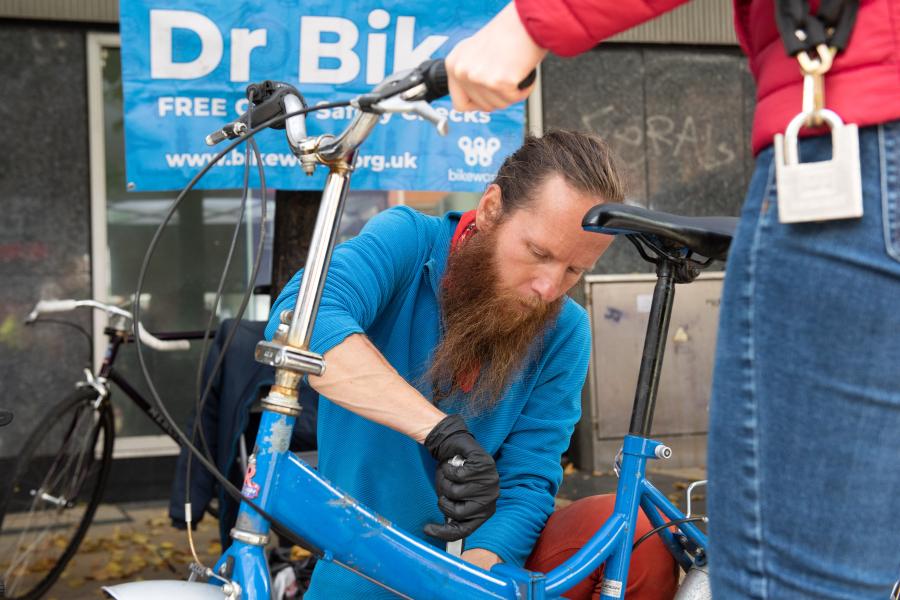 Free group cycle training lessons in schools
Lots of local primary schools students have already benefitted from our Bikeability cycle training that we offer for H&F's year 5 and 6 pupils.
If your school hasn't yet had Bikeability, get in touch - we'd love to hear from you at cycling@lbhf.gov.uk
Now, H&F is also rolling out a brand-new cycle training programme to secondary schools to encourage even more students to cycle safely to and from their school.
If you're a parent of a secondary school student, involved in a PTA, or a PE teacher or headteacher, we'd love to hear from you at cycling@lbhf.gov.uk
School travel plan not up to date? Don't worry! We will work with you to get your school back on to the free TfL STARS programme.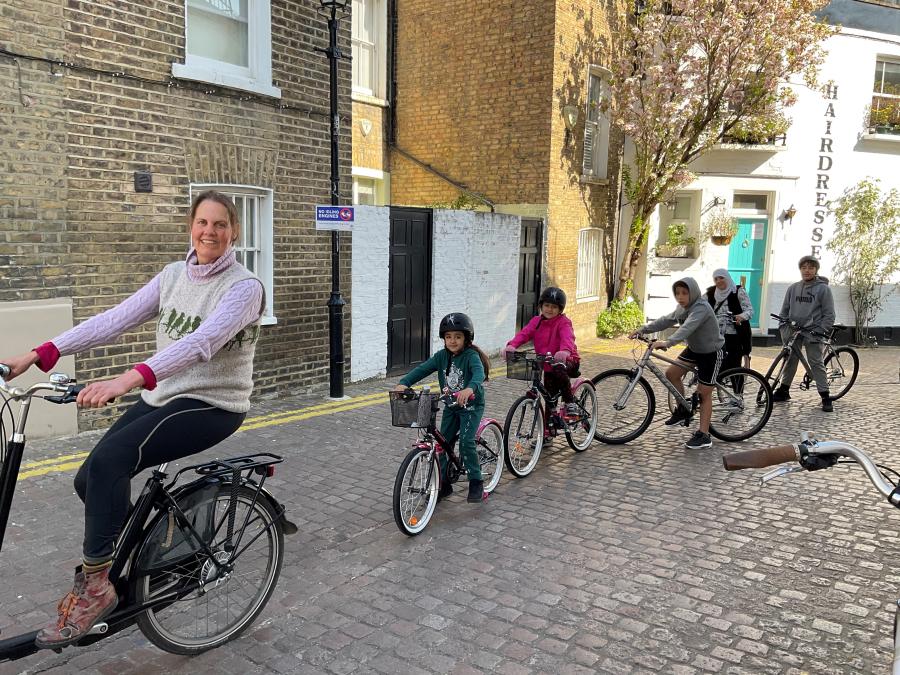 How does it work?
Two instructors take groups of up to 12 pupils.
All children who take part are awarded a Bikeability certificate and badge.
For further information and to book cycle training at your school please email cycling@lbhf.gov.uk
Try Before You Bike
Want to get a bike but not sure you'll like it? Why not Try Before You Bike and get a free cycle training session thrown in!
Visit the Peddle My Wheels website for more details about Try Before You Bike.
Free online cycle skills course
Whether you're new to cycling or just want to brush up on your skills, TfL's free online Cycle Skills course provides easy to follow tips and advice to get you going.
There are 4 short modules to try. And if you complete all 4 modules, you'll receive a unique 15% discount code so you can save on Halfords own-brand cycle lights, locks and helmets.
You'll learn:
tips to get you and your cycle prepared for the road
how to start cycling on the road safely and responsibly
tips to brush up on your cycling skills
how to cycle in a group with children or adults.
What are you waiting for?
Register now for the Cycle Skills course.
Adult cycle training testimonials
I really enjoyed the session and have recommended it to lots of friends and colleagues.
I couldn't quite believe the progress I made in just one session. Just wish it had been longer. But thank you regardless! It felt like a treat.
I was unable to cycle at all. In the two hours I learned how to balance and basic technique.
The whole thing was great, the trainer was perfect, there was a large emphasis on my safety, which is I exactly what I wanted.
The trainer was very good - she was a nice person and was very accommodating.
The instructor was amazing and really helped with my confidence on the bike. I will now use that to continue my cycling.
A wonderful project, with a lovely, able and patient instructor who did not seem to mind that I never cycled before.
Training was helpful and made me clear about how to cycle more assertively and confident of what I was expected and entitled to do on the road.
Booking session was simple and easy. Instructor was good and helpful. The training session was very helpful but not enough as just managed to cycle few metres. Wish I could have more sessions that would boost my confidence.
I only completed the first stage of cycle training and will be having further training soon. The trainer was very informed and knowledgeable and gave me lots of useful tips on looking after the bike and going back to basics on the bike.
Cycle training was fantastic and really improved my skills and confidence, the instructor tailored the session to meet my needs and ability.