If you have yet to meet Hammersmith & Fulham's Law Enforcement Team (LET), now's your chance.
Residents are invited to have their say about local crime at three family-friendly community events this summer break.
Next up: Bishops Park, SW6.
On Saturday 13 August, head down to Bishops Park to speak to your local LET officers about safety concerns in the area. Bring your family, friends and neighbours, everyone is welcome.
Find your nearest LET event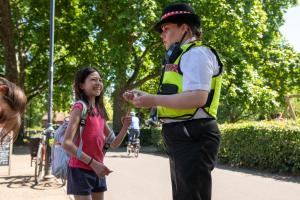 Each event will feature a range of kid-friendly activities, including face painting, colouring competitions, and an opportunity to get behind the wheel of the LET van.
Please join us.
Saturday 6 August
10.30am to 1.30pm
Shepherds Bush Green, W12
This event has now passed.
Wednesday 10 August
1.30pm to 5.30pm
Ravenscourt Park, W6
This event has now passed.
Saturday 13 August
10.30am to 1.30pm
Bishops Park, SW6
This event has now passed.
One year with the LET
The LET joined H&F's crime fighting services in 2021.
As violent crime in the UK rose and police numbers across London declined, the council created the team as an important extra force to crack down on local crime in its bid to make H&F a safer, stronger borough.
Since then, H&F's officers have worked closely with the local community and partner organisations. Recent operations included:
and helping local year-six pupils prepare for their move to secondary school as part of the Junior Citizens scheme.
In addition to their daily patrols around the borough, the 72-strong team regularly conducts targeted 24-hour operations. Their most recent operation was on Wednesday 10 August on the West Kensington Estate.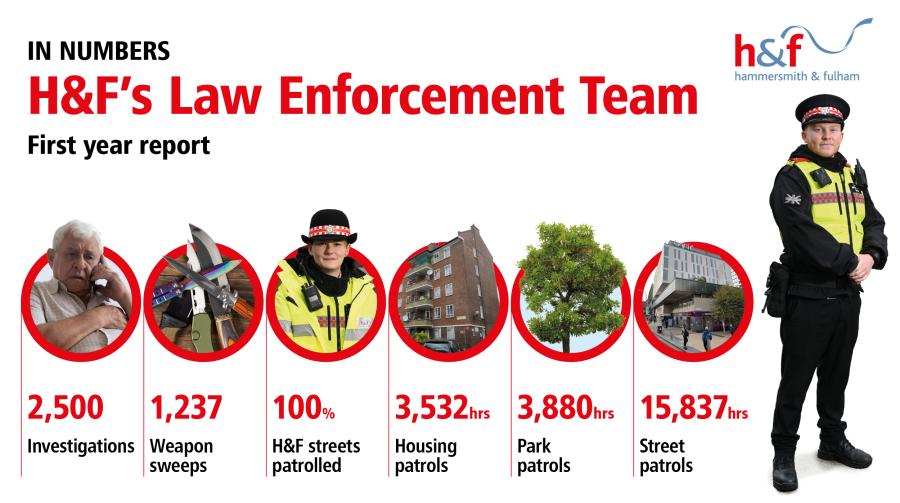 Between April 2021 and 2022, the LET:
took more than 65,000 actions around the borough
launched 3,800 investigations in response to reports from local residents
conducted over 1,500 weapon sweeps
ran more than 6,200 patrols in housing estates across the borough
issued 1,000 Fixed Penalty Notices
helped clear over 900 instances of fly tipping
and patrolled 100 per cent of all streets in H&F.
Contact the LET
H&F's LET patrols the borough day and night, seven days a week. If you see our officers out and about, make sure to say hi – they're here to help.
You can also email the team at let.hf@lbhf.gov.uk or call on 020 8753 1100.
For specific ward team contact details and more information, visit the Law Enforcement Team web page.
Want to read more news stories like this? Subscribe to our weekly e-news bulletin.