Hammersmith & Fulham has been celebrating Refugee Week and the important contributions refugees and asylum seekers make to our borough.
From Monday to Friday this week, we hosted a mixture of online and in person events that covered everything from artwork to Bee keeping.
VIDEO: Refugee Week 2022 art exhibition at the Lyric Hammersmith
"Refugee Week is a wonderful way to highlight and thank Asylum Seekers and Refugees for their contribution to our daily lives. Those fleeing conflict, persecution and hardship will always be welcome in H&F," said Cllr Rebecca Harvey, H&F Cabinet Member for Social Inclusion and Community Safety.
Here's a recap of what happened during our annual Refugee Week celebrations.
Bees & Refugees talk
Tuesday 21 June
Local beekeeper and Syrian refugee Ali Alzein opened the week with a virtual talk about his charity Bees & Refugees.
He works with refugees, asylum seekers, schools, and local communities, supporting their mental health by teaching them how to care for, protect and identify bees.
"I discovered the therapeutic element of working with bees through my grandfather. Back in 2019, he told me to get bees as a way to keep busy and it was when I first introduced the colony to my garden that I realised the very positive impact bees had on my mental health," said Ali.
The talk covered the history of the native black bee, the mental health benefits of bee keeping, the charity's work with the community, and the development of the charity since its founding.
Ali founded the charity in 2020 through crowd funding and a donation from H&F council. Since then the charity has grown and grown, and they now own a small farm in Kent where they're building a wildlife friendly home for their bees.
If you would like to support the charity, you can do so by buying some of their honey, available at different shops around the borough including Bushwacker Wholefoods, Hammersmith, Bridge Baker, Fulham, and Ta'mini, Fulham.
"Our honey is quite expensive, because we don't want to sell commercially and put any pressure on the bees, but natural honey is medicinal and local honey is always best," explained Ali.
You can catch the recording of his talk here: Bees and Refugees Zoom talk (YouTube).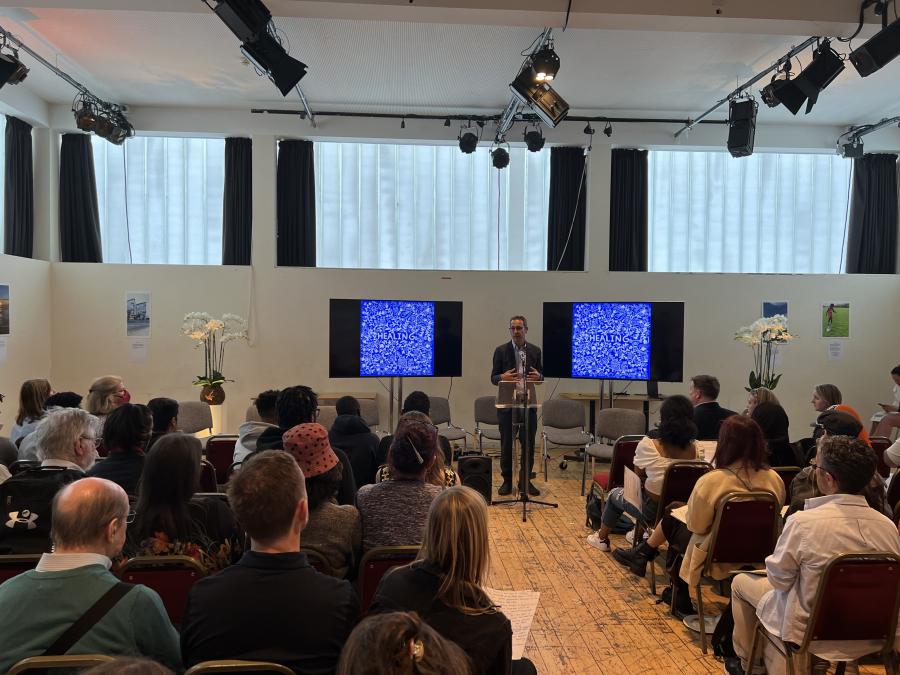 Art exhibition and performance
Lyric Hammersmith theatre
Thursday 23 June
On Thursday evening we held the launch event for this year's Refugee Week art exhibition at the Lyric Hammersmith.
The evening was opened by Cllr Harvey, before a few words from Enver Solomon, Chief Executive of the Refugee Council, and Cllr Stephen Cowan, Leader of H&F Council.
After their speeches refugee students from West College London took to the stage for "The meaning of Healing", a spoken performance, with video accompaniment, that centred around this year's Refugee Week's theme, healing.
The art exhibition displayed 48 pieces, created by six refugee artists, with themes ranging from abstract to London life and well-known celebrities.
The art exhibition is running until Thursday 30 June and is free for all to attend during the Lyric's opening hours.
You can hear more about the artists and their art here on YouTube.
Finding employment
Friday 24 June
Breaking Barriers presented an online talk about their work supporting refugees and asylum seekers find employment that matches their skills and experience.
The charity believes that every refugee can fulfil their potential and work to find employment that suits them.
They currently run two programmes across London, one focused on education, including English, IT and digital skills, and the other focused on finding employment.
Breaking Barriers has a range of corporate partnerships who provide work experience that teaches networking, customer service, presentation skills, business etiquette skills.
This talk was recorded and will be made live on our YouTube channel soon.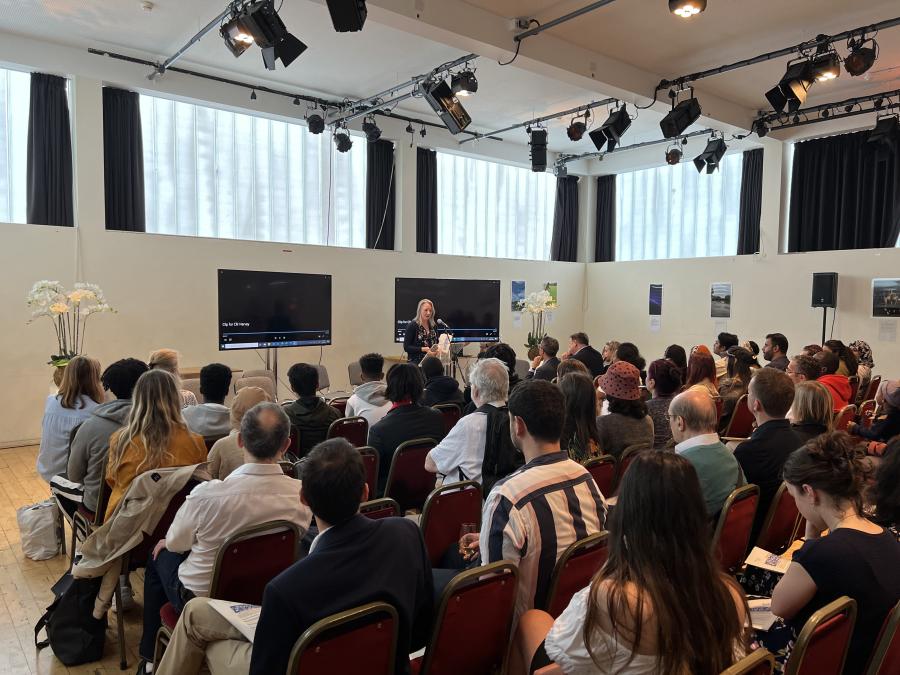 Football competition
Fulham FC's Craven Cottage stadium
The Fulham Football Club Foundation are finishing off the week by hosting a closed-door football competition for their young refugee teams. QPR's and Chelsea's refugee players will also be taking part.
Want to read more news stories like this? Subscribe to our weekly e-news bulletin.