Fulham's Queen's Manor Primary School pupils walked 2,000 miles last week to raise more than £2,000 for Unicef's Ukrainian refugee support fund.
Over five days, pupils from Nursery through to Year 6 walked 400 miles a day to cover the distance between their Fulham school and Freedom Square in Kharkiv. The children, aged 3-11, came up with the idea themselves after talking about the war in their assemblies and brainstorming how they could help.
Head Girl Amélie Cobb, 11, said: "So many children in Ukraine don't know why the war is happening. It's really rewarding that we can help them by sending clothes, food, and toys. Our original target was £500, and we smashed it."
Over the last week the pupils have raised more than £2,100, and there's still time to donate to their cause.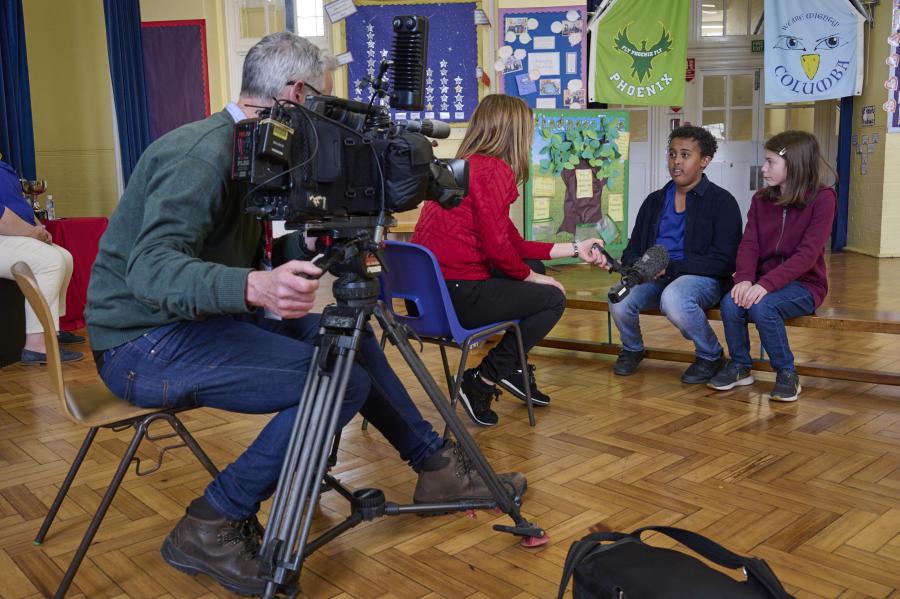 A team effort
Not all pupils walked the same distance, each year group was assigned a different quota for the week.
Head Boy Sahil Kahil, 11, explained:
"Year 6 worked out a formula to divide the distance between the different year groups, so that older children walked further than younger ones. Year 6 has been walking 100 miles a day which is 4.8 miles each, and Nursery has only been walking 14 miles a day, which is 0.4 miles each. We are very proud of our school. It has been amazing."
As well as walking their fair share, 30 miles a day, 0.9 miles per pupil, Year 1 also wrote a motivational chant to sing and walk along to.
We are walking for Ukraine
Not by bus and not by train
30 miles until we're done
Let's keep walking on, Year 1

We are walking to Freedom Square
To show the people that we care
Two thousand miles, it's a very long way
We're raising money for Ukraine."
Bake sale
Pupils also held a bake sale. The £421 they raised will be added to the grand total on their Just Giving page.
"I am so proud of the children and the whole community who have really got on board to back the children. We have had people sending in money from as far away as Australia," said Headteacher Phoebe du Parcq.
"We knew early on we had a big job to do to help our pupils understand what is going on in the world and Ukraine. Our job is to reassure them that they are safe while ensuring we are true to the core values of Queen's Manor, such as Responsibility."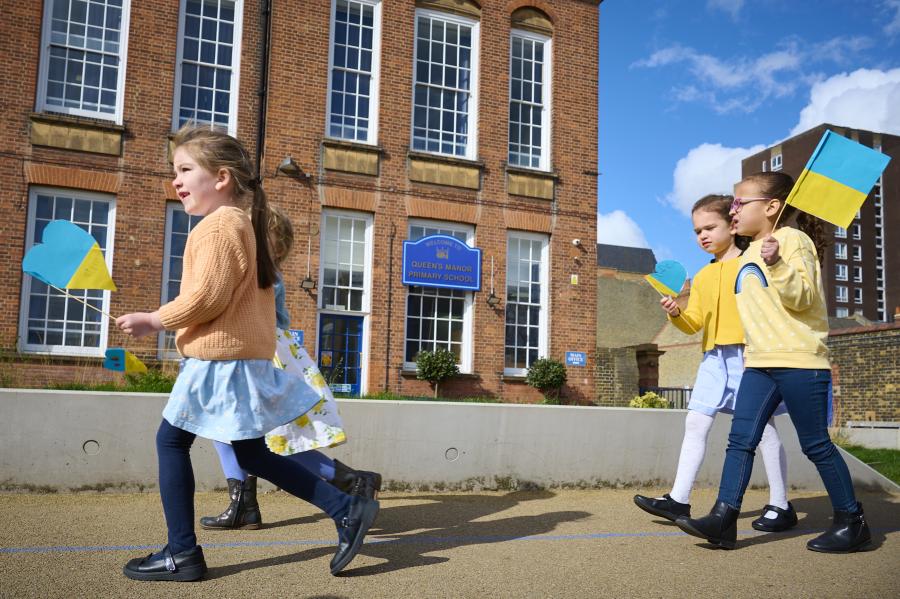 Get involved
If you want to help support Ukrainian refugees arriving in H&F you can donate to our H&F Giving appeal, where all funds will directly go to supporting refugees arriving in our borough.
If you wish to help those on the front line of Ukraine's humanitarian crisis, donate to the Disasters Emergency Committee.
Find out more about how you can support Ukraine here.
Want to read more news stories like this? Subscribe to our weekly e-news bulletin.