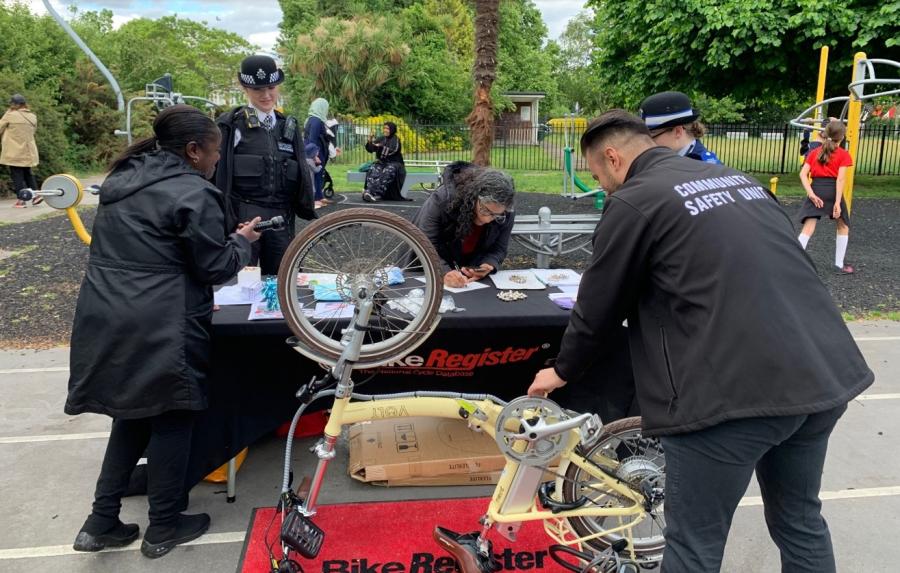 Much of the work managed by the community safety team is strategic in nature and we work closely with our partners in the Community Safety Partnership to reduce crime and anti-social behaviour across H&F.  
 
The Community Safety Team manages the following areas: 
Crime prevention advice and victim support  
Problem solving ASB and crime hotspots  
Crime prevention advice and events 
Our Community Safety Officers work with our partners to provide advice and support in relation to a crime and ASB.  
Bike Marking – reduce your risk of your bike being stolen by getting your bike security-marked and registered with BikeRegister. Together with the police, the community safety team hold regular bike marking events. Find out about future events.  
Acquisitive crime events – Acquisitive crime is when the offender derives material gain from the crime such as theft, burglary, fraud and robbery. The community safety unit works with our partners to provide prevention advice to residents in areas where these crimes are particularly prevalent. They also coordinate action plans to prevent further crimes in these areas. 
Ward panels – the community safety teams represents the council at ward panel meetings which are run by the Metropolitan Police. Ward panel meetings encourage engagement between residents and the police and are used to discuss local crime and disorder concerns. They are also used to set local policing priorities. Further details on the upcoming ward panels in your area can be found on the 'Your Area' section of the Met Website.  
Seasonal crime events – crime prevention advice particularly relevant to certain times of the year such as bonfire night and Christmas/New Year.  
More information can be found at crime prevention advice and support
Community Safety Partnership  
Our partners in the Community Safety Partnership include the Metropolitan Police Service, British Transport Police, Hammersmith & Fulham Primary Care Trust, London Fire Brigade, National Probation Service, and the London Ambulance Service.  
 
The Community Safety Partnership takes an evidence-based approach to highlight specific areas of concern in the borough in relation to crime and ASB and sets key deliverables for the partnership. 
 
The Community Safety Partnership Plan shows the local crime and ASB local priorities and how we hope to achieve our objectives.  
Data protection and privacy