We know that rising costs are a significant challenge for businesses right now and very much understand the anxieties that small businesses are feeling.
Whilst this is a global crisis that will require significant intervention from the UK Government, we are taking steps to offer immediate support and advice to businesses at a local level.
Free service to help H&F businesses reduce business costs
Business savings and support experts Place Support Partnership (PSP) have been appointed by the council to deliver a small business cost reductions programme across the borough.
For more information visit our small business cost reductions programme webpage.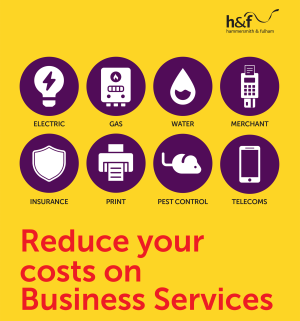 UK Government support for businesses
The UK Government have announced the Energy Bill Relief Scheme (EBRS) to support small businesses with their energy costs.
Through the new scheme, the government will provide a discount on wholesale gas and electricity prices for all non-domestic customers (including all UK businesses, the voluntary sector like charities and the public sector such as schools and hospitals) whose current gas and electricity prices have been significantly inflated in light of global energy prices.
Read more about EBRS (GOV.UK).
Free energy efficiency assessment for H&F businesses
Fulham based business, Advantage Utilities, have offered to conduct a free energy efficiency assessment of any business premise in Hammersmith & Fulham.
They will identify practical steps you can take to immediately reduce your energy consumption. This service will be particularly useful to those in energy intensive sectors such as retail or hospitality.
For more information visit the Advantage Utilities website or email Sam Ridley at sam.ridley@lbhf.gov.uk
Energy efficiency and cost savings in your workplace
The H&F Climate Alliance team have put together a guide with tips and advice about how to reduce your energy consumption. 
The H&F Climate Alliance brings together organisations from across the borough to learn about and tackle the climate emergency and have a range of tools on hand to support businesses including a carbon tracker.
Find out more about the Climate Alliance.
1-2-1 business advice clinics
If any business needs 1-2-1 business advice, our team of business advisors are on hand to help on all areas of business resilience.
Find out more about our free business advice clinics.
Networking opportunities through Networking London
Networking London is a local business networking group free to H&F businesses.
Although this will not directly help with costs, B2B connections can often help businesses share ideas and advise each other on best practice.
London Business Hub resources
The London Business Hub has put together a suite of practical resources and support to help you adapt and navigate the rising cost of doing business, including the Recovery Loan Scheme.
Access the cost of doing business resources (London Business Hub).
Business debt support
Business Debtline is a charity offering free and independent debt advice over the phone and online.
External links for more energy saving information