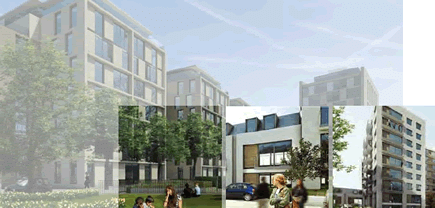 £452m Earls Court community benefit package agreed
Another major milestone in the £8 billion redevelopment of Earls Court was reached as an agreement on a £452 million package of benefits for the area was signed.
Hammersmith & Fulham (H&F) Council, the Royal Borough of Kensington and Chelsea (RBKC), Transport for London (TfL) and scheme developer Capital & Counties Properties Plc (Capco) all agreed the package of community benefits, which is known as a '106 agreement', yesterday (Nov 14).
As part of the agreement Capco has agreed that a new primary school, a new leisure centre, new health facilities and community and cultural spaces will all be built as the approved scheme is developed. Thirty seven acres of green open space will be provided, including a new five acre park and there will also be significant improvements to the transport infrastructure including increased capacity at Earls Court, West Kensington and West Brompton Underground stations.
The redevelopment of Earls Court and West Kensington - residents' information pack July 2013
This booklet is a comprehensive information document produced for residents. It is a large (4.8MB) pdf file, and may take a while to download depending on your internet connection.
Download the July 2013 booklet (large pdf file, 4.8MB)
Previous versions of the information pack
Resident's information pack edition 2 - March 2013 (large pdf file, 11MB)
Full council and cabinet reports
Read the full council report - October 24, 2012 (pdf 144KB) 
Read the full cabinet report - September 3, 2012 (pdf 22MB)
Other documents
Judicial review: Judge's decision - January 21, 2013 (pdf 80KB)
Associated planning applications
Earls Court main Planning Application
Seagrave Road Planning Application
Related link