If you fancy being part of a go-ahead west London basketball club, the good news is that it's just moved to Shepherds Bush.
The Chiswick Gators – who cater for young ballers aged six to 18 – now train at Hammersmith Academy in Cathnor Road, a short stroll from Ravenscourt Park's trio of well-used outdoor courts.
It's the perfect fit. The Gators have the new facilities they've dreamed about, while the academy is chuffed to be hosting one of the capital's most popular and ambitious clubs.
Parent volunteer Kate Astley described the new base as 'a fantastic venue' while delighted head coach Mike Kwentoh said: "Everyone's happy, and we now have an abundance of hoops and space."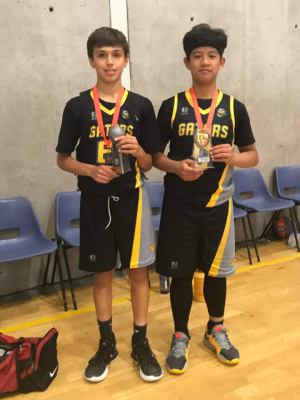 Olympic start
Mike founded the club at Chiswick School in neighbouring Hounslow just before the London 2012 Games. But a search for better facilities prompted the hunt for a new home.
"One door closes and another opens," said Mike, 42, adding that he was a young coach when it began, wanting to do the best he could for kids in west London. "I was trying to give a shine to those who wanted to get on in basketball."
It was the first crop of Chiswick School youngsters who chose the club's name, after rejecting Cheetahs and Tigers. "I used to watch the Florida Gators play, and that just clicked," said Mike, who lives in Brentford.
With 350 members aged six to 18, and former young players returning to assist with the coaching on the Wednesday evening training sessions, the shift of location to embrace competition-standard facilities is working well.
"It was the best decision ever," said Mike. "The staff at Hammersmith Academy are amazing, and everyone has been so friendly and kind. The parents have been made to feel so welcome too."
Local and national leagues
The Gators play in competitive leagues at all age levels, with the U14s, U16s and U18s playing all round the country in the Basketball England National League, and the younger players pushing for glory in the local London leagues.
There's also a charitable foundation, named after one of the original Year 8s who helped set up the club. Ali Abucar Ali also coached while studying at Kingston Uni, until his tragic fatal stabbing in 2021.
"He was dedicated and passionate about the sport; so thoughtful and caring," said Mike. "He was a living angel who cared for everyone."
Parent volunteer Kate Astley added: "A number of us are involved in the work of the Coach Ali Foundation, a small local charity honouring one of our wonderful young coaches who tragically lost his life almost two years ago.
"It aims to widen access to basketball to those from all backgrounds through open community events and scholarships for basketball training for young people who are keen, but whose families wouldn't otherwise able to afford it."
Sessions run on Wednesdays in term time from 6pm to 7.30pm. For more details visit the Chiswick Gators website, email chiswick.gators@gmail.com or call Mike on 07961 736 013.
Want to read more news stories like this? Subscribe to our weekly e-news bulletin.