More than 100 singers from the Addison Singers' classical choirs are set to take to the stage with their Serenade to Summer on Saturday 8 July.
The local singing society's chamber choir and oratorio choir – which rehearse each week at the Polish Social and Cultural Association (POSK) centre in Hammersmith's King Street – are coming together for the musical extravaganza next month.
Summer-inspired themes including the rose and its symbolism make up the programme, along with music based on pastoral and urban scenes.
Kicking off the concert at 7.30pm, the group's chamber choir of around 30-40 singers will present two choral cycles which include Welsh composer Paul Mealor's Now Sleeps the Crimson Petal and Les Chansons des Roses by American composer Morten Lauridsen.
Led by Royal Academy of Music-trained conductor Matthew Thomas Morgan – who has also been involved in performances including the Grenfell Tower Benefit Concert at Cadogan Hall – the summer show will continue with a series of music from the group's professional composers.
The 100-strong oratorio choir will take the audience on a journey through pastoral and urban scenes with music from a duo of contemporary British composers.
Addison Singers' president Bob Chilcott's Songs and Cries of London Town and patron Cecilia McDowall's light-hearted A Fancy of Folksongs will transport listeners from the concert's venue at St Peter's Church, in Southfield Road, Chiswick.
Pianist Matthew Hough will perform Chopin's Nocturne in C minor (Op. 48, No. 1) and Poulenc's Nocturne (No. 4 Bal fantôme) as part of the programme.
Conductor Matthew Thomas Morgan says: "We shall also perform Vaughan Williams famous Serenade to Music which will feature soloists from within the choir and showcase our rich tutti choral sound. And there may be one or two other surprises in the programme, too."
Local music fans can get involved with the Addison Singers choirs – which launched in 1971 – each Wednesday evening, with rehearsals for the auditioned chamber choir taking place from 6.30-7.45pm and the non-auditioned oratorio choir from 7.30-9.30pm.
Book tickets for the Addison Singers' summer concert priced £19.80 for general admission, and £3.30 for under 16s from the We Got Tickets website.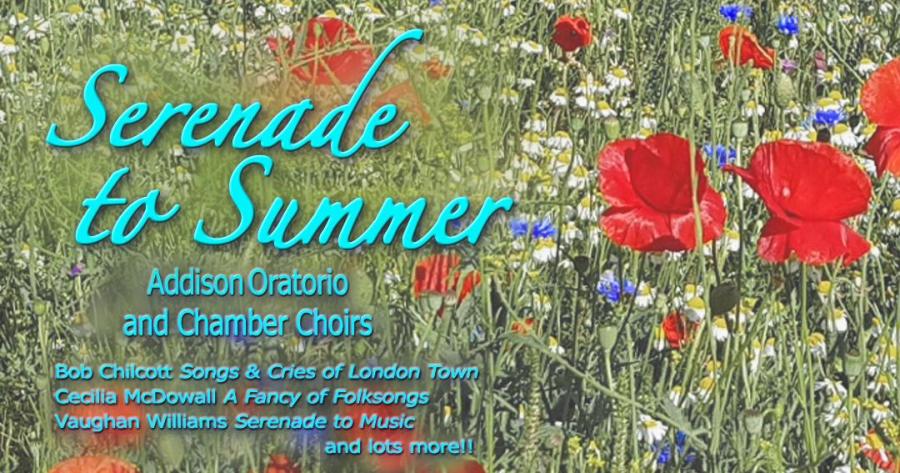 Want to read more news stories like this? Subscribe to our weekly e-news bulletin.