Commemorative pink roses were planted in Fulham Cemetery last week.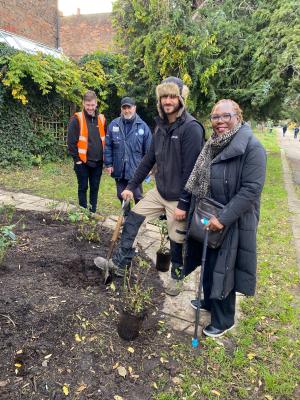 They were planted by local resident Jim O'Brien and Cllr Sharon Holder, H&F Cabinet Member for Public Realm, as well as staff from H&F grounds maintenance team idverde.
An old rose bed in the Fulham Palace Road cemetery was revitalised with the planting of the 12 roses.
The 'Queen Elizabeth II' rose was named in honour of Her Majesty Queen Elizabeth II when she ascended to the British throne in 1952.
Cllr Holder said she thought it would be a 'fitting tribute' to Her Majesty's memory.
The rose is pink and will bloom from spring to autumn.
The 13-acre Fulham Cemetery opened in 1865 and is the oldest cemetery in H&F.
Want to read more news stories like this? Subscribe to our weekly e-news bulletin.