Pupils and residents have planted Hammersmith & Fulham's third Tiny Forest at Eelbrook Common.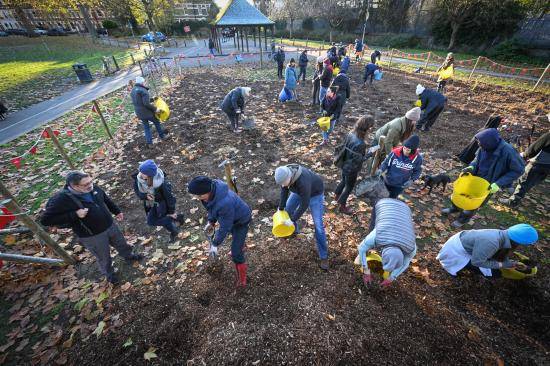 The new forest in Fulham – planted on Thursday (8 December) – was funded by a generous donation from Marston Properties, who have been based in Fulham since 1895.
And just like our Tiny Forests in White City's Hammersmith Park and Fulham's Normand Park, it was planted in partnership with environmental charity Earthwatch.
"Every little change we can make to clean our air and support our wildlife is essential," said Cllr Wesley Harcourt, H&F Cabinet Member for Climate Change and Ecology.
"We're fighting against a climate and ecological emergency in H&F. And a Tiny Forest is a small change that leaves a lasting, positive impact. They're just part of our work to make H&F the best borough to live, work and socialise in."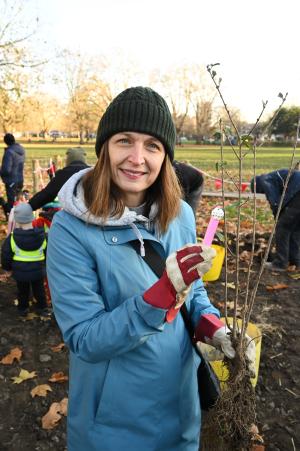 Tiny but mighty
The new woodland is only the size of a tennis court but is made up of around 600 native saplings and shrubs.
Nineteen plant species were chosen for the site, including dogwood, hornbeam, broom and silver birch.
The desired height, density and wildlife habitat of the new woodland were key factors.
It's hoped that the Tiny Forest will attract more than 500 different animal and plant species within its first three years – creating rich biodiversity in the park.
Planning
H&F began planning Eelbrook's forest two years ago.
"Eelbrook Common is close to our office and properties, so planting a woodland to celebrate our 125th anniversary back in 2020 felt like the perfect alternative," said company chairman, Caroline Marston.
"It would also be fantastic if the forest became something that neighbours of the common could nurture and enjoy, including the local schools."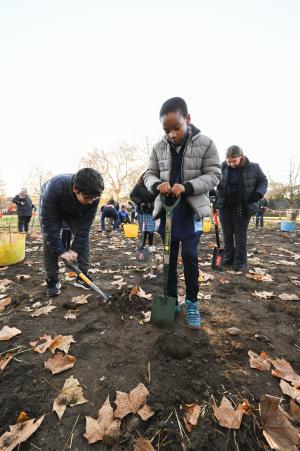 Caroline, who has lived in the borough for almost 40 years, has volunteered as one of the four 'keepers' of the site who will maintain the forest as it grows.
"Our employees will also have the chance to volunteer at the forest," added Caroline. "And we hope that as the trees grow, they'll be able to provide huge ecological benefits to the space."
Digging in
Three local schools got stuck in on planting day.
Year 3s from Fulham Bilingual Schools, planted the first third of the site.
Their hard work was added to by The Hurlingham Academy's Year 7s and Wandsworth Bridge Nursery.
In the afternoon local residents and businesses joined Cllr Harcourt in planting the remainder of the trees.
Emily Pennifold of Earthwatch Europe said "It's been so nice to plant this forest alongside so many children and supporters from the local community. We've now planted over 150 Tiny Forests across the UK and each one is a unique as the community that helped to plan it. We're looking forward to watching this forest develop and  caring for it alongside our wonderful local volunteers."
All volunteers were kept warm with free coffee, supplied by 21Grams Coffee, and mince pies, provided by Brook House.
You can view all pictures from the planting day in our Eelbrook Common Tiny Forest Flickr folder.
Climate emergency
H&F Council declared a climate and ecological emergency in June 2019. Our goal is to reach net zero carbon emissions across the borough by 2030 and to become the country's greenest borough.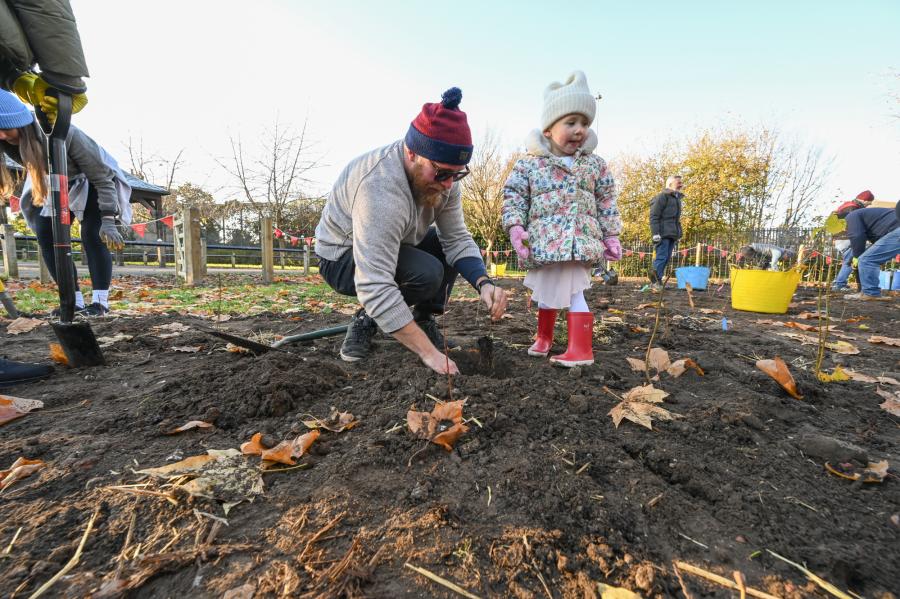 Want to read more news stories like this? Subscribe to our weekly e-news bulletin.