Pioneering reggae shop Peckings Records was honoured with a blue plaque at its original Askew Road location on Wednesday (9 March).
It was secured for the influential musical tastemakers by Hammersmith & Fulham Council and the Nubian Jak Community Trust. The plaque was unveiled by H&F Mayor Cllr PJ Murphy and Jak Beula, Founder of the Nubian Jak Community Trust, as a huge group of friends and family members joined the party.
See all the pictures from the blue plaque unveiling on our Flickr photo gallery.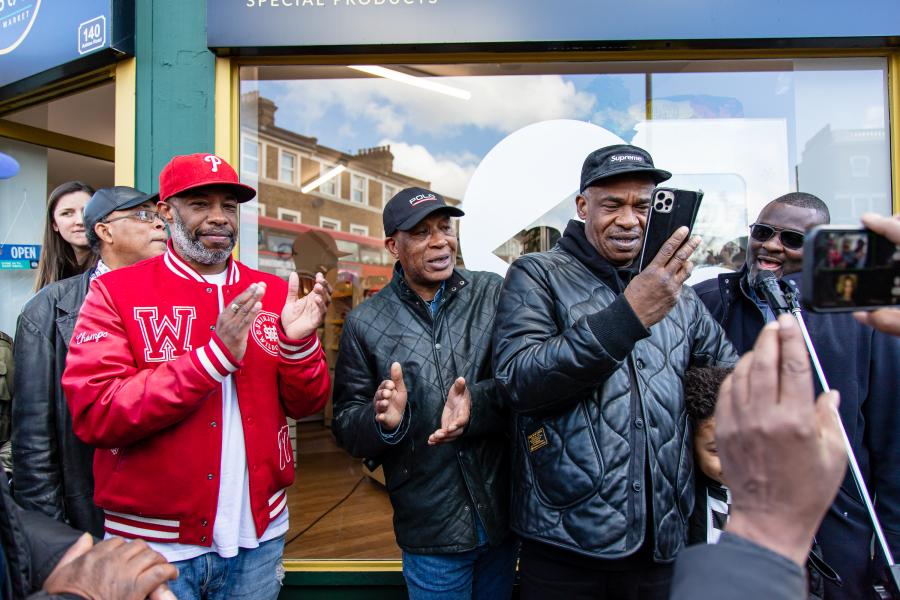 The blue plaque recognises the importance of Peckings as a Black-owned and run business in Shepherds Bush, as well as its immense contributions to music and culture in London.
H&F's Deputy Leader, Cllr Sue Fennimore, paid tribute to the Price family by saying: "Almost 50 years later, the name 'Peckings' and the sound of reggae the Price family has championed remains vital today.
"The plaque highlights the rich heritage and diversity of music we have in our borough. And we're delighted to be working with Nubian Jak to acknowledge the huge influence that Peckings has had on music and culture across London."
Find out more about Black artists and the history of H&F in music with our Black History Music Trail.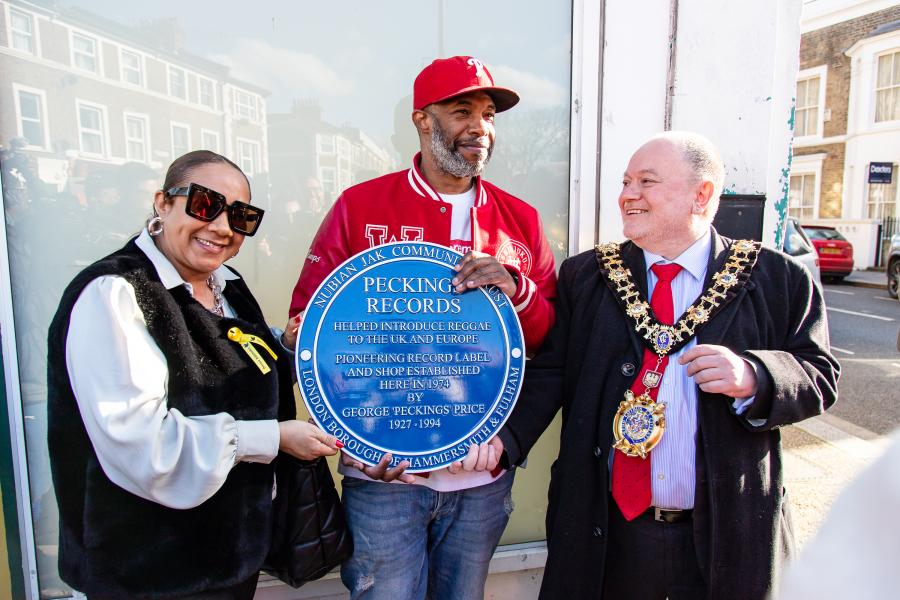 Many rivers to cross
Over the past 50 years, the Shepherds Bush reggae shop has been a destination for soundsystem operators, DJs and music lovers alike.
Opened in 1974 by George 'Peckings' Price at 142 Askew Road (now Jude's Barbers), it became the first London outlet to import records directly from Jamaica to the UK – a full two years before Chris Blackwell, founder of Island Records, started popularising the sound.
Yet George and his wife Gertrude had settled in Shepherds Bush 13 years before opening the shop. And from their arrival to London in 1960, the family catered for legendary soundsystems and labels – primarily by his close connection staging dances in Jamaica and later importing tunes to the UK produced by Clement 'Coxsone' Dodd of Studio One fame.
From his suitcase walking the streets of areas like Ladbroke Grove, George also supplied UK-based Jamaican soundmen including Duke Vin, Count Suckle and Daddy Vego with RnB, ska and reggae records.
Other famous customers who have relied on Peckings over the years include soundman Jah Shaka and BBC DJ David Rodigan, as well as important London labels Hawkeye, Daddy Kool and Cha Cha.
Jak Beula said: "Peckings Records is an oak tree that grew from the acorn of Jamaican music enthusiast George Price, whose love for the music of his island helped to create the phenomenon of ska and reggae in the United Kingdom."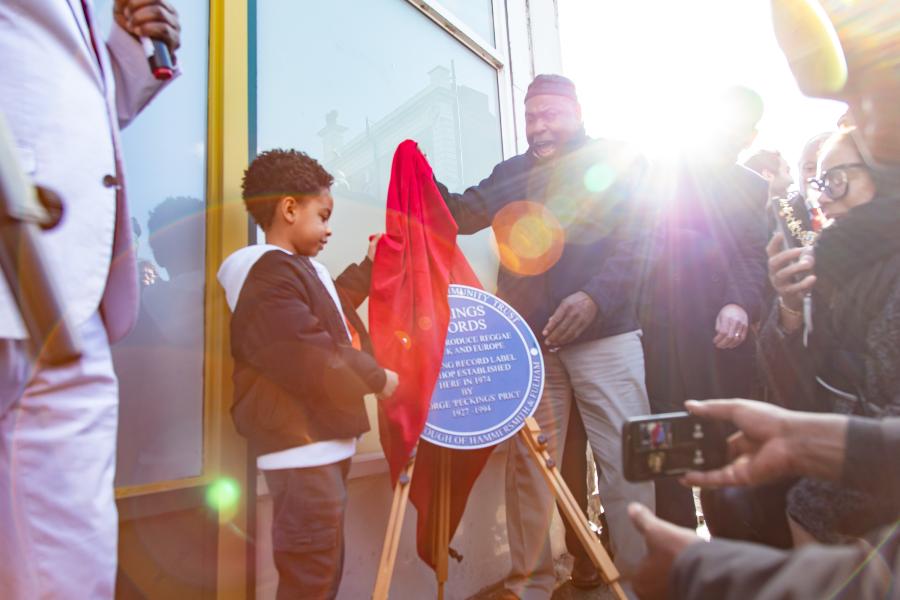 George Price
George's love of music started in Kingston, Jamaica, where he had formed a partnership with Coxsone Dodd, famed producer and label owner of Studio One. He also worked with seminal artists such as Prince Buster – who frequently stayed with the Prices in London – and Lee 'Scratch' Perry.
After George passed away in 1994, the shop passed to his sons to continue the legacy. Tony and Trevor were based in the shop, while younger brothers Chris and Duke have more recently taken Peckings Records and its associated label to a higher level.
Peckings – now based at 81 Askew Road – was awarded both 'Best Label' and 'Best Producer' at the British Reggae Industry Awards in 2013. The label has released more than 90 records and been responsible for breaking some of the most influential reggae artists of the last two decades, including Bitty McLean, Gappy Ranks, Peter Hunningale and Tarrus Riley.
Chris Price said: "It's a special day for our family. We're all very honoured and it's great to have friends and family here today. Thanks to H&F Council and Nubian Jak for the plaque. It's a very emotional day. On behalf of Peckings – love!"
While Duke Price said: "It's not just my dad but also my mother who are getting this plaque today. The entire family. We had humble beginnings and we're humble people. Thank you."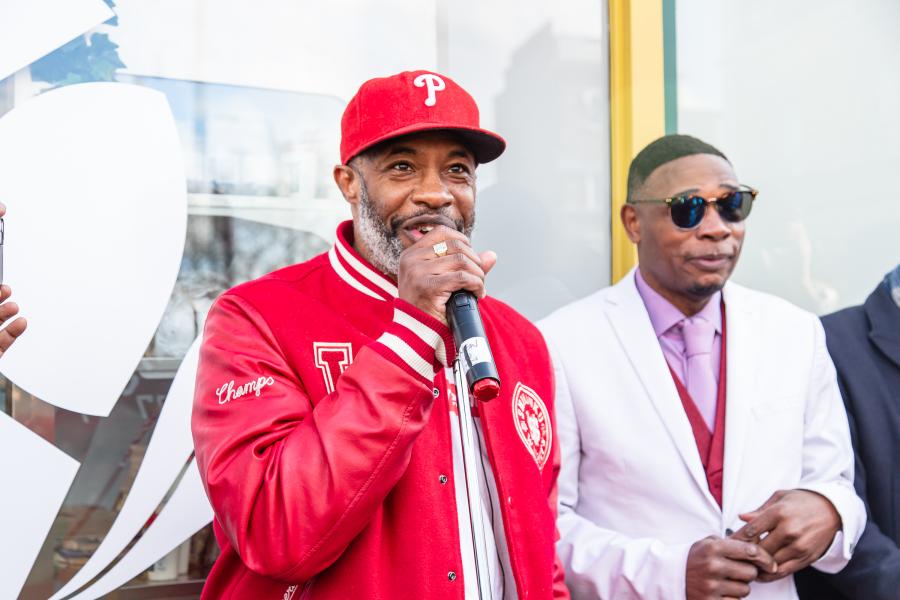 Honouring H&F's Black heritage
Hammersmith & Fulham has a proud history of influential Black people who have called the borough home.
Last November, we honoured Nigerian Afro-beat legend Fela Kuti with a blue plaque at his former home in Stanlake Road, Shepherds Bush.
And last October, Ellen and William Craft – who fled a life of slavery in America and settled in Hammersmith to raise their family – received an English Heritage blue plaque at their former Cambridge Grove home.
Want to read more news stories like this? Subscribe to our weekly e-news bulletin.