Hammersmith & Fulham Council has launched a new initiative encouraging residents to reduce electrical waste and support local businesses.
H&F residents can now spotlight their favourite electrical repair shops by nominating them for the Restart Repair Directory.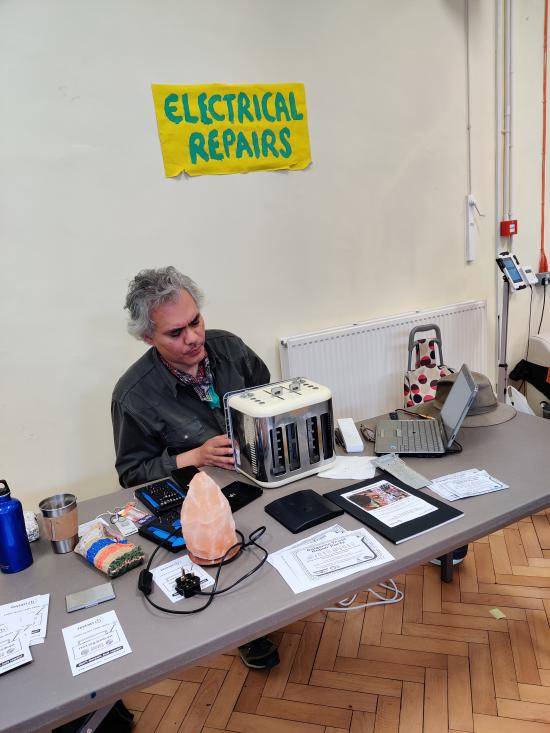 By repairing rather than replacing old devices, we can all do our bit to reduce local emissions and help reach H&F's ambitious target of net zero by 2030.
A joint initiative between Restart, the West London Waste Authority and other boroughs, the directory lists local repair businesses across London. It's a quick and easy way to find reliable suppliers that can get faulty gadgets and devices up and running again.
Now, we've asked Restart to expand the directory to H&F, and reflect our residents' recommendations for H&F-based repair shops.
Got a 'go-to' e-repair shop near you? Suggest a local business for the Repair Directory today.
All businesses must meet certain reliability criteria in order to be accepted to the directory, including:
upwards of 10 online reviews, with a minimum average score of 4 out of 5 stars
a physical address
warranties on their repairs.
Once approved, H&F businesses are set to be added to the directory from April 2022.
Repair rather than replace
Combined, Londoners purchase approximately 273,000 tonnes of new electricals every year. As a result, 1.3 per cent of our carbon footprint stems from buying new devices, particularly smart devices like laptops and smartphones.
The Repair Directory makes it easier than ever for residents to repair rather than replace electronic goods, all while supporting local businesses.
Whether it's a smashed phone, silent alarm clock or faulty toaster – granting our old electrical gems a second life can reduce the amount of e-waste we produce and help tackle the climate and ecological emergency locally.
How else can we tackle our electrical emissions?
Join a Restart party: You can take your devices to our local volunteer fixing group West Central London Fixers, or even volunteer yourself.
Buy refurbished devices: Save money on a new device and buy good-as-new devices with warranties from platforms like Back Market.
Borrow instead of buying: Our new Library of Things is opening April, and you can sign up now to start borrowing useful things. You can also use online platforms to rent devices or share them with your neighbours, like Tryatec and Streetbank.
The most sustainable choice is to reduce the amount of things we buy and use, but where waste is unavoidable, recycling is the most climate-friendly option.
Anything with a plug, battery or cable can be recycled.
Book a home collection for small-to-medium sized electrical items, find a local shop that takes old electrical items, or drop off any portable electrical devices like hair dryers, computer keyboards or small laptops at one of our Waste Electronical and Electronic Equipment banks in H&F.
There are a total of 17 recycling points scattered across the borough, including external on-street banks as well as internal bins in each of our libraries.
Here are three more hacks to help reduce waste and lower our borough's carbon footprint today.
Want to read more news stories like this? Subscribe to our Climate Connects e-newsletter.