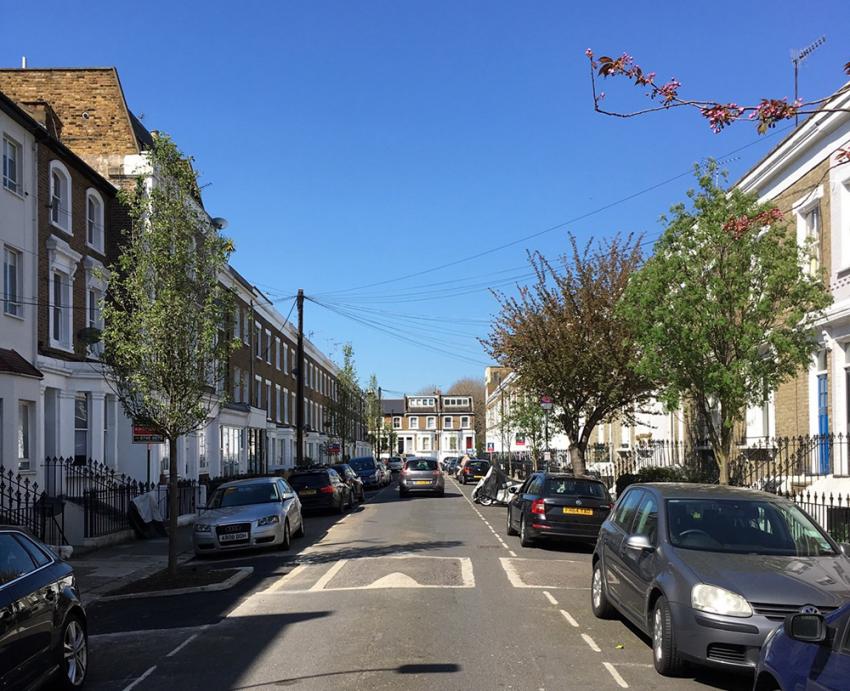 Our street trees need YOU.
Despite the recent deluge, temperatures are set to reach 30 degrees next week. And during this hotter, dry weather, the trees that bring colour and wildlife to our streets are suffering from dehydration more than those in parks and gardens.
Now, we're calling on residents to help them out. Please give them a nice drink of water during these dry summer months.
"We want residents to have a sense of pride and ownership of where they live – and this includes keeping an eye on the trees that line their streets," said Cllr Wesley Harcourt, H&F Cabinet Member for Environment.
"We love our street trees and know residents do too. As part of our ambition to be the greenest borough in Britain and to address the climate emergency, we need our trees and foliage to thrive and prosper."
Street trees dry out more quickly as they have less soil at their bases to retain water. Plus, when rain does fall, the paving and concrete surfaces cause the water to run off, rather than drain into the ground around the tree as would happen in a park.
Currently there are approximately 9,000 street trees across the borough and many thousands more in our parks and open spaces.
What do I need to do?
We're not asking anyone to get hosepipes out, or do anything too time-consuming. If you don't have a small watering can, a jug, bowl, or just a mug (or three) of water will do.
The water doesn't have to be fresh, either. So long as it doesn't contain bleach, you can use old bathwater, washing-up water or hand-washing water from a sink, or even the water left over from washing your car – that way, you can minimise the amount of water you use, which is also better for the environment.
In warmer weather, a couple of soakings a week should to the trick.
Plant your tree pit
Residents are also invited to plant up their tree pits. There's plenty of time to put in late-summer flowering plants, make a mini-butterfly haven, or even make a herb garden.
Maintaining our trees
We've planted 1,257 new trees over the past five years, including replacing existing trees which were dead or diseased.
Last year, we planted 200 trees across 130 of the borough's streets, including popular species like cherry and pear trees.
All council trees – both on streets and in our parks and cemeteries – are inspected by qualified arboricultural officers. Our maintenance work on our trees is done with the health and safety of the public and the health of the trees as the key priority.
Routine inspections
Our trees officers routinely inspect all our trees and organise any work that needs to be done to keep them healthy.
This includes a program of pruning, which takes place twice a year. In winter we prune the planes, limes, hazels and maples. And in summer we prune our ornamental trees such as cherries.
Sometimes, if trees are damaged, or found to be diseased, or dying, we may need to do urgent work to prune, or even remove them.
Find out more about trees in H&F and our work to maintain them.
Want to read more news stories like this? Subscribe to our weekly e-news bulletin.
By sending us a comment, you are agreeing to our publishing policy.