North End Road has welcomed its first African fusion restaurant to the historic high street.
It's the latest addition to the street's thriving food quarter which already includes an abundance of choice, from its well-liked vegan eateries to the most popular crepe restaurant in London.
Housed in what was once the Barrow Boy pub (and more recently a pizzeria), Afrik'n'Fusion focuses on African dishes, influenced and modified by other nations' styles.
Until now, Afrik'n'Fusion has been just French-based, with half a dozen eateries in Paris. Fulham is the first foray into the UK, while another will soon open in Casablanca.
"We chose North End Road because of the great mix in the area," said Nordine of Afrik'n'Fusion. "We had offers from agencies in Camden and in east and central London, but I love the shops in North End Road and I want the people to discover our vibes."
Nordine added, "We want to work with the local community. Brexit doesn't mean anything to me: we're all Londoners, and I've always felt welcome in Fulham."
Don't be surprised if you spot some Chelsea and Fulham footballers of West African origin in the restaurant... the authentic dishes have a powerful appeal.
The restaurant is light and airy. A large mural by Alessandra Tortone, a London-based artist, decorates the back wall, and upbeat African music sets the tone. The cutlery is a distinctive gold colour.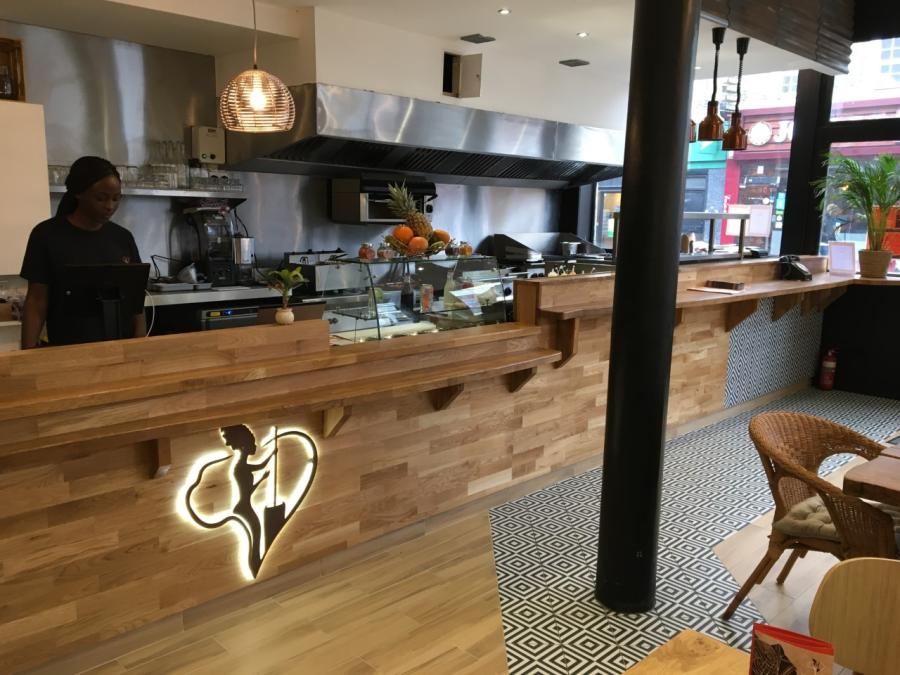 Classic main courses include Thieb, a tomatoey, spiced chicken dish served with filling and flavoursome small-grain jollof brown rice. It's the national dish of Senegal, and it's served with a small bowl of ferocious cayenne pepper sauce.
Other Senegalese offerings include: Yassa, a marinated onion dish with white rice; Mafe, a nut stew served with vegetables which originates in Mali; Kellewelle, a plantain dish from Ghana; and Attieke, a fermented cassava couscous from Congo.
More mainstream alternatives, if you go down the fusion route, include burgers, salads and grilled meals, including a whole chargrilled marinated sea bream.
There are vegetarian options too – and special discounted deals at lunchtime.
Afrik'n'Fusion is located at 308 North End Road, open every day from noon to 11pm. Telephone: 020 3080 0805.
Boosting North End Road
Hammersmith & Fulham Council is investing in a community-led redesign of North End Road.
We've been working with businesses, traders and residents to make North End Road a more thriving and welcoming high street.
After listening to the ideas and suggestions of the local community, we've opened the Crowther Community Garden outdoor seating area on the corner of Coomer Place, and more improvements are on the way with two new gateways for the market, an electric van and e-cargo bike service for businesses and a colourful crossing to name a few.
Read more about the potential North End Road improvements (opens in new window).
Have any thoughts on the future improvements to North End Road? Send us an email.
Want to read more news stories like this? Subscribe to our weekly e-news bulletin.
By sending us a comment, you are agreeing to our publishing policy.