Residents are invited to come and hear how the council plans to put your ideas for improving Hammersmith Park into action.
Earlier this year the council asked you what you thought about our plans to make improvements to the popular green space, and now the results are in, with renovations to the pond and playground your top priorities.
Residents are now being invited to a meeting for a presentation of the consultation results and a chance to discuss the program of works.
"Thanks to suggestions from local residents, there are exciting proposals on the table for improving this vital green space," said Cllr Wesley Harcourt, H&F Cabinet Member for Environment.
"Why not come along to see the plans, and tell us what you think about how your suggestions are going to be put into action?"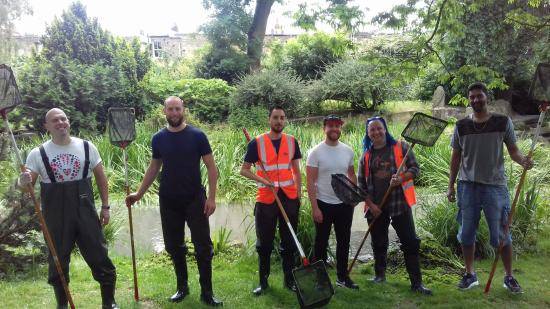 The meeting
Where: Community Room, PlayFootball, 41 South Africa Road, W12 7RW
When: Friday 13 July
Time: 5pm-7pm
There will be four sections running for 30 minutes each, starting at 5pm, 5.30pm, 6pm and 6.30pm, respectively. We will discuss the following:
What you told us you wanted
Priorities for the improvement works
How we plan to make it happen
Q&A
The results
From the consultation, more than one in four told us improvements and repairs to the pond were the most important thing for them.
Another one in four said the playground was where they felt work needed to be done. The third major priority, were improvements to the disused bowling green.
Japanese garden party
Hammermith Park is close at the hearts of H&F's Japanese community as it is all that remains of a Japanese Garden, originally designed for the 1910 Japanese-British Exhibition in White City.
Part of the park's improvements will include the installation of new Japanese-style gates and rows of stone lanterns, so the community is holding a Japanese garden party to celebrate.
The event takes place in the park on Sunday 29 July, from 12.30pm, where you can try some tasty ramen noodles, listen Japanese music, try your hand at origami and calligraphy workshops, as well as lantern making, and much more. 
Award-winning parks
Last year, thirteen of our parks and green spaces were recognised for with Green Flag awards from Keep Britain Tidy.
The Green Flag scheme, now in its 22nd year, recognises parks with the highest standards of cleanliness, horticulture and facilities.
Want to read more news stories like this? Subscribe to our weekly e-news bulletin.
By sending us a comment, you are agreeing to our publishing policy.