On 17 March, residents are invited to enjoy what has become a new tradition in North End Road over the past four years, when the street will be pedestrianised for a seasonal market – this time with a St Patrick's Day twist.
Christmas 2014 saw the first pedestrianised market in North End Road, with hundreds of stalls packed with food and gifts from across the globe, a line-up of live music acts and a variety of street entertainment.
The Spring Market on Saturday 17 March is the latest seasonal market of this new and popular North End Road tradition.
It is all part of what H&F Council has been doing together with residents, shops and stallholders in the North End Road Action Group (NERAG) to revitalise the 130-year-old high street.
The council has also recently negotiated over a million pounds from property developers to boost North End Road. The first step will be a transport study using £50,000 from Transport for London. Residents and business are being invited to shape this at two meetings next week.
The study will be followed by a wide consultation with local residents and businesses on allocating the £1 million. The council will also be seeking additional funding.
"We hope everyone will enjoy the Spring Market," said Cllr Andrew Jones, H&F Cabinet Member for Economic Development and Regeneration. "Our traffic-free markets are attracting more shoppers and traders to North End Road and we're now ready to take the next step towards making this iconic South Fulham high street one of London's go-to shopping destinations. We want to make our borough the best place to live, work and socialise in Europe."
Pedestrian-friendly market
As well as the seasonal produce and fresh fruit and veg on offer daily from the 130-year-old market, there will be more than a hundred stalls with arts and crafts, clothing, fashion accessories and a wide range of gifts.
You can treat your taste buds to a whirlwind tour of exotic cuisines, including Caribbean, Ethiopian, Filipino, Italian, Korean, Middle Eastern and Thai,
And as 17 March is St Patrick's Day, stilt-walking tea lady Bridie, who hails from Galway, will be dropping in for a comical cuppa, while classical quartet ZHL will be playing Irish tunes, including Irish Washer Woman and Danny Boy.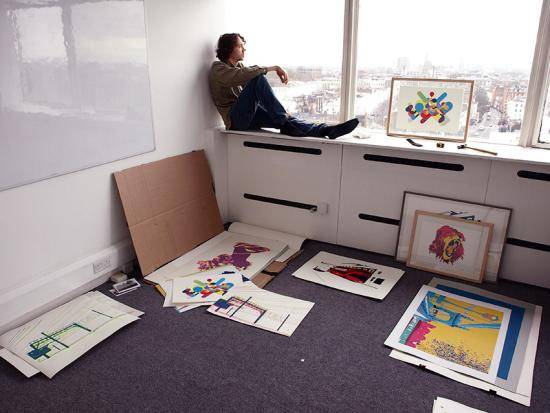 This is part of a great line-up of street entertainment to keep all the family entertained.
The UK's only vegetable orchestra – The London Vegetable Orchestra – will feature a mouth-watering brass section of courgettes, squashes, peppers and cassava roots, a soaring wind line-up of carrot recorders, and a banging percussion team which includes freshly carved pumpkins.
Their repertoire includes classics with a twist, such as Greens-leaves, Elvis Parsley's Blue Swede Shoes and the Michael Jackson hit Billie Aube-jean.
In addition, a talented line-up of musicians and singers – many from the award-winning local BIMM music college in Fulham Broadway – as well as some of London's finest buskers and DJs will also take part in the festivities.
And the fun does not stop there with the Granny Turismo rounding up a spectacular line-up of entertainment.
Local artist loves H&F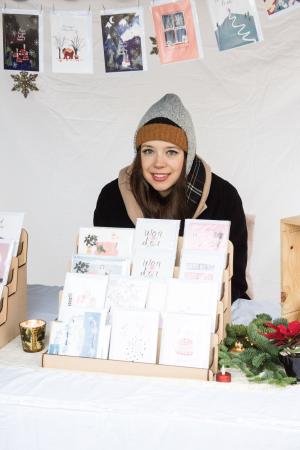 Hammersmith artist Darren Azgard was a hit at the last North End Road traffic-free market in December when his prints depicting Hammersmith Bridge were his bestseller.
Darren has lived in the borough all his life and some of his most eye-catching digital and screen prints showcase iconic H&F landmarks such as the Lyric Hammersmith, Olympia exhibition centre and The White Horse pub in Parsons Green.
"The traffic-free markets get bigger and better each time," said Darren. "It's great to see stilt walkers instead of cars and lorries coming down North End Road. The Spring Market will be an amazing day for everyone and I'm really looking forward to it."
His sister Kat Campbell – is also a local artist and will be trading at the Spring Market. This will be her third time at the seasonal markets on North End Road.
The H&F painter first works with gouache and watercolours before scanning in her designs to produce digital prints, greeting cards and tea towels.
Be part of improving North End Road
The North End Road Action Group (NERAG) of residents, businesses, market traders, local organisations and the council aims to boost North End Road as a thriving high street with the market at its core.
For more information, please email nerag@btconnect.com or call Nicki Burgess on 020 8753 5695.
By sending us a comment, you are agreeing to our publishing policy.