Support your local traders and head down to the traffic-free North End Road Christmas Market on 9 December (Saturday).
Explore the festive fun-land of seasonal food, drink and gifts at the annual winter extravaganza in Fulham as we mark the success of the thriving high street – its famous market celebrates its 130th anniversary this year.
H&F Council alongside the North End Road Action Group (NERAG) have helped revitalise the street into a booming shopping destination.
More than 13,000 people visited the awesome Autumn North End Road Market in September.
"This is going to be the biggest Christmas market the road has ever seen," said Cllr Andrew Jones, H&F Cabinet Member for Economic Development and Regeneration.
"The North End Road Market has grown in popularity attracting new traders and shoppers to the street and we're working towards making further improvements to all our high streets as we drive to make H&F the best place to work, live and prosper in Europe."
A merry time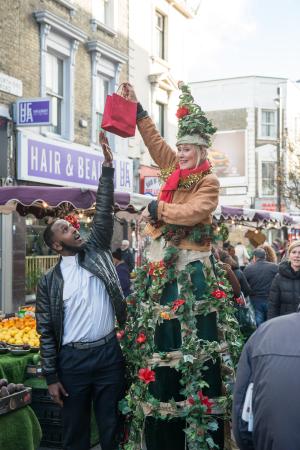 Come and have a twinkly good time at the pedestrian-friendly market with a splendid Christmassy line-up of street entertainment to keep all the family entertained, including acrobatic elves, roller-skating satsumas, the snow balls, a one-man band and, of course, a visit from Santa.
The man in red will be taking down your Christmas wish list at his Grotto outside the Credit Union from 11am-4pm.
And there will be live music from the incredibly talented perennial North End Road market entertainer George Price and his Chapman stick guitar, Nadine Abs with her soulful classically trained voice, the multi-talented singer-songwriter Áron Debreceni who also performed at the market back in September along with supercool reggae musician Paolo Mannino. And making her debut at the market is Nicola Collis with her upbeat pop covers.
There is even more music on the day with carol singers, the Fulham Brass Band, a rock choir and an a cappella quartet belting out Yuletide tunes such as Jingle Bell Rock and Santa Baby to get you in the mood for the winter festivities.
Mum turned entrepreneur
Mother-of-two Kirsty Armstrong has found a snug fit at the market selling shoes.
The Fulham resident launched OneShoeThree back in April after seeing a leaflet for a business course run by the Chelsea Football Club Foundation.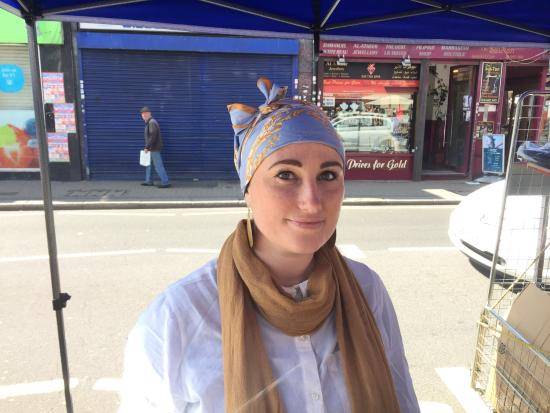 After completing the course on how to start your own venture, Kirsty decided to take the plunge and enjoyed instant success at the North End Road market, trebling weekly sales after a fortnight.
She has also become a regular trader at the seasonal market events in North End Road so pop down and say hello this Saturday.
Previously, Kirsty worked as a medical PA and then at a benefits company before having to give it all up to look after her children.
Now, the H&F entrepreneur can run her own business around the school pick-up and plans to expand OneShoeThree.
Do you want to do the same?
If you've ever thought of having your own market stall, whether every day, once a week or once a month, why not try out our Trade for a Tenner scheme in North End Road?
Be part of improving North End Road
The North End Road Action Group (NERAG) of residents, businesses, market traders, local organisations and the council aims to boost North End Road as a thriving high street with the market at its core.
If you are interested in getting involved, please email nerag@btconnect.com or call Nicki Burgess on 020 8753 5695 for more details.