Fulham Football  Club's plan to rebuild its riverside stand has a new look. They've hired the same firm which drew up plans for Tottenham's new stadium – now under construction – to come up with a design..
As well as better seating and facilities for fans, the club announced last week that they aim for the new stand to include 'riverside pubs and restaurants, event facilities and green spaces', as well as improving the riverside walk.
Public exhibitions are planned at the stadium for fans and residents to examine. Visitors are welcome to view displays in the Cottage Cafe on Thursday 12 October (2-8pm) and Saturday 14 October (9am-1pm), ahead of the Fulham v Preston North End match.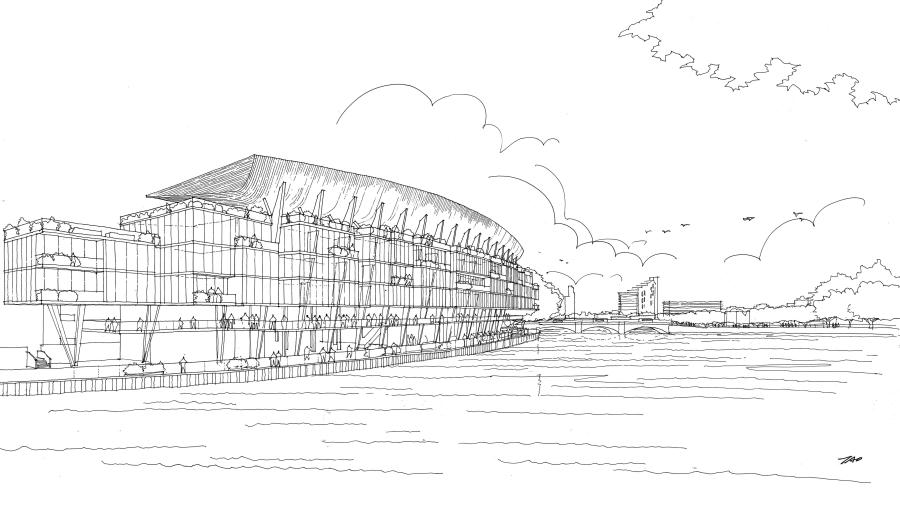 Architects from Populous are currently finalising plans for the revamped stand, also drawing on their experience building the Olympic park for London 2012 and Arsenal's Emirates stadium.
Fulham fans had their first inkling of the type of change they can expect in the matchday programme at Wednesday's 2-1 win over Hull – the Whites' first home victory of the season.
Club chairman Shahid Khan used gardening analogies to explain his vision. "We are a club with ambition to grow, but to grow you must protect and never damage your roots," he said.
He has pledged that a new stand would be 'iconic and beautiful', blending history and modernity. 
"It won't be long before we'll be sharing some of the architectural elements and designs," he added.
Fulham FC will be consulting Hammersmith & Fulham Council about its plans, which it aims to submit before Christmas. Once a formal application has been submitted local residents will be able to tell the council what they think about the club's plans during the formal consultation period after Christmas.
Craven Cottage currently holds 25,700, with the current riverside stand housing the VIP seats and corporate hospitality, the camera gantry and dugouts. 
The Stevenage Road stand opposite the riverside stand was designed by Edwardian stadium specialist Archibald Leitch and listed in the 1980s to protect it from developers.
Also listed was the famous two-storey pavilion dating from 1905 at the corner of the ground – built as an afterthought by Leitch when he realised he'd forgotten to include changing rooms in his original design.