Hammersmith & Fulham Council is taking firm steps to improve the cleaning on all its estates – starting with a deep clean of 100 days.
Cleaning contractors Pinnacle PSG are putting two new specialist teams on the job at no additional cost to residents or the council.
"We're insisting on better cleaning of our estates" said Cllr Ben Coleman, H&F Cabinet Member for Resident Satisfaction, "The deep clean will set a standard which we expect to be maintained."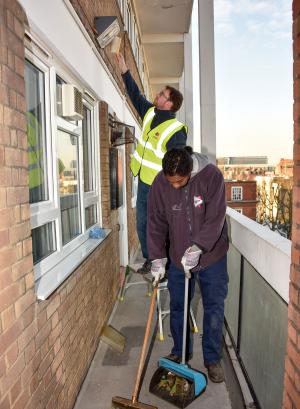 "Residents have pressed for improvements ever since the cleaning contract was outsourced to Pinnacle in 2013, and this administration has been working hard to deliver them.
"I appreciate Pinnacle's willingness to make progress with the council. If standards aren't kept up after the deep clean, we'll take further steps to put matters right."
The two new teams will deep clean all communal areas, including walls, floors, window glass, doors, chute areas, lifts, stairs, handrails and ledges, light coverings inside and out, and litter-picking in the grounds.
The clean has already kicked off at Bush Court in Shepherds Bush Green and The Grange on the Lytton Estate, West Kensington. The new teams will work their way through each estate, aiming to finish in Laurel Bank Gardens, New Kings Road, in late May.
The plan then is to maintain high standards through:
better training, equipment and cleaning products for caretaking staff
cards on notice boards to tell residents about cleaning and staff attendance
a quicker reporting process to speed up action
proper coordination between Pinnacle and the council's other contractors Quadron, Serco and Mitie
a new agreement with Pinnacle that reflects each estate's needs.
If you are a local tenant or leaseholder, you can find out more details by calling Pinnacle PSG Estate Services on 0330 332 0845 (FREEPHONE 24-hours-a-day) or by emailing Katarzyna Juszkiewicz at K.Juszkiewicz@pinnaclepsg.co.uk
After each deep clean, residents will receive a card through the letterbox asking for feedback. Residents can also provide feedback to Cllr Coleman by calling 020 8753 2018 or by emailing: asmaa.abdel-salam@lbhf.gov.uk