Everyone has their passion. For Andrew Wagerer, it's bicycles.
The 41-year-old has spent most of his life on and around the two-wheeled mode of transport. So it was of little surprise to those who know him when he opened a bike shop in Hammersmith earlier this year. Probably even of less surprise is what the business is called. Just 'Bike'.
Bike opened its doors about six months ago and is already well patronised by pedalling locals.
Toronto-born Andrew co-owns the shop with Brazilian business partner Paul Carvalho and offers everything from tiny beginner 'balance bikes' for toddlers to learn on, to £10,000 time-trial machines for those with serious ambition and seriously deep pockets.
"Our premise here is two things; building bikes for people so they have something special and just to get more people riding.
"The more people riding the better the area becomes really. They have even shown house prices go up when there is more cycle friendliness," he added.
While bleeding the hydraulic brakes of a customer's mountain bike – they offer repairs, as well as bespoke builds and off the shelf bikes – Andrew muses the factors that might stop someone riding in Hammersmith. Many of the same elements Hammersmith & Fulham Council identified in its Cycling Strategy published last year.
Making Hammersmith gyratory less intimidating, for example, and improving the west-to-east cycle path down King Street towards West Kensington.
He rides his young son to school every day, so welcomes H&F's plans to make cycle routes that avoid main roads and can be used by beginners or those less competent, as well as to make the borough the greenest in the country.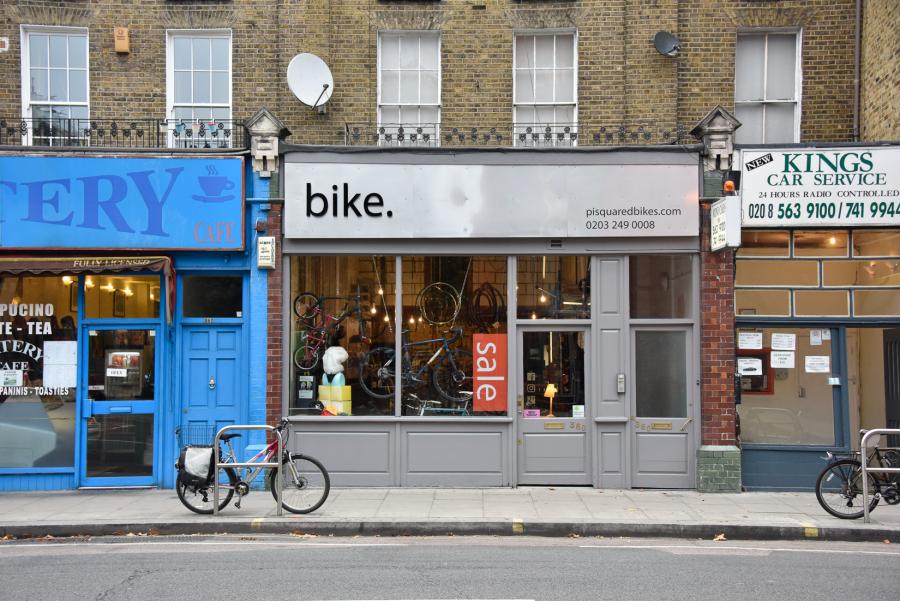 "It's not really very cycle-friendly," he says. "If you can get around without having to get off and walk, that's would be really efficient and when you're a cyclist you want your travel to be efficient. When you have to get off and walk it is not.
"Protected cycle lanes that are wide enough would be perfect."
London calling
Andrew came to London – a city he has fallen in love with – 14 years ago and in that time says there has been a remarkable shift in awareness towards cycle safety.
He is running owners' mechanical courses in the new year – a worthwhile Christmas gift for anyone who takes two wheels seriously.
"I have worked in the bike business for more than 20 years now and always liked it. I have tried other careers and just kept coming back to bikes and I always wanted to own my own shop," said Andrew.
"I live just round the corner in Stamford Brook and know the area well. I had held out for this shop for three years and eventually the lease ran out and I got to know the landlord and rented it directly from him. It is the perfect location, the perfect shop and affordable rent.
"Today you can tell drivers are a lot more aware, where before it was a lot more dangerous," he added. "Anything that helps get bums of saddles make it safer for everyone."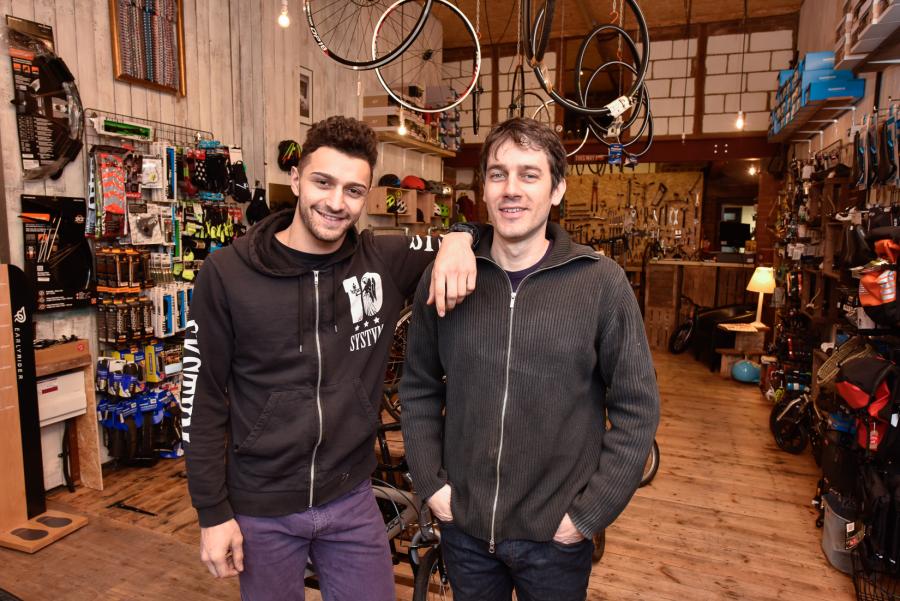 Bikes for everyone
Andrew says the aim with the business is not to just try and get customers the latest kit, but more to help them make the most of the bikes and equipment they already have.
"We're a bit different like that," he says, "We try and take care of you and help you enjoy what you have."
A key theme in the shop is the presence of many steeds with steel frames. A material dropped in recent years by most manufacturers in favour of the stiffness of aluminium or featherlight compliance of carbon but is now making a major resurgence.
"It is such a great material and it is so smooth to ride, it eats up all the vibrations," he enthuses.
Indeed for purveyors of all things retro and sleek, spindly-looking steel frames are much coveted.
That said, the floor is adorned with a variety of bikes to cater for all ages, sexes and material preferences and the walls replete with locks, lights, helmets and everything else the discerning commuter or Thameside wanderer might require.
In fact, Andrew takes pride in his ability to get hold of most things a cyclist could ask for.
"I love dealing with people face to face," he adds, "And I could never work in an office."
You can find Bike, and meet Andrew face to face, at 360 King Street, Hammersmith. Or visit www.pisquaredbikes.com or call 020 3249 0008.
Bike's mechanics courses will be staged in January and February, teaching basic maintenance and repair. Courses, from 10am-4pm, cost £95. Dates to be confirmed.