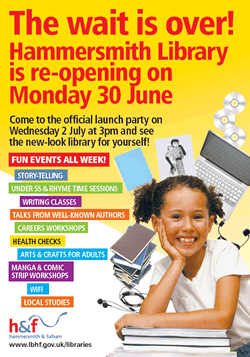 The Grade II listed building in Shepherds Bush Road, which opened in 1905, has been transformed and modernised at a cost of £2.8m to make it a place for every resident to use and enjoy.
Among the many improvements, there will be a new teen zone and children's library. The library is now accessible to disabled visitors, with a new lift and public toilets.
Wesley Harcourt, Hammersmith & Fulham Council's cabinet member for environment, transport and residents' services, said: "I am particularly pleased the library will be hosting sessions for children and their families to share stories together, as this helps give kids a great start in life. I hope people like it."
The official opening ceremony is sponsored by the La La restaurant on Hammersmith Broadway and by Hammersmith Broadway Shopping Centre.
The new library will be a great place for people to study, use computers, relax or explore books.
As a taster of what will be on offer in future, the opening week will see careers and computer workshops, writing classes, language lessons, Rhyme Time for children and families, genealogy taster sessions and health checks.
Top children's authors Heather Maisner and Christopher William Hill will chat to families and read extracts from their books, while 'The Phoenix' cartoonist and Manga expert Karen Rubins will show young people how to create their own comic strip.
There will be arts and crafts sessions too featuring knitting, crocheting, drawing and jewellery making.
Hammersmith and Fulham Archives, which holds historical maps, photographs and documents from and about the borough, is moving from the Lilla Huset building to a new home in the library, in a specially designed area.
More than 18,000 Hammersmith & Fulham library members can also access more than one million items and books across libraries in the neighbouring boroughs of Westminster and Kensington and Chelsea.
The restored library actually opens its doors to the public on Monday 30 June at 10am.
It will be open Monday to Thursday 10am-8pm, Friday and Saturday 10am-5pm, and Sunday 11am to 5pm.
The temporary library in King Street will close on Thursday June 26 at 8pm to prepare for the move back into the Shepherds Bush Road building. This means that there will be no library open to residents in Hammersmith from Thursday June 26 to Sunday June 29.
You can still order and renew library items on line at  or use libraries at Askew Road, Fulham and Shepherds Bush.
For more information and a full list of events going on at Hammersmith library that week, opening times for all other libraries keep up to date on Twitter: @LBHFLibraries (opens new window).