Hammersmith & Fulham Council and its partners have won recognition from the leading Alzheimer's Society charity for our work to create a dementia-friendly community.
Huge thanks go to the tireless work of local charity H&F Dementia Action Alliance. Founded by Peggy Coles, it has helped H&F work with local residents and organisations to improve the lives of people living with dementia, and their carers.
"We are determined to make H&F a great place for all residents to live – including those with dementia and their carers," said Cllr Ben Coleman, Deputy Leader of Hammersmith & Fulham.
"This recognition from the Alzheimer's Society is the culmination of our work with residents, charities, businesses, the NHS and Imperial College London. We will continue to make H&F the best place in the country in which to grow older."
See all the pictures from the award celebration on our Flickr photo gallery.
Residents and businesses leading the way
Across H&F, residents with dementia are supported by their neighbours and local businesses, who have created welcoming spaces open to anyone living with memory issues.
Fulham based dance school, DanceWest, runs free Dance for Dementia classes for residents with dementia, and the Queen's Club offers free, weekly tennis classes for adults living with dementia.
While the Hurlingham Club, in partnership with Fulham Football Club, host monthly dementia-friendly lunches supported by staff who are trained as Dementia Friends. Nubian Life also offers a support programme for carers living or working in H&F.
All of this work has helped us meet the Alzheimer's Society's eight steps for a 'dementia friendly community'.
"Becoming a Dementia Friendly Community means transforming into a place where people with dementia are understood and their contribution to community is valued," said Kelly Inwood, regional manager for the Alzheimer's Society.
"People living with dementia, and their carers, want and deserve to take part in everything on offer, and small things can make a big difference. We commend everyone involved in this wonderful journey for the local community."
H&F Dementia Action Alliance
The Alliance has worked with H&F Council to improve diagnosis rates, increase awareness, and provide better information about local support services for residents.
Our work has included producing an H&F Dementia Information Guide, which is handed out to residents at the time of diagnosis. We've also formed a Dementia Partnership Board to oversee a Dementia Strategy for H&F.
With the Alliance, local people living with dementia have designed a support course for those recently diagnosed. The programme focuses on sharing experiences to help regain confidence after a diagnosis. Course graduates become the tutors for the next cohort.
Together, we have also raised awareness about dementia at events across H&F. This includes a Dementia Fair highlighting local support offers and working with the Visiting Angels and Walfinch Home Care to host a monthly network of Memory Cafés.
To celebrate the award, local residents and charities joined H&F to reflect on the work of local organisations and to hear firsthand about what being a Dementia Friendly Community meant to those living with dementia. Raymond, a Fulham resident living with dementia, said:
We really appreciate everything which is being done to support all of us. This important event was very welcoming, I enjoyed my first toast in years, and it was nice to hear the plans to support people to stay involved in the community."
While another Fulham resident added:
It was nice to hear about all the improvements that have been taking place across H&F. It felt great to be acknowledged as part of the community and treated as 'me' and not as 'dementia'."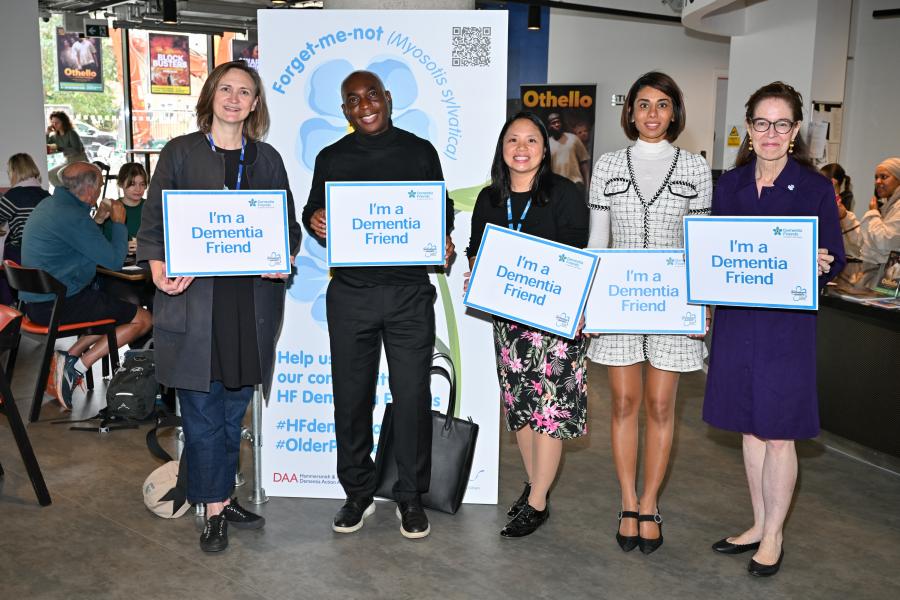 Bike ride for Brian
Earlier this month, dementia support organisation For Brian CIC organised a bike ride with Bikeworks from Ravenscourt Park, Hammersmith, to Bishops Park, Fulham. More than 25 residents took part. Including Donald, a cycling enthusiast with dementia.
"This ride was a big step in launching a community of people with dementia who cycle," explained For Brian co-founder and director, Clare Morris.  "It was about reclaiming a bit of space and showing that people with dementia can do active things."
While Donald's wife and primary carer, Pat, said: "He really enjoyed the cycle ride. Cycling is a wonderful opportunity to meet new people. And I also get to ride!"
Spot our stickers
We're spreading the word about dementia with 150 blue pavement stickers across H&F. Keep a look out next time you pass one of our libraries or Tube stations, and along our high streets, to see how many you can find. Here's a map of 20 stickers that we've placed in popular locations. Each sticker has a QR code for residents that takes you to the H&F Dementia Action Alliance's Become a dementia friend webpage.
Please use the Hammersmith & Fulham code 'LBH21413' and postcode 'W6 8DA' when registering.
We've also sprouted two giant forget-me-not flowers outside Shepherds Bush Library and in Parsons Green. Take your picture with them, and post and tag us, to help spread the word about our dementia friendly community.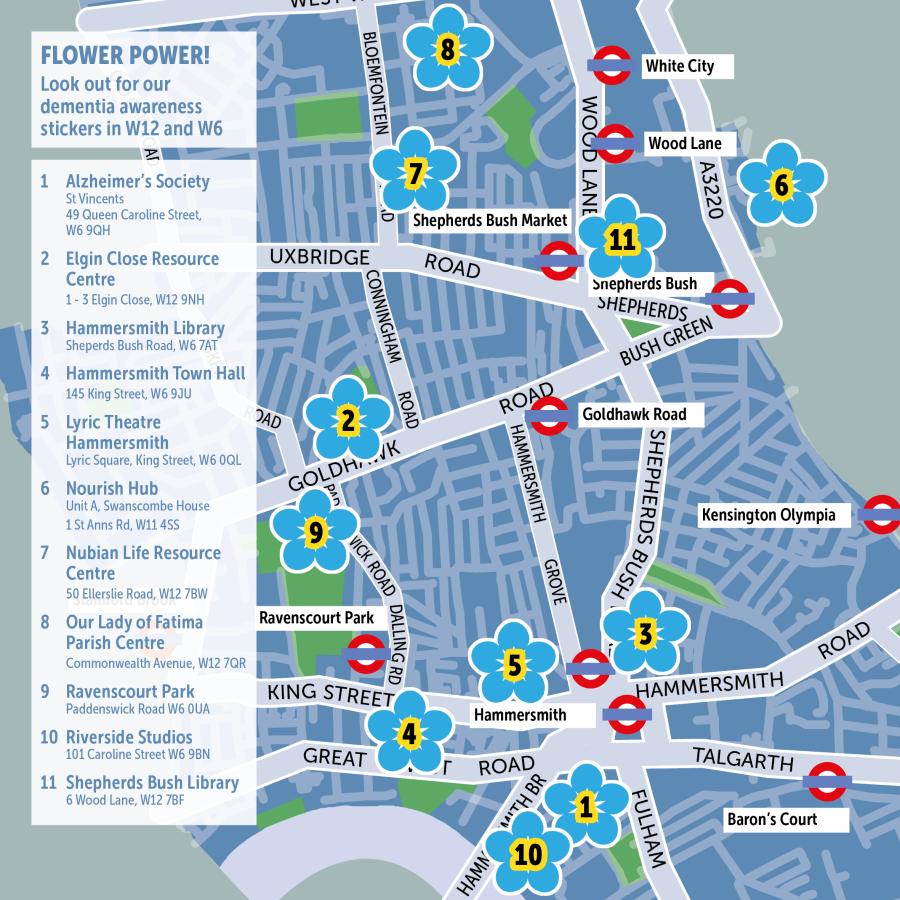 Flower Power in W12 and W6:
Alzheimer's Society, St Vincents, 49 Queen Caroline Street, W6 9QH
Elgin Close Resource Centre, 1-3 Elgin Close, W12 9NH
Hammersmith Library, Shepherds Bush Road, W6 7AT
Hammersmith Town Hall, 145 King Street, W6 9JU
Lyric Theatre Hammersmith, Lyric Square, King Street, W6 0QL
Nourish Hub, Swanscombe House, 1 St Anns Road, W11 4SS
Nubian Life Resource Centre, 50 Ellerslie Road, W12 7BW
Our Lady of Fatima Parish Centre, Commonwealth Avenue, W12 7QR
Ravenscourt Park, Paddenswick Road, W6 0UA
Riverside Studios, 101 Queen Caroline Street, W6 9BN
Shepherds Bush Library, 6 Wood Lane, W12 7BF.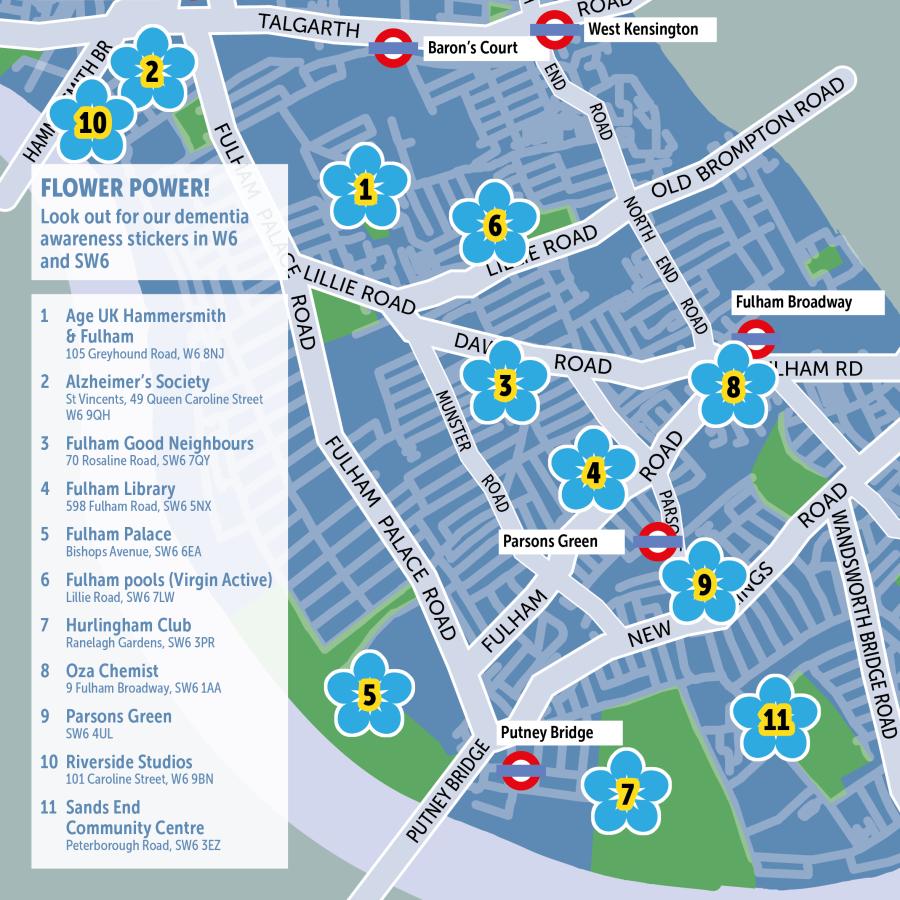 Flower Power in W6 and SW6:
Age UK Hammersmith & Fulham, 105 Greyhound Road, W6 8NJ
Alzheimer's Society, St Vincents, 49 Queen Caroline Street, W6 9QH
Fulham Good Neighbours, 70 Rosaline Road, SW6 7QY
Fulham Library, 598 Fulham Road, SW6 5NX
Fulham Palace, Bishops Avenue, SW6 6EA
Fulham Pools (Virgin Active), Lillie Road, SW6 7LW
Hurlingham Club, Ranelagh Gardens, SW6 3PR
Oza Chemist, 9 Fulham Broadway, SW6 1AA
Parsons Green, SW6 4UL
Riverside Studios, 101 Queen Caroline Street, W6 9BN
Sands End Arts & Community Centre, Peterborough Road, SW6 3EZ.
Want to read more news stories like this? Subscribe to our weekly e-news bulletin.