One of the largest fashion companies in the world is coming to White City.
Phillips-Van Heusen Corp (PVH) is the parent company to fashion brands like Calvin Klein and Tommy Hilfiger. Its arrival in the White City Innovation District is the latest addition to Hammersmith & Fulham's growing portfolio of global business leaders.
The fashion giant will be moving into a brand-new office space at White City's new-look Television Centre in early 2023.
"We look forward to PVH becoming a part of the local community and, like other firms in the White City Innovation District, offering new opportunities to residents," said Cllr Ben Coleman, Deputy Leader of H&F Council.
"It's great news that our pioneering Industrial Strategy and excellent local infrastructure are continuing to attract top businesses to the borough."
Find out more about our White City based innovators here.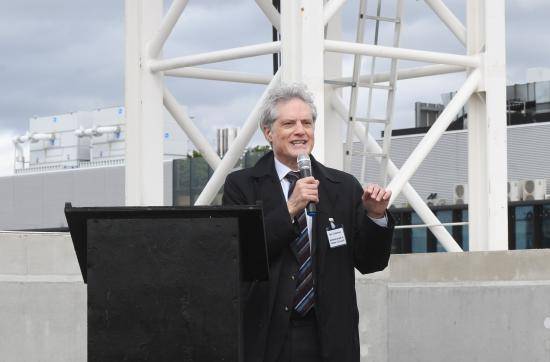 In good company
The new White City tenants will be moving into new headquarters in the new creative business hub currently under construction in Wood Lane – called 1 Wood Crescent.
Located on the west side of the Television Centre, the works form part of the ongoing redevelopment of the campus led by developer Stanhope.
The nine-storey development will provide more than 112,000 square feet of prime office space – only a stone's throw away from fellow industry front runners including ITV Studios and Publicis Media.
With the foundation and structural framework now in place, the remaining works are expected to be completed in spring 2023.
"The completion of the construction phase of 1 Wood Crescent is another key milestone in the overall regeneration of White City," said Jonathan Trout, Property & Commercial Director at Stanhope.
"We are delighted to welcome PVH, adding yet another creative giant to this growing innovation district."
Spanning across the top five floors, PVH's new 50,000 square feet headquarters will overlook beautiful Hammersmith Park, the surrounding White City area and beyond.
Regenerating White City
1 Wood Crescent forms the latest addition to the redevelopment of Television Centre from Stanhope that's creating a thriving hub for the artistic industries. It's part of a larger £8billion regeneration of the White City area.
Driven by the H&F Council's pioneering Industrial Strategy, White City is fast turning into a global hotspot not only for creative heads, but for makers and entrepreneurs in science, tech and medicine alike.
Only last month, White City welcomed five new cutting-edge biotech businesses to the district, including pharma manufacturer Avacta Therapeutics.
The lucky five secured some of the high-in-demand lab space recently unveiled as part of H&F commitment to deliver affordable flexible workspace for local and new businesses.
Meanwhile, finishing touches are being added to L'Oreal's new headquarters at White City Place.
Joining Yoox Net-A-Porter and the BBC, the international firm will occupy the upper five floors of the new eleven-storey building. Due to its solar-control glass and external shading features, it will need 52 per cent less energy to cool than a comparable sites.
L'Oréal are due to relocate from its Hammersmith Broadway offices to White City in autumn 2023.
Want to read more news stories like this? Subscribe to our weekly e-news bulletin.