North End Road's newly-planted blooms are bringing spring right into the heart of its historic market.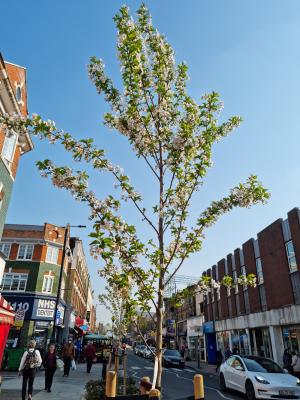 The new trees and shrubs are part of our continuing improvement works to beautify and greenify the area, and have quickly become popular with visiting shoppers and local wildlife.
The new flower beds boast Cherry Blossom trees and a combination of seasonal flowers including daffodils and tulips, all chosen for their resilience, bright colours and environmental benefits. The selection was based on recommendations made by the Hammersmith Community Garden Association after they surveyed the street.
So far, nine trees have been planted and a further eight are planned for the works' later phases. Each of these tree pits is a new addition to the road and will add to the greenery already in place.
Further jollification
This new planting isn't the only jollification happening along North End Road. We recently installed a colourful, artistic advertisement for the market outside West Brompton tube station.
The artwork is picked up by lamppost banners running along Lillie Road and down North End Road, creating a fun visual trail that leads shoppers right into the market's centre.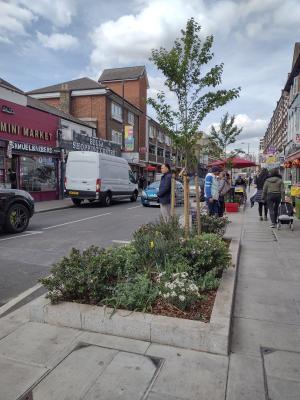 The trail highlights the market's many delights and the road's most famous features, including the Crowther Market building's lion statue.
Improving North End Road
We're working to make North End Road an even better place to shop and eat.  Alongside new planting, these works have included repaving, adding new seating areas, and introducing water and electricity points for market traders to use.
The next phase of works, between Halford Road and Armadale Road, will begin soon after the Easter break.
Keep up with these works as they happen.
Want to read more news stories like this? Subscribe to our weekly e-news bulletin.