Are you looking for some inspiring seasonal gifts? Would you like to support some of H&F's small independent businesses this Christmas?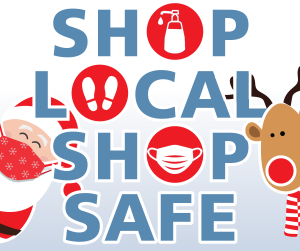 Many families across the borough are suffering financial hardship this winter and not all can afford to purchase expensive gifts. If you're looking for an affordable, meaningful present, why not visit one of the local stores listed below?
Shop local and shop safe this Christmas, by avoiding public transport and wearing a mask around stores. You can keep yourself safe this winter while also supporting local traders, for every £10 spent with a local independent business, £3.80 is retained locally.
On this page
---
Lower price range (£)
At the lower end of the price range, we have four popular places to shop: (£)
Bushwacker
If you're on the hunt for organic, natural, fair-trade food for the health food lover in your life, why not pop into Bushwacker to see what they have on offer?
Open: Monday to Saturday, 9am to 6pm
132 King Street
W6 0QU
HomeLess Made
HomeLess Made's artwork is created by the homeless, artistic guests of Barons Court Project. From cards to clothing, peruse their creations online, or check out their most popular items at their Earl's Court pop up.
(Temporary pop-up)
18 Lillie Road
SW6 1TS
Order online: HomeLess Made website
Mooch
This award-winning, independent gift shop sells products from both small independent suppliers and well-known brands. Whoever you're looking to buy for, they've got you sorted!
Open: Monday to Saturday 9:30am to 5:30pm, Sunday 10am to 4pm
666 Fulham Road
SW6 5RX
Visit their online store: Mooch London website
Nomad Books
This independent Fulham bookstore first opened its doors in 1990 and was shortlisted for both the Individual Bookseller of the year and Children's bookseller of the year in 2019.  If you're not sure what to get someone, why not ask a member of staff for the perfect recommendation.
Open: Monday to Saturday 10am to 6pm, Sunday 11am to 5pm
781 Fulham Road
SW6 5HA
Visit their website: Nomad Books website
Shepherds Bush Market
Shepherds Bush Market is over 100 years old and hosts a diverse range of traders. From hats and jewellery, to confectionary and cooking classes, there's something for everyone.
Open: Monday to Saturday, 9am to 6pm
Uxbridge Road
W12 8DF
Find out more: Shepherds Bush Market website
---
Mid-price (££)
In the mid-price range, we have five shops that sell wine through to vintage clothing: (££)
Albertine
If you know someone who loves to visit Albertine's restaurant, or are looking for a special bottle of wine to gift a friend, why not check our Albertine's shop? From weekly curated wine cases and craft beers to fresh fruit and fine cheese, you'll definitely find something tasty.
Open: Tuesday to Friday 12 noon to 11pm, Saturday 5pm to 11pm
1 Wood Lane
W12 7DP
Shop online at: Albertine Wine Bar website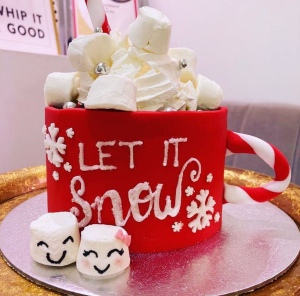 Jack and Beyond
If you're looking for a festive bake to offer out to guests, check out Jack and Beyond's award winning mince pies. They received two stars at this year's Guild of Fine Food Great Taste Award.
Open: Monday to Saturday 8am to 6pm, Sunday 9am to 4:30pm
606 Fulham Road
SW6 5PR
Order online at: Jack and Beyond online cake shop website
askewine
This independent wine retailer has something for every celebration this festive season. Supplying wines from around the world, premium German and local craft beers, as well as cheese from artisan cheesemakers, why not ask their knowledgeable team for a gift recommendation?
Open: Monday to Thursday 12 noon to 10pm, Friday 11am to 10pm, Saturday 10am to 10pm, Sunday 12 noon to 9pm
84 Askew Road
W12 9BJ
Find out more online: askewine website
So Choux
From Paris-Brest, Chouquettes and Galette des Rois to Choux, éclairs, fresh marshmallow, and delicious macarons, So Choux create authentic French cakes ready for any occasion or sweet treat. Perfect for that friend or family member with the sweet tooth.
Open: Monday to Friday 9am to 6pm, Saturday 9am to 5pm, Sunday 9am to 12 noon
25 Heathman's Road
SW6 4TJ
Visit their online store: So Choux website
U.clo by Green World Recycling
If you're looking for a thrifty but stylish gift, this store is for you. U.clo sells incredible vintage items at the cheaper end of the market, from winter coats to fashionable accessories, there's something for everyone.
Open: Monday to Tuesday 11:30am to 6pm, Thursday to Sunday 11:30am to 6pm, closed Wednesday
320 North End Road
SW6 1NG
Visit their website for more: U.clo website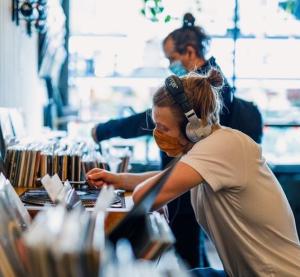 Next Door Records
Next Door Records are a record shop, bar and event space rolled into one.
Whether you're on the look out of a vintage vinyl or something from their funky bottle shop, the friendly staff can certainly help with some excellent recommendations
Open: Sunday and Tuesday 10am to 10pm, Wednesday and Thursday 10am to 11pm, Friday and Saturday 10am to midnight
304 Uxbridge Road
W12 7LJ
Visit their online store: Next Door Records website
---
Top end (£££)
At the top end of our price range, we have eight shops with luxury and bespoke gifts for sale this Christmas: (£££)
Cologne & Cotton
From bed linen to children's toys and home accessories, Cologne & Cotton have items that'll make perfect gifts for every home lover. Famed for their trademark candy stripe designs, this store is still run by founders Vicky and Jenny who opened their first store in 1989.
Open: Monday to Saturday 10am to 6pm, Sunday 11am to 5pm
791 Fulham Road
SW6 5HD
Shop online at: Cologne & Cotton website
Maison Samadi
This family run shop follows a long-standing family tradition of making high quality, excellent tasting chocolates. Each chocolate is handmade, carefully decorated and individually wrapped to preserve its delicate taste.
Open: Monday to Saturday, 10am to 5pm
301 King Street
W6 9NH
Order online at: Maison Samadi website
Mortar & Milk
Whether you want to gift a professional treatment to a skincare lover, or are on the lookout for a new, high quality beauty product, Mortar & Milk is the shop for you. Their stock is tested by co-founders Pam and Nick, to ensure that what they're selling really works.
Open: Monday to Saturday, 10am to 6pm
793 Fulham Road
SW6 5HD
Shop online at: Mortar & Milk website
Indian Summer
This Parsons Green lifestyle boutique sells colourful gifts including party wear, jewellery, and home wear. The family run shop was founded in 2004 and featured in VOGUE magazine as 'the secret addresses you must remember'.
Open: Monday to Saturday 9am to 6:30pm, Sunday 11am to 5pm
624c Fulham Road
SW6 5RS
Shop online at: Indian Summer website
José Carvalho
Why not check out José's beautiful bowls and vases of various sizes and styles for gift inspiration? Or, for a creative friend or family member, treat them to one of José's private pottery lessons.
His gallery will next be open in December:
Friday 17, 11am to 6:30pm
Saturday 18, 11 to 5pm
Sunday 19, 11am to 5pm
Tuesday 21, 11am to 6:30pm
250 Goldhawk Road
W12 9PE
Find out more about José's work here: Jose Carvalho Ceramics website
J. W. Beeton
This store moved to Shepherds Bush in 2015 and has been family run since it first opened in London in 1996. They sell an eclectic selection of lifestyle, accessory, and clothing items, perfect for unique Christmas gifts.
Open: Monday to Friday 9:30am to 5:30pm, Saturday 10am to 6pm, Sunday 11am to 4pm
141 Askew Road
W12 9AU
Visit their online store: J. W. Beeton website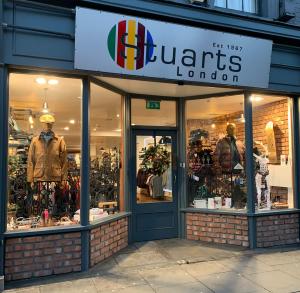 Stuarts London
Stuarts London was founded in Shepherds Bush in 1967.
Stuarts are famous for their men's fashion and pride themselves on supplying luxury and heritage menswear from brands around the world.
Open: Monday to Saturday, 10am to 5pm
35-37 Uxbridge Road
W12 8LH
Shop online at: Stuarts London website
Paintbox Studios
If you're looking for something a little different to gift this Christmas, why not check out Paintbox Studios' art classes? From beginner through to established artist, they offer classes for all abilities. Winner of H&F's Best Small Business Award 2019, you're in safe, creative hands with founders Fanny Lacroix and Adam Vass.
310 King Street
W6 0RR
View more: Paintbox Studios website
---
Make H&F the best place to live
We're focused on ensuring economic growth for everyone through our new Industrial Strategy. From supporting small independent businesses to our new growth partnership with Imperial College London, we're determined to make H&F the best place to work, live and socialise in London.
If you'd like to support H&F's independent businesses, why not check out our Facebook page to see the latest offerings and deals.
Stay safe this winter and shop locally

Want to read more news stories like this? Subscribe to our weekly e-news bulletin.