Hammersmith & Fulham Council is once again treating hundreds of local children to free panto tickets at the Lyric theatre.
The Lyric's fun-filled new production of Aladdin will see H&F provide 1,600 local children with tickets to be transported to a faraway land during the festive family show at the Lyric Square theatre.
"Supporting the Lyric in its mission to share theatre and the arts with a wide range of children and young people is hugely important to us," said Cllr Larry Culhane, H&F Cabinet Member for Children and Education.
"We're delighted to help so many children experience the annual Lyric panto fun and hopefully it will inspire another generation of actors and theatre-goers as part of our pioneering Arts Strategy (pdf 627KB)."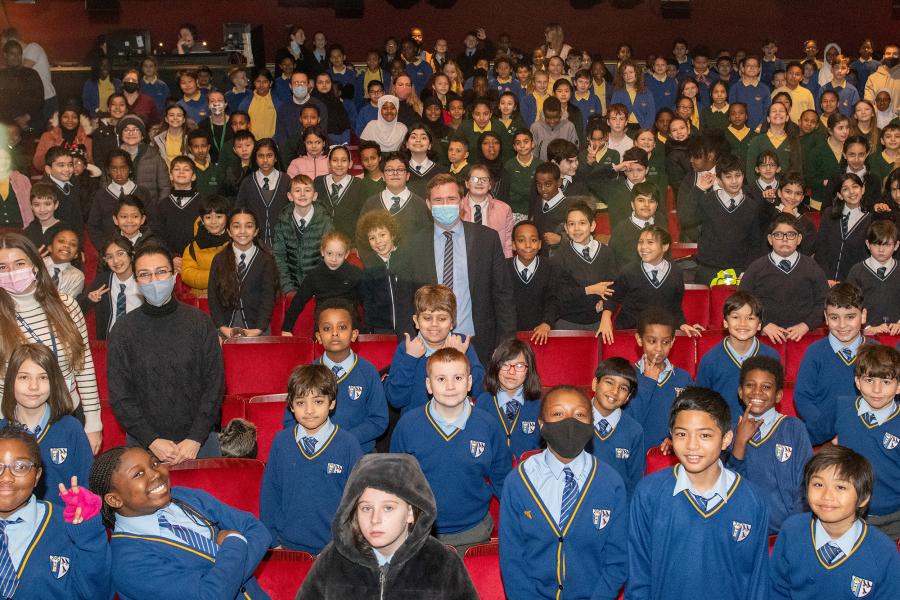 They're behind you!
Year 5 and 6 pupils from local schools including Thomas's Academy, Holy Cross, Avonmore, Queens Manor, John Betts, Miles Coverdale, Sir John Lillie and St. Thomas of Canterbury RC Primary Schools will enjoy the show during three special events at the Lyric. Other schools set to benefit from the free performances on 23-26 November include West London Free School Primary, Brackenbury Primary School, Fulham Primary School, Ark Conway Primary Academy, St Mary's Primary School and Sulivan Primary School.
The magical new adaptation of the show by award-winning comedian, actor and composer Vikki Stone follows Aladdin in his adventures with the Genie on his quest for true love and fortune, with a unique Lyric twist to the panto's favourite characters.
Amy Belson, the Lyric's executive director, said: "Thanks to H&F, we're able to offer free tickets to state primary schools in the borough over three performances. It means so many local children get to see and experience the joy of panto."
The stars
Starring Qasim Mahmood as Aladdin, Stephan Boyce as Dave Twankey, Kate Donnachie as the Emperor/Genie, Irvine Iqbal as Abanazer, Gracie McGonigal as Wishy and Ellena Vincent as Jasmine, the show is directed by Abigail Graham.
The panto is also an opportunity for young performers to hone their skills as part of the Lyric Panto Ensemble. Among the ensemble, local talent Carla-Jean Lares, 21, of East Acton, and Kane Feagan, 24, from Shepherds Bush, have been rehearsing hard to bring the magic of panto to the audience.
The pair were selected through a gruelling audition process to be part of the ensemble.
Former Hammersmith College student Kane said it was inspiring to be part of the Lyric team 'bringing people joy' after the long lockdowns and encouraged other young people to pursue a theatre career.

Having previously worked on a series of projects and festivals with the Lyric from the age of 16, as well as at the Bush theatre in Uxbridge Road, Kane explains: "There is always something going on here, so there are lots of opportunities for young people to get involved. I love the fact this is very much a community theatre so you can progress and create a network, even without formal training."
As part of the ensemble, the pair help give an "emotional boost" to the panto, adds Kane, with roles including market stall traders, police officers, guards and even a boxing manager.
"The show is a lot of fun, with plenty of songs and dances, there has been lots of chance to explore the performance," says Carla-Jean, who is currently studying performing arts at the LMA university in Stratford, east London.
"It's a real feel-good production. I was ecstatic when I found out I had the part, and it is so lovely being back here."
Carla-Jean was introduced to the Lyric by her own primary school, Pope John Catholic Primary School in Shepherds Bush – now known as St John XXIII Catholic Primary School.
"Once you are part of the Lyric, you will always have a home here," she adds.
Aladdin runs at the Lyric Hammersmith until 2 January, with accessible performances during December. Find out more at the Lyric website.
Want to read more news stories like this? Subscribe to our weekly e-news bulletin.