New lights are coming to North End Road and Lillie Road – and they're not just for Christmas!
On Wednesday 1 December, Hammersmith & Fulham Council's Mayor, Cllr PJ Murphy, will switch on new Christmas light displays in Fulham's most popular shopping streets.
Running from Jerdan Place to Lillie Road, the new council-funded LED lights will set the tone for a warm and cosy shopping experience even when the holidays have come to a close.
And thanks to funding from the Earl's Court Development Company, the new lights will continue along Lillie Road and past Empress Place.
The colour-changing wraparound lights are going to stay up throughout December and beyond, allowing them to cast their enchanting glow on local shoppers.
"Our residents want to see Fulham's high streets flourish, and so do we," says Cllr Murphy.
"These new light installations are only one of the actions we're taking to reinvent this historic high street as we work with residents and businesses to improve North End Road."
The new lights are just part our efforts to make North End Road an even better place to shop, eat in and visit.
We've been working hard to make the high street safer, greener and more accommodating for market traders and residents. Find out the latest news on the improvement works here.
More festive Christmas events
There are festive Christmas events happening all over Hammersmith & Fulham. Here are a few to help you enjoy the winter celebrations.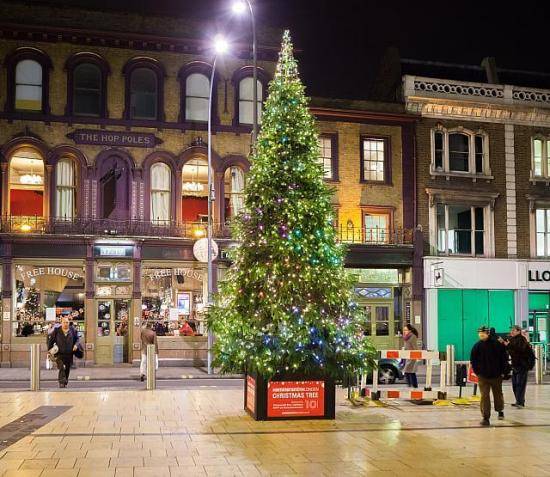 Christmas trees
Christmas trees are set to be installed in Hammersmith Broadway and Jerdan Place in Fulham to jolly up our town centres.
One of the festive trees can be found at the corner of North End Road and Jerdan Place (right by Fulham's weekly Farmer's Market), the other one in front of The Swan pub outside Hammersmith tube station.
Zero-emission arts market
London's first emissions-free market is going to paint Hammersmith Bridge approach in a whole new festive light on Saturday 28 November.
Produced and organised by Hammersmith BID, the market will be the go-to spot for everything the artist's heart desires – from handmade jewellery and hand-painted glass to arts and crafts designed by people who are homeless or living with mental health conditions.
All market stalls will be assembled and stocked with zero emissions, as we'll support featured traders with our e-cargo bike delivery service Parcels not Pollution. All shoppers are encouraged to travel sustainably as well.
Check out the full programme here.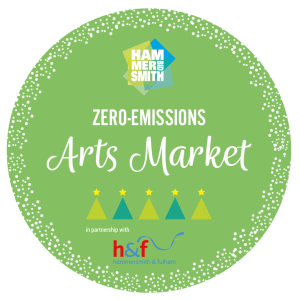 Carol singing
The Christmas carols return to Lyric Square and Jerdan Place!
Pop by Lyric Square to jazz up your lunch break with some communal carol singing between 12 noon and 2pm on 6, 13 or 14 December. This year's line-up will include choirs from three local schools, donations will be collected for the local BID's homelessness initiative Small tap, big change.
Christmas carols will also be echoing from Jerdan Place in Fulham on 7 and 14 December at 7pm. Indulge in some mince pies and the sweet Christmas tunes from St John's Church choirs, including its children's choir.
Submergence light installation in Jerdan Place
Twinkle, twinkle, Jerdan star… the new Submergence light installation has come to Fulham!
In 2019, the interactive light display lit up Canary Wharf as part of its annual Winter Lights Festival. Now, the 'ocean of light' has come to Jerdan Place to illuminate Fulham's town centre just in time for the holidays.
The illuminated string curtains are made up of 24,000 colour-shifting lights. Residents can simply pop by Jerdan Place to fully immerse themselves in the 12-minute light show.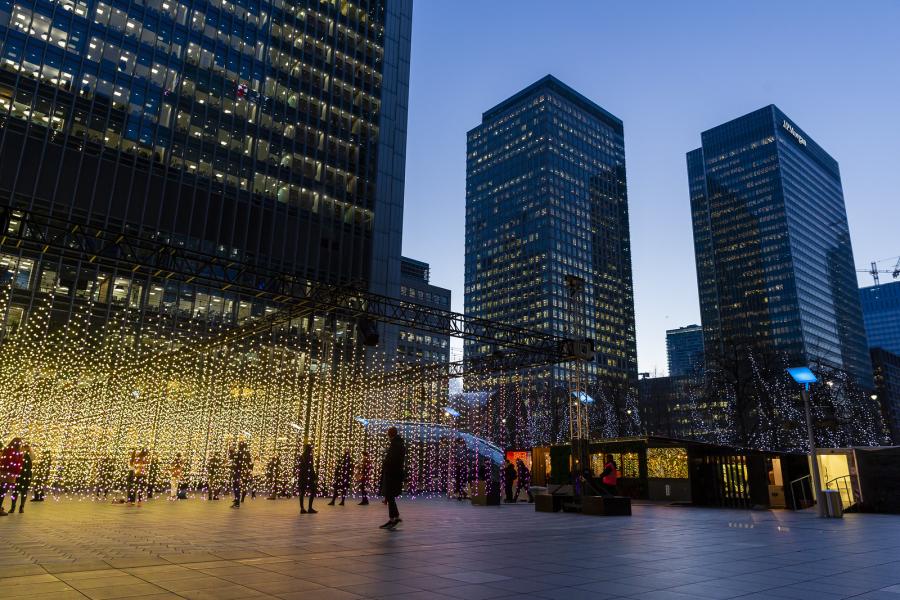 Christmas lights in Parsons Green
Christmas lights will make Parsons Green shine for the fourth year running.
Get into the holiday spirit together with friends and neighbours at the switch-on event in the middle of The Green at 6pm on Friday (26 November).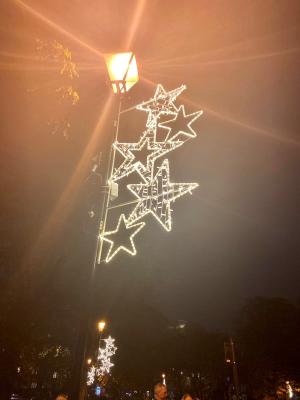 Local residents are invited to join Rev Tim Stilwell of St Dionis Church and Lady Margaret's School choir for carols, mince pies and mulled wine.
The event has become an annual tradition thanks to local businesses including Mr Resistor, who supply the lights free of charge, and local neighbourhood cafe Naive who recently celebrated its one-year anniversary in Fulham.
Naive founder Mustafa Kondoz said: "Community is about feeling connected and involved. Sponsoring the switching on of the lights on the green is doing something together – which is what makes belonging to our community matter."
Tree lighting in Brackenbury Village
In Brackenbury Village, Santa is arriving to join the street party on Wednesday 10 December.
The Brackenbury Residents Association's annual Christmas Tree Lighting event on Aldensley Road, Hammersmith, is a tradition that both local residents and businesses look forward to.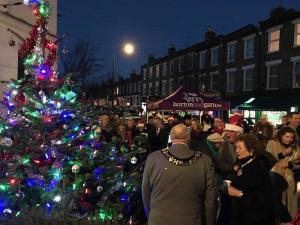 The highlight of the evening will be the lighting of the tree at Pekoe Mellow Tea House by H&F Mayor, PJ Murphy, at 5.30pm.
Come for the lights, stay for the Christmas carol performance by the Godolphin & Latymer Girls School choir. And while you're there, make sure not to miss out on the chance of drawing the lucky ticket in the Christmas raffle!
Want to read more news stories like this? Subscribe to our weekly e-news bulletin.