UK Disability History Month has begun, and Friday 3 December is International Day of Disabled People – we'd like you to join us in celebrating both!
Our colleagues at Action On Disability are hosting a series of online events throughout the month, featuring a panel of inspiring speakers.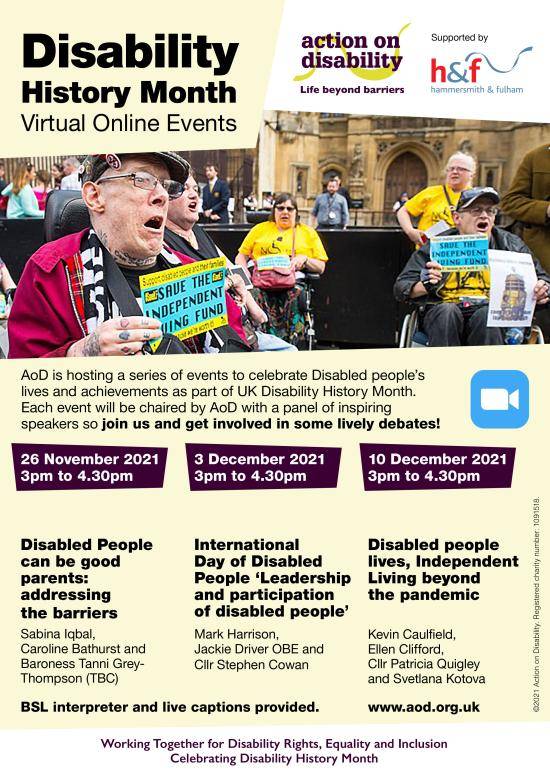 On International Day of Disabled People (3 December), H&F Leader Cllr Stephen Cowan will be speaking on the topic of 'Leadership and Participation of Disabled People' on a panel alongside Mark Harrison, director of Social Action Solutions, and chair of the Manchester disability charity Breakthrough UK Jackie Driver OBE. The event takes place between 3pm and 4.30pm.
And Friday 10 December will see Cllr Patricia Quigley, H&F Cabinet Assistant for Health and Adult Social Care, join Kevin Caulfield, Co-production Strategic Lead at H&F Council, Svetlana Kotova (Inclusion London) and Ellen Clifford (author of The War On Disabled) on a panel entitled 'Disabled People Lives, Independent Living Beyond the Pandemic'. That event also takes place between 3pm and 4.30pm.
"Hammersmith & Fulham has led the way improving Disabled people's civil rights," says Cllr Cowan. "In 2016, we created an independent commission of Disabled people who produced a ground-breaking report entitled 'Nothing About Disabled People Without Disabled People'.
"We have a radical agenda that has put co-production at the heart of everything we do, with the Social Model of Disability central to how we re-design services, and recruit and employ talent. And we're currently building the most accessible Civic Campus in the world – a project the Disabled People's Commission has been working on since it was formed."
Zoom links will be emailed closer to the event dates. For more details, please visit Action On Disability's website or email info@aod.org.uk or call 020 7385 2098.
BSL interpreter and live captions will be provided for both events. Only 100 tickets are available for each event, so sign up now.
Want to read more news stories like this? Subscribe to our weekly e-news bulletin.