Paul Canoville, the first Black footballer to play for Chelsea, has been announced as the inaugural Football Ambassador for Fearless, the youth service of the Crimestoppers charity.
Fearless, which is supported by Hammersmith & Fulham Council, works to empower young people to make informed decisions about reporting crime.
Paul was introduced as a Fearless Football Ambassador at an event at Stamford Bridge on Monday 22 November, in front of pupils from Fulham Cross Academy school. The youngsters heard Paul tell his powerful life story, as well as learning how to keep their communities safe.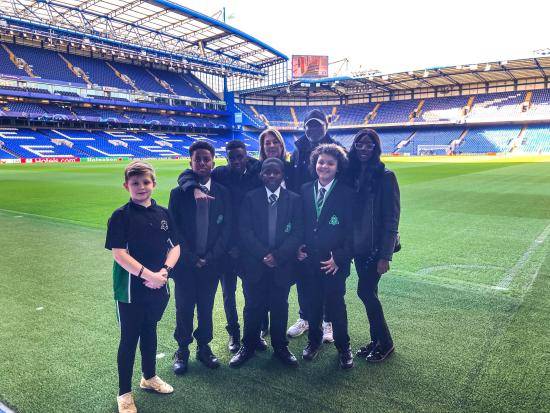 "We are delighted to support Fearless and congratulate Paul Canoville on becoming its first Football Ambassador," commented Cllr Sue Fennimore, Deputy Leader of Hammersmith & Fulham Council.
"Keeping people safe across the borough is our number one priority which is why we recently established a £4m Gangs Unit and created a unique team of 72 Law Enforcement Officers. Wherever and whoever you are, you should not feel unsafe or afraid to report crime. That is why this initiative is so important and why we look forward to continuing to work with Fearless and Paul in the future."
Paul Canoville became the first ever Black footballer to play for Chelsea in 1981, where he was subjected to abuse by his own fans. After having his career cut short by injury, Paul suffered numerous hardships, including from homelessness, addiction, cancer and mental health issues.
Yet he managed to turn his life around, and in 2015 established The Paul Canoville Foundation, which works with schools and youth organisations to promote wellbeing, confidence and resilience through workshops and sport.
The event took place at Stamford Bridge's Canoville Suite, which was opened earlier this year in his honour.
"This is about our youth making their communities safe again. We're not asking you to be a snitch – but to be a hero to help stop youth crime," said Paul.
"I'm calling on fellow ex pros and current players to follow my lead in supporting the Fearless project to help cut youth violence. Being aware of how harmful crime can be is also key which is why I'm so pleased to be working with Crimestoppers and Fearless to help address this issue in the wider community."
Want to read more news stories like this? Subscribe to our weekly e-news bulletin.