What could be finer, now that the weather is perking up, than grubbing about in the shoreline silt of the Thames and finding little treasures?
Buttons, pipes, Roman hairpins, coins, cutlery, jewellery, shoe buckles, glass bottles, cufflinks, keys, fragments of plates... 2,000 years of the capital's lost debris.
Local resident and mudlark Jason Sandy will be inspiring everyone with a virtual talk titled 'Thames Mudlarking: London's Lost Treasures' on Saturday (24 April). It will support the Emery Walker Trust, which looks after the home of the former Arts and Crafts pioneer in Hammersmith.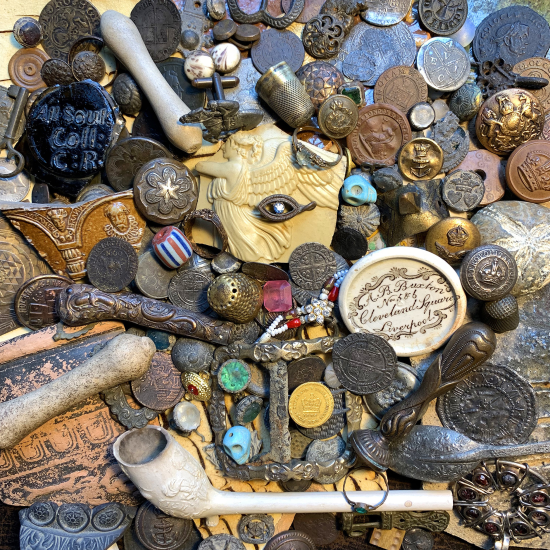 Jason knows his stuff. As well as lecturing on the subject, he has co-written a book, Thames Mudlarking, published this year by Shire Publications. 
While some of his trove has been so historically significant it has wound up in museums, he also has dozens of personal finds in his own cabinet of curiosities, giving insights into London life down the ages. Jason will share some of the stories with his virtual audience.
"Countless objects have been unintentionally discarded or accidentally dropped into the Thames, and the river has been an extraordinary repository of these, protected and preserved in the dense mud," he said.
Hammersmith was where the lead printing type from Doves was dumped by bookbinder Thomas Cobden-Sanderson. Doves Press, a part of the Arts and Crafts Movement, was founded by Cobden-Sanderson with Emery Walker in 1900, and named after The Dove pub. 
Every letter they created (based on 15th Century Italian Renaissance designs) was made by hand, in one size only... 16pt. 
In 1906, the pair of creative talents fell out, and in 1916 Cobden-Sanderson 'bequeathed' all the type to the Thames from Hammersmith Bridge... a ton of lead, in total. Only a fraction has been recovered. 
It's apt that the talk is being given in aid of Emery Walker's Trust, Hammersmith... as Hammersmith is the point where the river stays at low tide for longest, opening up some of the most fruitful mudlarking opportunities. 
The live, interactive talk (part of a programme of monthly events by Emery Walker's House Trust) is on Saturday 24 April at 3pm. Entry is by donation.
Want to read more news stories like this? Subscribe to our weekly e-news bulletin.