Our streets are finally coming back to life as people enjoy a meal or a drink with friends and family outdoors at our vibrant pubs, restaurants and eateries.
There are more opportunities than ever before to dine al fresco thanks to H&F Council's Our Space is Your Space scheme which gives businesses extra outdoor space to safely serve their customers as lockdown restrictions are eased.
More than 100 businesses have applied for the initiative which forms part of the council's Shop Local Shop Safe campaign in partnership with local business leaders to give the local economy a boost as businesses reopen.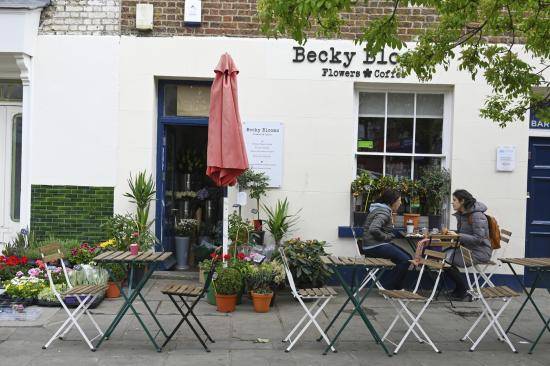 Becky Blooms in Jerdan Place, Fulham, is one of the local businesses to benefit from the popular scheme.
Owner Rebecca Cutts, a life-long Fulham resident, loves the new space for her florist/coffee venue which faces out onto Fulham Road.
"This scheme from H&F Council is absolutely fantastic for small businesses like us," said Rebecca.
"The new outdoor area has helped us attract new clients while our regulars are delighted with the space. We have been super busy with lots of bookings for our new outdoor seating."
Rebecca, who runs the business with her husband Vlad, moved into her new shop last year after previously trading on North End Road Market for nine years as she followed in the footsteps of her great grandparents who also ran a florist on the historic high street.
Outdoor fun
"This is just one of the steps we're taking to help local businesses bounce back from the pandemic," said Cllr Andrew Jones, H&F Cabinet Member for the Economy.
"It's great to see people enjoying a meal or a drink outdoors once again at some of our amazing local businesses after the long, hard months of lockdown."
Another local business which is enjoying the extra outdoor space is Vietnamese restaurant Saigon Saigon in Hammersmith.
The eatery now has 10 outdoor tables which are beautifully surrounded by plants and flowers in King Street.
"The additional seating outdoors has really brightened up the street. Our customers could not be happier," said Saigon Saigon manager Kevin Huynh.
"The council were very helpful and it was a nice easy process getting the extra outdoor space which really helped following the tough lockdown."
Find out more about how you can support your local businesses on our Shop Local Shop Safe page.
If you're a business looking for additional outdoor space to trade from, apply now.
Want to read more news stories like this? Subscribe to our weekly e-news bulletin.