Happy first anniversary to Carbon Kopi, the artisan coffee bar on the corner of Margravine Road and Gastein Road in Hammersmith.
Entrepreneurs Chris and Natalie Brittan launched a year ago near Queen's Club and Charing Cross Hospital in a corner shop that had sat empty for years.
They arrived in the capital from New Zealand, determined to introduce west London to the Kiwi coffee culture which leads the world in bean strength and dairy excellence.
The cafe name combines the element carbon and the word 'kopi' (that's the word for coffee in Malay and many other cultures), making a clever pun about the consistency of the product.
Beans come from London roasters Square Mile, while the milk is unhomogenised, from a single herd in Somerset.
Add to the mix baked goods, soup, toasted sandwiches, pastries and other snacks, and it's proving a popular destination.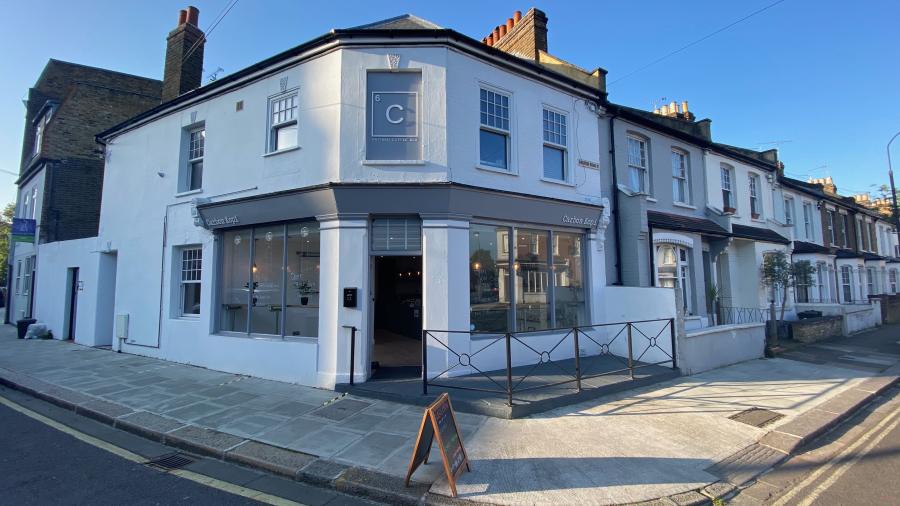 Meet the team
The cafe team is led by Hiro Hamashita, an experienced barista who has managed top outlets in New Zealand.
It's the first foray into cafe ownership for Chris and Natalie Brittan, an IT support techie and journalist respectively. They met and married in New Zealand before coming to London with their two young girls and spotting the potential for a site which had once been Henry Agincourt's family-run funeral business, complete with horse-drawn corteges.
When the couple cleared out the basement, the discoveries included a book of wartime songs, a model ship and an ancient safe!
"We'd always wanted a coffee shop; our weekends in Auckland involved brunch – there's a very strong cafe scene there – and we missed that… so we set up our own," said Natalie. "Everyone who comes in claims to live just round the corner! How many corners are there round here?"
The Brittans' target has been to create a 'suburban haven for good food and coffee', providing a service to residents, business people, hospital visitors and teachers from nearby Fulham prep school.
Fancy a fluffy?
Coffee cups are made from recycled coffee husks, charity events have raised funds for access to clean drinking water in coffee-growing communities around the world, while environmental friendliness informs everything.
Children are catered for with hot chocolate and 'fluffies' – frothed milk drinks that are popular Down Under.
All the apparatus for making good coffee at home is also for sale, together with training on how to brew the best cuppas.
The 20-seat cafe, which is dog-friendly ("There are so many cute dogs around"), has an outside courtyard, able to seat a dozen, although it has operated as takeaway-only, with a one-way system, in lockdown.
Carbon Kopi is open seven days a week, from 7.30am to 5pm. It is located at 11 Margravine Road in Hammersmith W6 8LS.
Visit the Carbon Kopi website or follow: