The vision
For many months now, the council has been working with residents on a pioneering scheme to reduce traffic, congestion and pollution in South Fulham streets and enhance the area.
The vision is to:
stop out-of-borough drivers from using South Fulham residential streets as cut-throughs (out-of-borough traffic accounts for over 80 per cent of all traffic)
reduce traffic across South Fulham
improve air quality by cutting congestion
maintain access for visiting residents and deliveries
enhance Wandsworth Bridge Road as a place to live, work and visit
make roads safer for pedestrians and cyclists
ensure public transport runs smoothly.
Dozens of residents in three working parties for the streets east and west of Wandsworth Bridge Road (WBR) and from WBR itself are meeting regularly with transport engineers and councillors from both political parties.
Initially called the SW6 Traffic Reduction Scheme, following resident comments the scheme has been renamed the South Fulham Traffic, Congestion and Pollution Reduction (TCPR) scheme to reflect its purpose better.
The scheme uses the latest technology with Advanced Number Placed Recognition cameras. This is different from – and places us ahead of – other traffic reduction schemes across the country. It enables all roads to be kept fully open for residents while discouraging out-of-borough drivers from using them as cut-throughs.
Everything we do is informed by up-to-date data collected through the smart cameras, local traffic monitoring counters and GPS tracking.
Making the current scheme better
Following feedback from residents, we are making improvements to the current scheme to the east of WBR. This has already hugely discouraged out-of-borough drivers from cutting through these streets but we realise it has also confused people.
A lot of the improvements will address how the scheme is communicated, including:
enhancing the signage
clarifying how visitors and delivery vehicles can get free visitor access permits via RingGo up to midnight on the day
clarifying how visitors, delivery vehicles and hire cars can enter the whole area without needing an access permit or incurring a fine
clarifying who beside residents can drive through control points without incurring a fine, including health and care workers visiting local residents, volunteers delivering food to residents and black cabs.
In another first, we are working with Uber on a technological solution to ensure that its drivers won't incur fines for booked journeys and will continue servicing the controlled area.
We're also reviewing warning periods for out-of-borough drivers who cut through control points.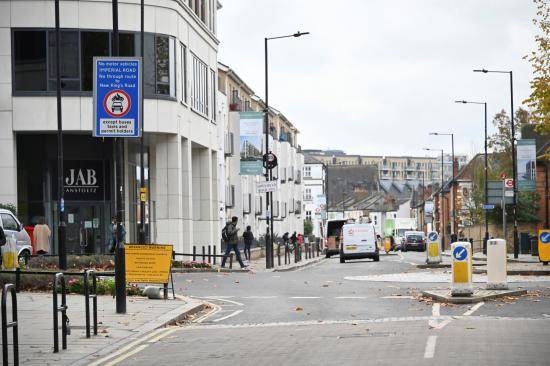 Developing the scheme
We've started working through detailed options with the resident groups for extending the scheme in order to:
stop out-of-borough traffic cutting through the streets west of WBR
reduce congestion and pollution on WBR
transform WBR into a destination street for shoppers.
As the thinking evolves, we'll be holding a series of Town Hall meetings to share and discuss the plans with residents. We'll also be undertaking other activity to gauge residents' views.
Current congestion
We had planned to introduce the scheme in the early spring of 2020 but were prevented from doing so by the first COVID lockdown. As result, it came in at the same time as a triple whammy of traffic challenges.
Wandsworth Bridge had months of severe lane restrictions, four London bridges were unpredictably closed (Vauxhall, Hammersmith, Tower and London) and COVID fears are extending the rush hour (across the area and London as a whole) by hours because more people are using their cars. No single one of these is to blame for congestion on WB and to the west but they are all likely to play a role in this.
As mentioned, we're now exploring options with resident groups to reduce traffic west of WBR and cut congestion and pollution on WBR.
As part of tackling pollution throughout the area, we are installing the largest concentration of air quality monitors anywhere in Europe, starting in January 2021.