On Thursday this week H&F unveiled a radical new plan to build a temporary double-decker crossing within the existing structure of Hammersmith Bridge following its closure on safety grounds on 13 August.
The plans came about after H&F Council Leader Stephen Cowan made a request to Sir John Ritblat who approached world-leading architects Foster + Partners. They worked with specialist engineers COWI to develop the idea.
Councillor Cowan commended their innovative solution to the Secretary of State for Transport, Grant Shapps, when they met this week.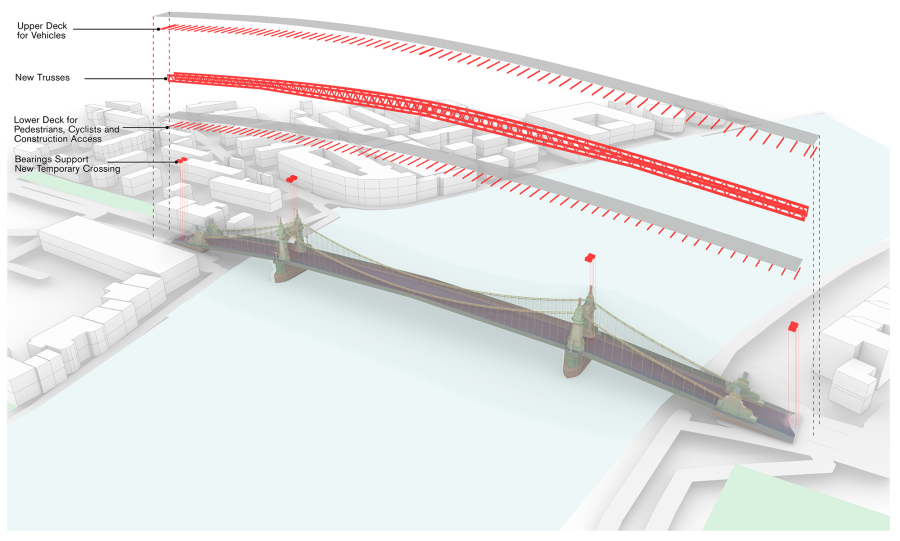 Cllr Cowan said "I am extremely grateful to Sir John Ritblat for responding to our call for help so comprehensively. The Foster + Partners and the COWI design team have developed an exciting and imaginative initiative which has the very strong possibility of providing a quicker and better value solution than any of the other proposals.
He continued: "We have been exploring a variety of options since the initial closure to motor traffic in 2019 and now have a proposal which potentially meets our objectives of a fast track, lower cost, lower noise, lower emission solution that would lead to an earlier reopening of the bridge.
I was pleased to be able to deliver the news of the project to the Secretary of State yesterday and look forward to working with his Taskforce to find a solution that works for everyone impacted by the bridge's closure."
Read more about the plans for the bridge here.
Read the leading article in today's Times on the bridge (pdf 259KB).
Read the latest update from today's Government-led taskforce on the bridge.