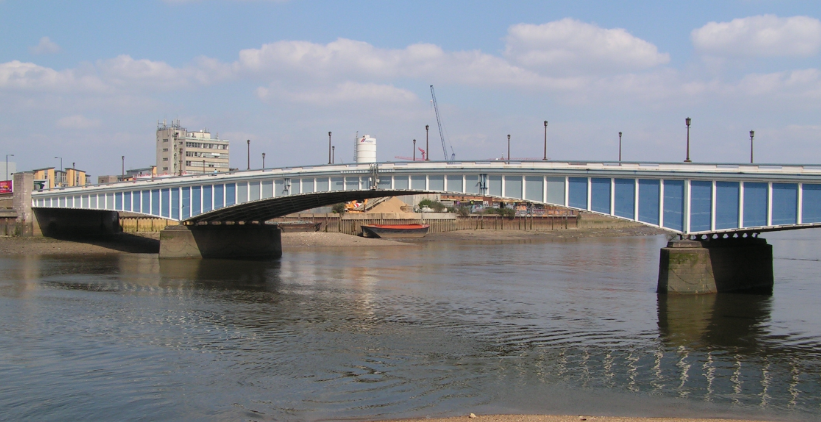 Traffic congestion around Wandsworth Bridge Road is due to continue at least until mid-November as Wandsworth Council continues to carry out repairs to its bridge.
The ongoing work - which has seen four lanes reduced to two - has reduced the capacity of the bridge from 4,500 vehicles per hour to 2,000 vehicles per hour.
The gridlock is causing large tailbacks for traffic heading south on Wandsworth Bridge Road, and blocking off access from side streets, as well as causing increased congestion in both directions.
In mid-July, Wandsworth Council said that the road surface work would last "around two months". However council officials have now told their counterparts in Hammersmith & Fulham the work will not be complete until mid November.
Cllr Wesley Harcourt, H&F's Cabinet Member for the Environment, said: "We are committed to working with residents and businesses on the best way of reducing the traffic and associated air pollution in SW6. This has been a long-standing problem but has been made worse in the last two months by a triple whammy of bridge closures.
"The problems that residents are facing stem from the gridlock of traffic on the south of the river at the Wandsworth roundabout – not from the recently-introduced SW6 traffic reduction scheme on the east side of Wandsworth Bridge Road.
"Unfortunately, the partial closure of Wandsworth Bridge is funnelling nearly 40,000 drivers a day into two lanes instead of four. On top of this, the significant and unexpected full closure of Vauxhall Bridge is diverting around 70,000 drivers a day to Wandsworth and other bridges. The knock-on effect of the closure of Hammersmith Bridge to pedestrians and cyclists is also leading more people to drive.
"We understood that the situation would improve in early October with Wandsworth Bridge returning to four lanes. It is disappointing that delays with Wandsworth's work means the bridge is now not likely to open until mid-November, when Vauxhall Bridge is also due to reopen.
"Our data and live traffic cameras show that this has particularly affected residents in Wandsworth Bridge Road and several streets to the west. We have great sympathy with their plight.
"We are looking at what can be done to reduce the impact of the bridge closures and are grateful to have received numerous suggestions from residents.
"In the coming days and weeks we look forward to discussing these and further options in detail with residents across the area."