New temporary segregated cycle lanes to help commuters, businesses and families during the lockdown have opened in Hammersmith as part of plans to adapt public spaces in the borough.
The new cycle lanes form part of pioneering changes being rolled out by Hammersmith & Fulham Council to enable people to social distance while commuting, to help support local shops by making trips easier, and to encourage exercise during the lockdown.
More than two miles of pop-up cycle lanes have been marked out with barriers from King Street at the border with Chiswick, around Hammersmith gyratory and down Hammersmith Road to Olympia, using more than 3,500 barriers.
"With fewer cars on the road, this is the opportunity to support businesses and keep commuters safe by improving our public spaces for pedestrians and cyclists," said Cllr Wesley Harcourt, H&F Cabinet Member for the Environment.
"The temporary cycle lane will help take the pressure of public transport at a critical time."
A second set of pop-up cycle lanes will soon be installed in Shepherds Bush at the beginning of June. These routes will include Uxbridge Road, Shepherds Bush Green and Wood Lane.
Supporting local businesses
In April, pavements in the busy shopping areas of King Street and Uxbridge Road were temporarily widened to help pedestrians queue safely outside shops and to pass each other while social distancing.
The new cycle lanes will also help local businesses – that will be reopening in the shadow of a likely recession – with restrictions on how customers social distance.
To help, H&F Council is working on further business-friendly adaptations to the public realm including more space for dining outside of cafes and restaurants, street theatre and art installations, and market stalls from local suppliers.
Plans to create wider footways in Lillie Road and Fulham Palace Road in Fulham are also being investigated. Pop-up planters and pop-up allotments will be trialled to help improve air quality and residential areas.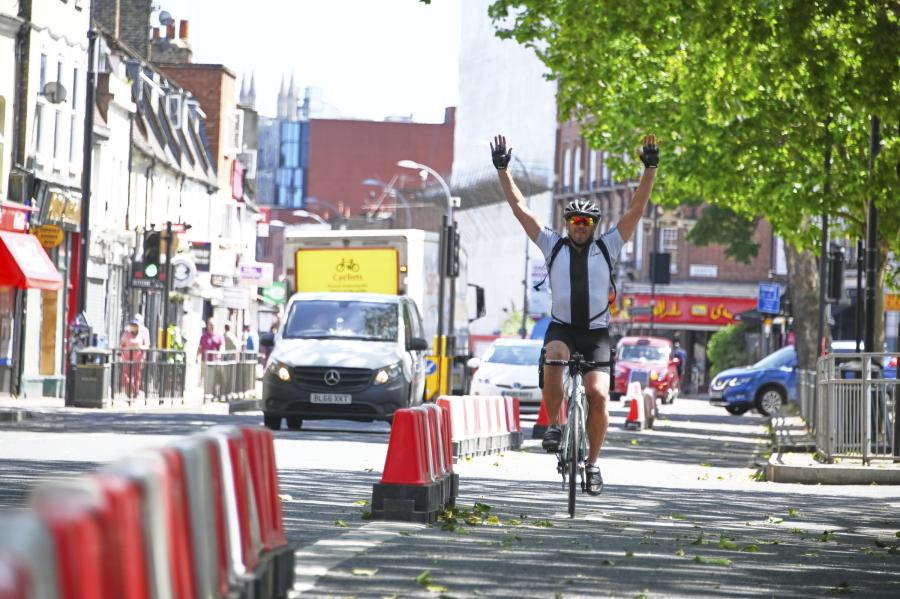 Want to read more news stories like this? Subscribe to our weekly e-news bulletin.