A Shepherds Bush DJ is bringing his collection of rare vintage vinyl to the Pocket Watch pub for a Halloween party.
Hammersmith-born Dan Green – who DJs under the name Daddy Long Legs – makes his debut at the newly-renovated Uxbridge Road pub on Friday 26 October. The Halloween party is the start of a monthly night at the pub, specialising in vintage reggae, soul and funk.
Dan said: "It's great to bring some classic tunes back from the dead and to the Bush. W12 has always been at the forefront of Britain's musical revolutions so I'll try and pay my respects."
On air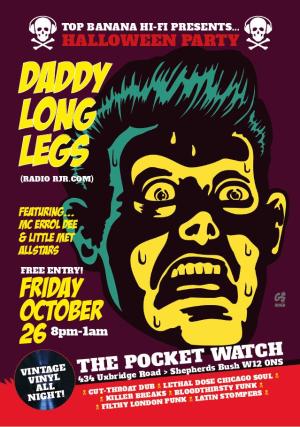 For the past 10 years Dan has spun tunes at north London reggae station Radio RJR 98.3 FM. His foundations as a DJ can be traced back to an early love of hip hop. "I remember buying my first 12" from Record and Tape Exchange in Goldhawk Road," Dan recalls. "It was Kick-Step by Kid N' Play.
"Most of us had tunes and decks but we never had a proper soundsystem – we always had to borrow some bass bins from other people. But if you were at any house parties in Richford Street, Benbow Road or on the Wormholt estate in the Nineties we most likely had something to do with it. We were young but always had to have some 'big people music' as we were often playing for an older generation – who were big fans of rare groove and lover's rock."
Today the father-of-three who lives in Emlyn can still be spotted scouring the record bins in shops across London digging for lost classics on vinyl – especially on a Friday night down at the legendary Peckings record shop in Askew Road.
Recently, he's been DJing at Vybz bar in Harlesden High Street and The Rocket pub in Acton's Churchfield Road. But he admits his 'heart has always been in the Bush'.
"Shepherds Bush was a pretty rich musical environment back in the day. We used to watch the Notting Hill Carnival floats come down Goldhawk Road," Dan says.
Around the time Dan was digging for hip hop 12"s at Record and Tape Exchange, he was also playing for local football team Shaftesbury Headhunters (Simba's Youth Team) which was run by members of Shepherds Bush's biggest reggae soundsystems from the Seventies and Eighties – Sir Jessus. 
"We would listen to them in the Emerald community centre in Hammersmith Broadway when it was based next to the Butterwick bus station," Dan says. "Because of all the music and record shops it was an incredible time to grow up in the Bush."
Roots
Known for his big smile and (yes) long legs, Dan was born in Queen Charlotte's in Goldhawk Road. He grew up in Hammersmith, attended Lena Gardens primary school and later North Westminster Community School (now Paddington Academy). He then cut his teeth in various restaurants in Covent Garden, Clapham and Notting Hill in his Twenties. During that time, he developed an interest in wine and currently works for one of the capital's leading wine companies.
Dan's parents – Alan and Joan – meet while serving as local councillors for Hammersmith & Fulham Council in the early Seventies, and were married in 1976.
Details
For more details or to book Daddy Long Legs, email: topbananahifi@gmail.com.
The Pocket Watch pub is located at 434 Uxbridge Road. It's the British Queen pub, which remains popular with local QPR supporters on match days. It's one of a handful of London pubs run by the Oxfordshire-based brewery Brakspear.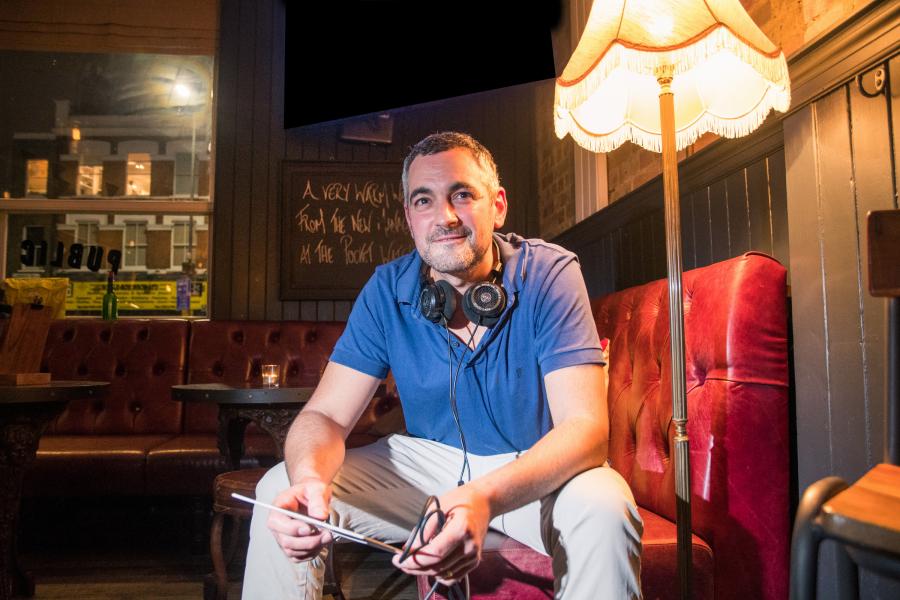 Want to read more news stories like this? Subscribe to our weekly e-news bulletin.