Have you decided where you're going to watch the fireworks this weekend?
Grab an advance ticket to one of our 'H&F Loves Fireworks' themed celebrations this Friday (2 Nov) in Bishops Park followed by another display on Saturday (3 Nov) in Ravenscourt Park.
More than 20,000 people are expected to enjoy our annual fireworks displays so get there early.
Limited tickets will be available to buy on the night, but the best way to guarantee entry and avoid the queue for the box office is to buy your tickets in advance.
We've also frozen ticket prices once again this year – making it one of the best fireworks display deals in London.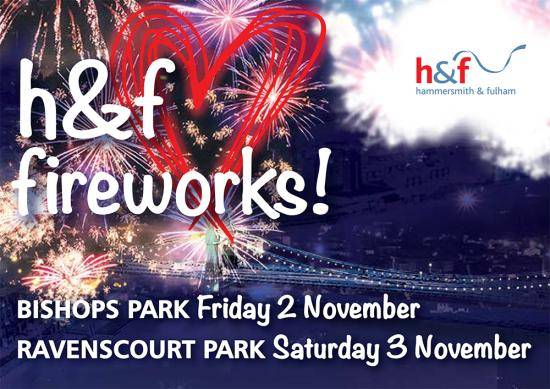 This year's heartfelt theme will see the fireworks displays being accompanied by a soundtrack of some of the greatest love songs ever recorded, including Florence + the Machine's smash hit 'You've Got the Love' and Bob Marley's 'Could You Be Loved'.
There will be a funfair, food stalls and new bars serving up a wider selection of drinks than ever before. And for the first time, there will be no need to go looking for a cashpoint as you will be able to pay by card at the bar, food stalls and ticket box office.
The gates open at 6pm at both events and the children's fireworks will take place at 7.15pm.
The celebrations will culminate with a fantastic firework display choreographed to music at 8pm. The event finishes at 9.30pm.
"Come down and enjoy our popular firework celebrations with all the family," said Cllr Wesley Harcourt, H&F Cabinet Member for the Environment. "We've kept ticket prices down for another year to ensure as many residents as possible can enjoy two of our standout events of the year."
Get your tickets now
£8 Advance tickets (available to purchase until 3 November 2018) 
£8 box office tickets at the gates 
Limited tickets will be available to buy on the night.
Once a ticket is purchased via Ticketmaster, a QR coded ticket will be sent to you, which will then be scanned at the gate for quick entry on the nights.
There will be no entry after 8pm so please arrive early to avoid queues.
Free tickets for Disabled visitors
Admission is free for children under five, and also for Disabled spectators and their helper.
Access points for wheelchair users:
Bishops Park – in Stevenage Road, Fulham, between the junction of Finlay Street and Ellerby Street (next to Craven Cottage).
Ravenscourt Park – by the middle gate in Ravenscourt Park (the road), Hammersmith, on the junction of Ravenscourt Gardens.
Want to read more news stories like this? Subscribe to our weekly e-news bulletin.