Residents have been getting fit in the fresh air thanks to a new outdoor gym in a local park. This came after residents were invited to an H&F Council hackathon to think of new ways to improve people's health.
A hackathon brings people from all backgrounds and professions together to come up with ideas for change. Thanks to the event in Hammersmith Town Hall, there are now 13 pieces of gym equipment where people of all ages and abilities can work out for free in Normand Park, Fulham.
The team behind the project celebrated on Wednesday by trying out the equipment with Cllr Wesley Harcourt, H&F Cabinet Member for Environment, Transport and Residents' Services.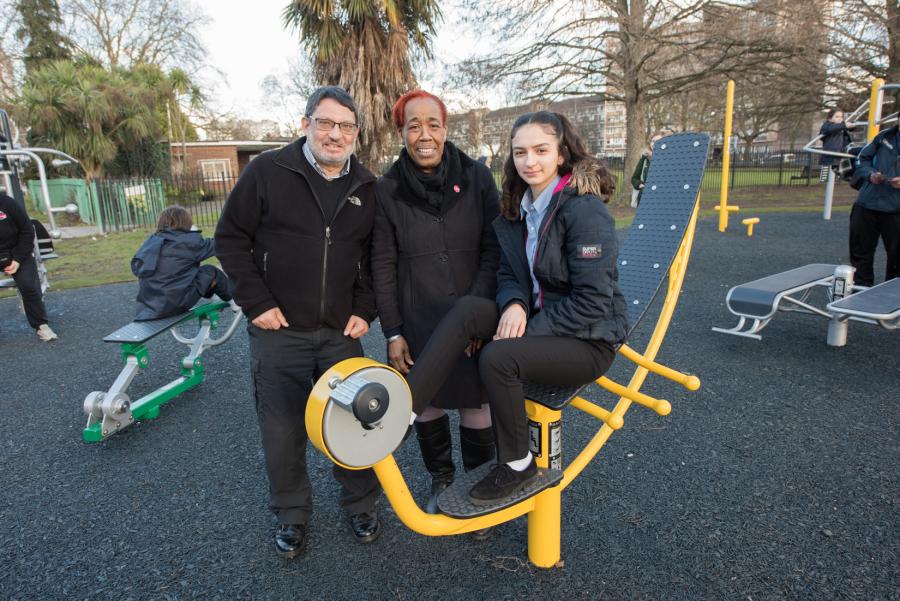 "This is a great example of how we strive to do things with residents, not to them," said Cllr Harcourt.
"By holding our Healthy & Fit Hackathon, we helped residents generate ideas and then put their plans into action with these great results."
The gym equipment was installed in the park in December and is getting more and more popular as the weather warms up.
One regular user is Charlene Chapman, Chair of the Tenants and Residents Association on the Clem Attlee Estate opposite Normand Park. She said, "I think it's fab. I don't feel I'm in competition, unlike going to the gym. On Sunday mornings there are older people there and it's very friendly. A lot of children go on the equipment, too."
The gym includes a cross trainer, a chest press with adjustable weights, an exercise bike, a rowing machine, and a pull-up bar. 
Each piece of equipment has instructions on how to use it, as well as a QR code people can scan with their smart phone to get a video guide.
The outdoor gym is one of the many ways H&F Council is working with residents to help keep us all healthy.