Steaming tagines, fluffy cous cous and sticky pastries – Azou restaurant has finally come of age after 18 years of pleasing diners in Hammersmith.
Launched in 1999 by chef and owner Chris Benarab, the cosy restaurant offers the flavours of Algeria, Morocco, and Tunisia.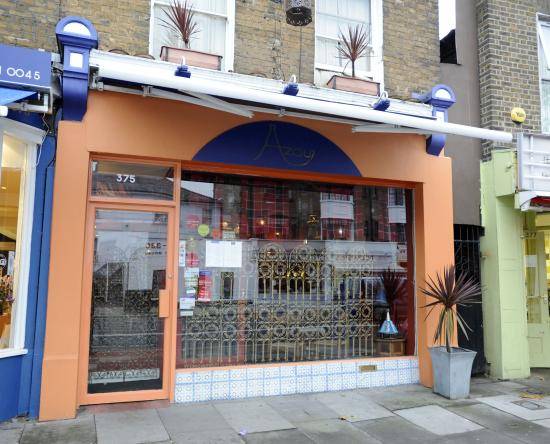 Azou is a regular fixture in the finals of H&F's Brilliant Business Awards, has won Michelin Bib Gourmand and TripExpert recognition, and was named as London's best North African restaurant by Lux magazine, in its 2017 round up.
"It makes me very proud," says Chris, who came to the UK from Algeria in 1988.
"We have worked hard and it hasn't always been easy because in the beginning, North African food wasn't well known."
When Chris first took over the site in 1991, he ran the business as a restaurant and takeaway serving kebabs and fish and chips.
But he always wanted to bring his passion for North African cuisine to London and, eight years later, converted the restaurant to its current form.
With its colourful drapes, coloured glass lanterns and mix of low level and conventional seating, Azou takes diners to a world away from King Street.
But it's the flavours that have most impressed critics from around the world, and Chris believes the secret is down to his passion for cooking from a young age.
"In North Africa you always really grow up in the kitchen because people tend to cook daily at home," he explains.
"You are always with your mum, your grandma or other family, and the cooking hardly stops all day.
"Even at uni, you don't have much money, so you buy a bit of food and cook it yourself."
The menu's highlights are its tagines, says Chris, with his personal favourite a unique dish that he developed himself, called Tagine Constantine.
Made with succulent lamb and potatoes, it has a spicy flavour, created with Chris's special touch.
"As I cook every day, I started experimenting with spices, and the Tagine Constantine is one of my inventions," he explains.
"I had to work at it over a long time, practising and perfecting it, until it was just right. I love it, and I have customers who come for that particular dish."
Other traditional North African dishes include merguez (spicy lamb sausages), seafood and chicken tagines, vegetarian dishes, and a selection of mezze.
"I've got a lot of regulars who have become more like family, and there are even customers who have been coming since they were children, and come back because they enjoy the food," said Chris.
Azou is at 375 King Street, Hammersmith. Call 020 8563 7266 for more information.